My husband and I are dating each other again.  COVID tried to kill our fun, but we aren't having it.  I've known Pat for 26 years, but over time he has affectionately become known to me as "Clark," as life with him is a wildly-wacky, hysterical adventure.
Early in our marriage we spent time partying with friends and taking impromptu trips.  We had discretionary income for frivolous purchases.  Our biggest concerns were which paint colors to select for the great room and whether or not having our own children would become reality.
These days, we're calculating how to cash flow three sets of braces, monthly tutoring costs, and football fundraising obligations. Professionally, I carry the weight of directing my clients' financial well-being.  Pat carries the stress of sustaining lives. Life can be heavy at times.  We answer the need for reprieve by getting out of town — together.
Through experience, we've learned to leave the travel arrangements to Pat.  While cash flow analysis and investment strategy calculate quickly and accurately in my brain, navigating the internet for travel arrangements does not.
Last Christmas Pat received tickets to a concert at which his favorite band was not the headliner.  For a bonus he got to spend hours explaining to Expedia that his wife is ticket ordering illiterate. Merry Christmas babe.  I tried.
Then there was the gift trip to Las Vegas that we received from Pat's dad.  We quickly learned that this free trip was, in fact, not free.  Halfway through the timeshare presentation, Pat began shifting in his chair.  I knew the rep was in for trouble when he made his third sales pitch pivot after Pat's second verbal "no thanks."  Pushing away from the table and rising from his chair, Pat gave me the "grab your purse" look, thanked the rep for his time, and headed for the door.  The rep followed to which Pat turned on his heels, faced the rep nose to nose, and calmly said, "Sir, I'm about to get loud in here." At that point we were free to go.
Pat Denney-planned trips are much different.  On one such Pat Denney trip to Cancun, I lay swinging in a hammock soaking in the October ocean breeze.  I took a break from reading to sip my umbrella-adorned coconut beverage when I realized that Pat had been gone for a while.  He had gone snorkeling with a group of friends.  The rest of the group had returned.  Pat was missing.
Shading my eyes, I could make out a figure walking toward us in the distance.  As he got closer, it appeared that he was holding something.  In true Clark fashion it was Pat, holding a platter piled high with barbequed meat.  After drifting in the surf, he looked up and saw a beachfront buffet.  The others in the group assumed the spread was for a private party.  Pat considered it a perk of our "all inclusive" travel package.
On another such Clark adventure, Pat joined me on a business trip to Las Vegas.  While I was giving my presentation to my colleagues, Pat ventured out in search of a foot massage.  Using his Around Me app, he located one area of town that had multiple hits under the search terms "massage."  His Clark brain deduced, "multiple vendors, more competition, negotiated pricing. Bingo."
My daily work schedule ended, so I went back to the hotel room to check on my spouse.  Instead of fiddling with my key, I knocked.  The door creaked open.  As I made my way into the room, I noticed that Pat was limping.  I inquired.
Pat relived the experience, "When I entered the massage parlor for my appointment, the receptionist informed me that I could upgrade my treatment to a 1.5-hour, full-body massage for $45.  Of course, I agreed!  It was such a great deal."
He continued, "I thought it was odd that the massage table was only a foot off the ground, but I hopped on anyway.  Before I knew it, there was a 115-pound Asian dude walking on my back."
Pat's body was bruised from head to toe for the remainder of our trip.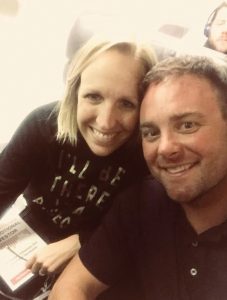 These trips — these "date nights" are vital to my mental health.  The wine, the giggles, the coffee on the nightstand each morning fill my empty spaces.  These experiences are the fuel our marriage needs to make it through the mundane and trying times of the months and years that follow. Our kids are beginning to understand that love must be nurtured if we expect to sustain it.
In the throes of raising children, it's easier to get away with friends than it is to escape as a couple.  I would argue that dads are better than moms at allowing themselves that time away.
Lately, we have fallen into that trap.  Pat and I have been escaping a few times a week to catch up over dinner, but our out-of-town trips have been with friends and kiddos.  Following Pat's return from a multi-day fishing trip, he used his man brain to ask if it would be ok if he left early the next morning to fish.  That would put me in charge of the morning routine again.
I wasn't thrilled at the idea.  I was tired and over-worked.  In the most mature, non-emotionally hijacked voice I could offer, I responded "sure."  I then slammed the backdoor so hard that the pictures on the wall rattled.
The next day Pat joined me for the morning kid routine.  He also cancelled his upcoming fishing trip and booked two plane tickets to Boston.  As I type, we are in flight.
That's what almost 17 years of marriage, shared fun, and vulnerability will get you – an emergency notice to your spouse that a meltdown is looming.  He gets me.  He loves me.  He knows what my full-blown come-aparts look like, and he has no interest in ever going through another one again.  See above escape to Boston.
We double checked Rambo's backpack for weapons and made it safely through security.  Gigi is in charge of the Little Denneys.  We're hopeful that my sister will get everyone to church.  We won't be sharing any additional details about our trip because that belongs to us.  It's also because I accidentally texted my boss a picture of wine glass boobies during our wine tasting session on our Waco trip.  Here's to date night.  Wheels up!