As an occupational therapist, I am frequently asked what it is that I actually do. Specifically, in the field of pediatrics, how do I help children in their daily lives? Occupational therapy has many levels that tend to place the specifics in a "grey" area. While in school, navigating this was one of the more frustrating aspects. Now it is one of my favorite elements in my profession.
Occupational therapy utilizes a holistic approach to treat underlying deficits that impair a child's ability to engage in activities that he or she needs or wants to do on a daily basis. Pediatric occupational therapy treatment takes a family-centered approach to include the caregivers' concerns within the plan of care. 
These concerns often sound something like this:
"He is having a hard time paying attention in class and his teacher reports that she is unable to read his handwriting."
"She has a very limited diet; she eats chicken nuggets – but only from certain fast-food restaurants. She refuses chicken nuggets that I make at home."
"She has difficulties tying her shoes, catching a ball, and buttoning her pants."
"He is constantly moving, bouncing off the walls and seems to never run out of energy. It is hard for us to go places as a family due to safety concerns."
"He is unable to sit on his own, but I want him to be as independent as possible. I would like for him to hold his bottle on his own and one-day feed himself with a utensil."
Occupational therapists are experts at activities analysis
– what does this mean?
 An activity analysis breaks down an activity into the following categories: objects and properties, sequencing, body functions, motor analysis, performance skills, therapeutic purpose, and grading. In school this is a lengthy written document detailing every aspect of an activity. In daily life, an activity analysis takes place in a matter of moments. We are able to take an activity and adjust it to meet the child where he or she is while improving skills that need strengthening.
If you have questions or concerns about your child's development, do not hesitate to contact a clinic near you to see if occupational therapy may be the right solution in helping your child thrive. An Occupational Therapist can do a quick phone evaluation to determine if occupational therapy would be beneficial for your child. 
If Occupational Therapy is recommended what comes next?
Contact your child's pediatrician to discuss your concerns. If using insurance, a referral will be required. Even if you choose to not use insurance and go the private pay route, a referral is strongly recommended so all members of the child's healthcare team are on the same page and working together. 
Select your desired clinic for services – referrals are often faxed to the clinic of choice
Do your research! Word of mouth is a great resource. 
Schedule an evaluation – if you do not hear from the clinic, reach out to ensure they have received the referral. 
What to expect during an evaluation?
An evaluation typically takes place over the course of an hour, depending on a few factors. During this time expect to fill out paperwork and answer questions regarding birth, development, and areas of concern. A standardized test is typically given in order to establish a baseline and determine if therapy is warranted based on scores obtained. This will be the time to express any and all concerns. The more information you provide the better a therapist will be able to help. Don't hold back!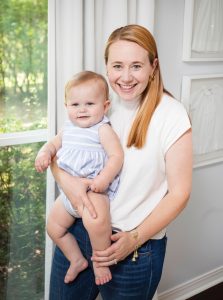 Following this visit, a written evaluation is generated and goals are established to increase independence and track progress along the course of treatment.
Anna Claire is the owner of the Occupational Therapy department at Firm Foundation Pediatric Therapy in Ruston, Louisiana. Her love of occupational therapy began at a young age. She incorporates fun, creative facets as well as holistic approaches to better assist her clients in reaching their goals. She has experience in a variety of settings from a multidisciplinary center for children with Autism and communication disorders to home health and an outpatient clinic for children and adults with a wide variety of diagnoses such as traumatic brain injury, CVA, cerebral palsy, Sensory Processing Disorder and dysgraphia. Her diverse population of clients is one of her favorite aspects of occupational therapy. Due to her innate love for children, she chose Pediatric occupational therapy as her focus. Anna Claire cares for all of her clients on a personal and professional level.