Fresh summer produce is always a treat, especially with no-fail recipes that are simple but delicious. Check out our favorite easy recipes that can be quickly whipped together with few ingredients and still bring all the flavors of summer.
This Watermelon Feta Salad with Mint and a Balsamic Glaze is so light and refreshing. It's the perfect side dish to take to a summer get-together!
Watermelon Feta Salad with Mint and a Balsamic Glaze
6 cups cubed seedless watermelon
1/2 cup crumbled feta cheese 
3 tablespoons balsamic glaze
2 tablespoons chopped fresh mint
1/2 teaspoon flaked sea salt
Place cubed watermelon in a large serving bowl. Arrange crumbles of feta over the watermelon. Drizzle the watermelon and feta with the balsamic glaze. Sprinkle with chopped fresh mint and flaked sea salt. Chill for an hour and serve.
This blueberry dump cake is a super easy and delicious way to do blueberry cobbler with cake mix, blueberries and butter! This blueberry cobbler dump cake is perfect for when you need a quick & easy dessert.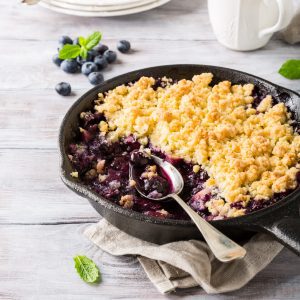 Blueberry Cobbler Dump Cake
4 heaping cups of blueberries 
1 (16.25 oz.) cake mix, white or yellow
1/2 cup (1 stick) butter, melted
Preheat the oven to 350 degrees.
In a medium baking dish or 9×9" pan or baking dish, add the blueberries to the bottom of the pan.
To a mixing bowl, add the cake mix. Pour the melted butter onto the cake mix and stir together with a fork. The mixture will be crumbly.
Evenly top the blueberries with the cake mix crumbles. Bake the dump cake for 30-33 minutes or until golden brown.
Remove from oven and let cobbler cool slightly before serving. Enjoy with vanilla ice cream, if desired.
This BBQ corn on the cob with garlic butter and Parmesan cheese makes it so delicious. If you love fresh summer corn, you need to give this recipe a try.
BBQ Corn on the Cob with Garlic Butter and Parmesan Cheese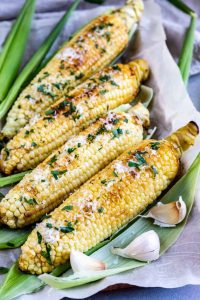 4 corns on the cob
4 tablespoons salted butter
2 cloves garlic smashed
¼ cup parmesan cheese grated and separated
1/8 teaspoon ground black pepper
Chopped parsley for garnish
Remove husks and silk from corn and rinse.
In a small bowl, combine butter, garlic, pepper and half of the parmesan cheese. Tear off 4 lengths of aluminum foil long enough to leave a couple of inches on each end of the cob and wide enough that you can wrap around the cob at least two times. Place one cob on each piece of foil.
Using a brush, brush butter mixture on corn getting a thin layer on the entire surface. Roll the cobs up in the aluminum foil and wrap the ends in so the corn is fully covered.
Pre-heat barbecue to medium-high heat. Place foil-wrapped cobs directly on the grill. Cook for about 20-25 minutes turning every few minutes. Remove from heat, carefully open the foil (it is very hot). Let sit for 5 minutes. Garnish with parsley and the remaining parmesan cheese. Serve!