A Southern soul food picnic, Easter made easy, weeknight dinners, a cake for every occasion and two cocktails perfect for patio sipping!
When the Lola girls called me to talk about the theme for hostess this issue and mentioned doing Louisiana-style food, my heart sank. While I love spicy carb-loaded dishes as much as anyone, it isn't something that I lean towards when promoting how to live a healthy lifestyle. But then, I realized, it can be healthy – or maybe "healthier!" So, I asked my friend and vegan chef Miranda Coleman to join me on a picnic… and I let her do the cooking. The healthy bonus: sunshine gives you vitamin D!  
Miranda can be seen making beautiful vegan dishes at Glow, as well as, on her how-to videos on her social media pages. She shows you how to add a fun twist on old dishes turned vegan and some tasty cocktails for good measure.  
What says southern picnic like fried chicken? How about a chicken-fried oyster mushroom? I know what you're thinking, but trust me, it is mouth-watering. Oyster mushrooms are unique in texture and have a very mild taste; they can take on flavor very well, which is why many vegans use them as a meat substitute. And when Miranda cooks, she makes sure to put all the soul in her food. The key to cooking the best-fried oyster mushrooms according to her is the pre-cook and the batter. In this recipe, she sears the mushroom first to help break down some of the tough parts that are in an oyster mushroom and then used a wet batter and a dry batter. The wet batter will help build a flavor in the oyster mushrooms as it fries, and the dry batter will give it a nice coating and crunch. 
Now for a perfect picnic, all you need is your delicious food, a bottle of wine, a sunny spot and a fun friend!  
Picnic Menu: 
Mac & "Cheese" 

Chicken Fried Oyster Mushrooms  

Spiked Sweet Tea

Stovetop Collard Greens 

Skillet Vegan Cornbread
Mac & "Cheese"

4 Tbsp vegan butter
4 Tbsp all-purpose flour
½ of a white onion (diced)
½ Tbsp olive oil 
2 cups non-dairy milk
2 Tbsp garlic powder
2 Tbsp onion powder
1 Tsp paprika
8 oz. of Vegan Shredded Cheddar Cheese
8 oz. of Vegan Shredded Mozzarella Cheese
Salt & Pepper – to taste
Preheat oven to 425 degrees.

Cook pasta noodles according to box instructions. Drain and set aside. 

In a pot, heat butter over medium-high heat until completely melted. Add in flour; stir constantly switching between whisk and spoon making a roux. Cook for 3-5 minutes. 

Add onions to roux and continue to stir. Cook until onions are soft; about 3 minutes. 

Add in olive oil to loosen anything at the bottom of the pot. Add in non-dairy milk and whisk to combine. Stir in half of the combined seasonings. 

Next, mix in the cheese shreds and reduce heat to low, and cover. Allow cheese to melt completely. Once the cheese is melted, add in the remaining seasoning and mix well.

Stir in the cooked pasta noodles and remove from heat.

Add mac and cheese to an oven-safe dish. Bake uncovered for 25 minutes or until the top is browned to perfection.
Tips: 
Not all vegan cheese is created equal! For this recipe, I enjoy using the WholeFoods365 brand. It melts nicely and has a good flavor. 
Place a dish under the mac and cheese in the oven to prevent any cheese from spilling. 
Chicken Fried Oyster Mushrooms
Blue Oyster Mushrooms
2 Tbsp Avocado Oil
1 ½ cup + 1 ½ cup (separated) All-Purpose Flour
1 cup Non-Dairy Milk
Additional oil for frying
Spice Blend:
1 Tbsp Sea Salt
½ Tbsp Pepper
½ Tbsp Garlic powder
½ Tbsp Onion Powder
1 Tsp Crushed Red Pepper
½ Tsp Cayenne
1 Tsp Basil (dried
Cut up Oyster mushrooms into smaller bite-sized or patty-sized pieces, set aside. 

Preheat a cast-iron skillet, have an additional cast iron skillet ready on the side. The second skillet does not need to be preheated but does need to be able to fit nicely into the hot skillet; have it ready to use. 

When cast iron is smoking hot, add in avocado oil. Place mushroom pieces straight onto the skillet. Place second cast-iron right on top of the mushrooms. This step helps to release all the moisture from the mushrooms in addition to adding a crust to mushrooms. Cook for 10 minutes before flipping and repeating this process. After cooking on both sides, remove from heat and Immediately add the spice blend. Allow to cool enough to handle. 

Divide flour into two separate bowls, add some of the spice blend to each bowl, and mix. Add non-dairy to one bowl and mix well into a wet batter. 

When mushrooms have cooled, dip them into the dry flour mix, making sure to get into all of the twists and turns of the mushrooms. Then dip them into the wet batter, making sure to coat the mushroom thoroughly. Now coat them again in the dry mix, this will get your mushrooms nice and crispy. 

When frying oil is at 350F, place battered mushrooms into the grease and allow to cook until deep-fried and crispy, about 8-10 minutes depending on mushroom size. Sprinkle with salt after removing from grease. 
Louisiana Island Ice Tea
1.5 oz or 1 shot Cognac 
5 oz. Unsweetened Tea
2 Lemon Wedges 
 ½  Tbsp Agave or Honey 
Ice
In a glass with ice, add in 1.5 oz of cognac of choice, agave or honey, and 5 oz of unsweetened tea. Using a long cocktail spoon, mix from top to bottom. Squeeze in the juice of a lemon wedge. Garnish with an additional lemon wedge and a mint leaf. Enjoy!
Tip: This can be made using sweetened tea. Feel free to use your own preference here, it will be addictive either way!
Stovetop Collard Greens
2 Bunches Collard Greens
½ thinly sliced Onion
½ thinly sliced Red Bell Pepper
3-4 cloves Garlic (roughly chopped)
2 cups Vegetable Broth
½ Tbsp Onion Powder
½ Tbsp Garlic Powder
½ Tsp Cayenne
Salt and pepper to taste
Prep the collard greens by picking, cutting, and thoroughly washing them.

In a pan, heat oil over medium-high heat. Add in onion, pepper, and garlic. Saute until you see some brown color.

Add in clean collard greens with seasonings and saute an additional 3-5 minutes. 

Add in veggie broth and reduce heat to a simmer. Cover collards and cook until greens are tender; 25-30 minutes 
Vegan Cornbread 
1 cup + 2 Tbsp Yellow Cornmeal
1 cup + 3 Tbsp All-Purpose Flour
1 Tsp Baking Powder
1 Tsp Baking Soda
½ Tsp Salt
1 cup Non-Dairy Milk
1 Tbsp ground flaxseed + 2 Tbsp of warm water Flaxseed Egg
½ cup Vegan Butter
½ cup Brown Sugar 
2 Tbsp Maple Syrup
2 Tbsp Avocado Oil
Sift together all dry ingredients into a large bowl. 

In a smaller bowl, combine ground flaxseed and warm water and whisk together. Let sit for 5 minutes to thicken. 

In a small pot or microwave, melt vegan butter. After melted, add brown sugar and maple syrup. 

Add to the flax egg, butter and sugar combination, non-dairy milk, and oil to the dry mix and combine. Do not over mix!

Add cornbread mix to a 375 degree preheated oven and bake for 30 minutes. 
Tips:
By adding 1 Tbsp of ACV or lemon juice to your non-dairy milk, you can make buttermilk! Try this to add another layer of flavor to your cornbread. 

I prefer using cashew milk as my non-dairy milk for this recipe, but any will do! Just pick your go-to nut or soy milk. 
Biography – Miranda Alisha 
Miranda Alisha was born in Shreveport, Louisiana as the second child of Alvin and Debra Coleman. She attended public school in Caddo Parish graduating from C. E. Byrd High School in 2012.  While at Byrd, she was a member of the Orchestra playing the Cello. She was also a member of the award-winning Flag Line 2010-2012. To pursue higher education, Miranda attended Grambling State University where she continued to play the Cello in the University Orchestra. In 2013, Miranda joined Alpha Kappa Alpha Sorority Incorporated and served as Secretary, Program Leader, Vice President, and finally President.  She was the Secretary of the Psychology Club and a Research Assistant in the Psychology Department. She earned a Bachelor of Science Degree in Psychology in 2017. Answering the desire to travel and to pursue her career in mental health, Miranda moved to Rhinebeck, New York to work at Ramapo for Children as a Youth Special Needs Counselor/Group Leader teaching life skills to teens and young adults. From Rhinebeck, she moved to Austin, Texas as a Housing Rehabilitation Specialist with adults who were experiencing homelessness. She was then a Behavior Therapist for children with social and emotional differences. Both New York and Texas provided new experiences around food and culture. She found herself inspired by many different cuisines including Thai, Mexican, and Indian. She spent numerous hours attempting to recreate her favorite meals from her travels. In May of 2020, Miranda made the decision to try out a plant-based diet. The benefits and changes in overall attitude were undeniable. This also challenged her in the kitchen to find healthy ways to recreate all the meals she loved so much. ​Feeling the call of a long family history in the food industry, Miranda made a life change in 2021 by returning to Shreveport to hone her skills as a cook and caterer.  Her focus is on re-creating traditional cuisine in a healthy vegan inspired format.  Miranda follows in the footsteps of her maternal great grandfather, Dee Lee Tyler, known as a pitmaster and caterer from the 1960s 70s, and 80s.  Miranda's father has worked in all phases of food preparation and service.  Since making the transition to being in the kitchen full time, Miranda's goals are to learn as much about food and the restaurant business as possible. She is pursuing a certification in nutrition to help her bring awareness to different lifestyles.
Her blog, From Miranda's Kitchen, has a growing following. Follow her journey on YouTube at From Miranda's Kitchen and on Instagram at @_mirandasstory
Easter Made Easy  
Easter is one of my favorite holidays. Colorful dresses, outdoor activities, and all the delicious fruits and vegetables coming into season. You don't want to fret over a long tedious meal, you want to be outside thawing out in the warm spring sun listening to the kids laughing while they hunt for treat-filled eggs. The lamb shank is highly underrated compared to the popular roast or rack. This beautiful cut of meat cooks up fork tender in 3 hours with little effort. Serve it up with first of the season green tomatoes and a sheet pan veggie mix and you've got yourself a magazine-worthy easter spread. Bake it yourself or order up this beautiful Coconut Carrot Cake from Glow that's perfect for any spring soiree.  
The Menu:  Serves 4-6
Roasted Carrots & Onion w/ Fennel & Mint  

Green Tomato & Shaved Honeydew Caprese  

Lamb Shanks w/Red Wine Glaze with Wild Rice  

(A Cake for Every Occasion) Coconut Carrot Cake w/Strawberry Buttercream 
Spring Weeknight Dinners  
Eggplant Sandwich & Green Salad 

Veggie & Pesto Flatbread  

Spring Minestrone Soup  

Green Botanical Gin & Tonic  
Roasted Carrots & Onions w/Fennel & Mint  
The ideal big gathering side is one that can sit at room temp for up to three hours and still be delicious, and this is it. The trick to make your guests think the food magically materialized at the last moment? Add the fresh torn mint and re-toss to distribute the vinaigrette just before serving. Also, the key is for these veggies to be room—not refrigerator—temperature, so take them out of the fridge at least an hour before you serve them. 
2 pounds small carrots (about 2 bunches), peeled, cut into 3-inch pieces 
2 large red onions, each cut through root end into 8 wedges 
1 fennel bulb, cut into ½-inch wedges 
4 tablespoons olive oil, divided 
Kosher salt, freshly ground pepper 
2 tablespoons raw sunflower seeds 
1 teaspoon coriander seeds, coarsely chopped 
a pinch of crushed red pepper flakes 
1/2 teaspoon smoked paprika 
2 tablespoons Sherry vinegar or red wine vinegar 
1 tablespoon fresh lemon juice 
2 tablespoons torn mint leaves 
Preheat oven to 425°. Place carrots on a rimmed baking sheet and onions and fennel on another rimmed baking sheet. (Make sure to give them plenty of room, which is key to roasted veggies with nicely browned edges.) Drizzle vegetables with 2 Tbsp. oil, dividing evenly; season with salt and pepper. Roast, tossing occasionally, until golden brown and tender, 20–25 minutes for carrots and 35–45 minutes for onions and fennel. Let cool. 

Meanwhile, cook sunflower seeds, coriander seeds, Aleppo pepper, paprika, and the remaining 2 Tbsp. oil in a small skillet over medium heat, stirring often, until oil is gently bubbling around seeds and spices are fragrant (be careful not to burn), about 2 minutes. Let cool. Stir in vinegar and lemon juice; season vinaigrette with salt and pepper. 

Combine roasted carrots, fennel, and onions onto the same baking sheet, drizzle vinaigrette over, and toss to coat well; transfer to a platter. 

Just before serving, re-toss vegetables to pull up any dressing that may have settled at the bottom of the platter and scatter mint over top. 
Green Tomato & Honeydew Caprese  
Ripe honeydew—normally reserved for the bottom of many a fruit salad—shines when shaved into ribbons and swirled with torn pieces of creamy burrata and slices of green tomato. This spring salad makes for an impressive dish 
1 tablespoon white balsamic vinegar or white wine vinegar 
1 teaspoon lime zest plus 2 Tbsp. fresh juice (from 1 lime) 
1 teaspoon honey 
½ teaspoon kosher salt 
¼ teaspoon black pepper 
3 tablespoons extra-virgin olive oil, divided 
1 medium-size (6 oz.) green tomato, cored and thinly sliced on a mandolin 1 small (1 1/2 lb.) honeydew melon 
4 ounces burrata cheese, torn into pieces 
2 tablespoons thinly sliced fresh mint 
Whisk together vinegar, lime zest and juice, honey, salt, pepper, and 2

 

tablespoons of the oil in a small bowl until well combined. Toss together tomato slices and 2

 

tablespoons of the vinegar-lime mixture in a medium bowl; set aside. (Reserve remaining

 

vinegar-lime mixture.)

 

Cut honeydew melon in half; remove and discard seeds. Cut each melon half into 4

 

wedges; remove rinds. Shave melon wedges into thin ribbons using mandoline.

Arrange tomato slices, shaved melon, and burrata on a large platter. Drizzle with reserved vinegar-lime mixture. Sprinkle with sliced mint, and drizzle with the remaining 1

tablespoon oil.  
Red Wine Braised Lamb Shanks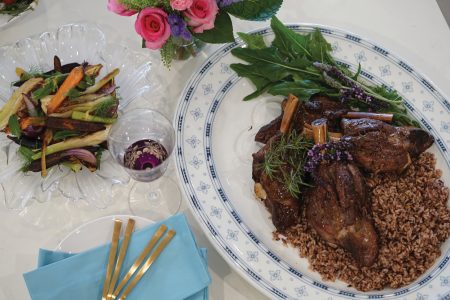 This recipe is more of a quick braise for those who might have a bit less time but still want all that braised flavor! All you'll need to do is a bit of slicing, searing, and then the oven does all the rest! And don't worry about the look of the bone when you purchase the lamb, after it braises the meat and fat shrink away giving it that Frenched look.  
Serves 4-6 
2 tbsp olive oil 
4 lamb shanks (each shank should be about 1 to 1-1/4 pound) 
salt and fresh ground black pepper 
1 yellow onion 
1 diced carrot 
2 celery ribs, each rib cut into about 2-inch pieces 
6-8 cloves garlic 
2 cups low sodium chicken broth or vegetable broth 
1 cup dry red wine 
fresh rosemary 
fresh thyme 
Prep: Preheat the oven to 425˚F.

Sear: Heat olive oil in a large

dutch-oven skillet

or a high-sided oven-proof skillet or pot.

3.

Season the lamb shanks with salt and pepper and add them to the hot oil. Make sure oil is hot because you want that immediate sear on the lamb shanks.; sear on all sides until they are browned.

Remove the lamb shanks from the skillet and set them aside.

Saute: Set the skillet back over medium-high heat and add in the remaining oil.

Add the onions, carrots, celery sticks, mushrooms, and garlic to the skillet. Cook for 4

minutes, stirring frequently.

Slowly pour in chicken broth and stir in wine. Stir to loosen all the browned bits on the bottom of the skillet. Bring the chicken broth and wine to a boil.

Braise: Place the herbs and lamb shanks back inside the pot.

Put the pot in the preheated oven and cook for 1.5 to 2 hours. Turn the shanks over every 30 to 40 minutes, until the meat is tender and internal temperature registers anywhere between 150˚F and 160˚F. Please use an

instant-read thermometer

to check for doneness.

Remove: Remove your pot from the oven.

Remove the shanks from the pot. Set them aside and keep them covered.

11.

Sauce: Simmer the remaining sauce that's in the skillet over medium heat until thickened to the desired consistency. This should take about 6 to 10 minutes.

12.

Skim off any additional fat that rises to the surface.

Taste the sauce for seasonings and adjust it accordingly.

Serve: Add the lamb shanks back into the pot.

Garnish with fresh parsley and serve.
Coconut Carrot Cake w/Strawberry Buttercream  
3 cups all-purpose flour

1 1/2 teaspoons baking powder

1 1/2 teaspoons baking soda

1 teaspoon cinnamon

1 teaspoon salt

1 1/2 cups canola oil

3/4 cup buttermilk

3 eggs

1 1/2 cups granulated sugar

1/2 cup light brown sugar

2 teaspoons vanilla extract

1 pound carrots, grated

1 1/2 cups sweetened shredded coconut
Strawberry Buttercream  
8 ounces mascarpone or cream cheese, softened

2 sticks salted butter, softened

2-3 cups powdered sugar

2 teaspoons vanilla extract

1 cup freeze dried strawberries, ground until a fine powder

1 cup fresh chopped strawberries
Preheat the oven to 350 degrees F. Grease three 8-inch round cake pans. Line with parchment paper, then butter/spray with cooking spray.

In a large bowl, mix together the flour, baking powder, baking soda, cinnamon, and salt.

In the bowl of a stand mixer (or use a handheld mixer) beat together the canola oil,

buttermilk, eggs, sugar, brown sugar, and vanilla until smooth. Beat in the carrots and coconut.

Slowly add the dry ingredients to the wet ingredients with the mixer on low until there are no longer any clumps of flour. Batter should be pourable, but not super thin. 

 

Pour the batter among the 3 cake pans and bake 25-30 minutes, until the tops are just set and no longer wiggly in the center. Remove and let cool for five minutes, then run a knife around the edges of the pan and turn the cakes out onto a cooling rack. Cover and let the cakes cool completely before assembling.

To make the frosting, add the cream cheese and butter to a large mixing bowl. Using an electric mixer beat until the mixture is light and fluffy, about 2 minutes. Add the powdered sugar and vanilla. Beat another 2-4 minutes or until the frosting is light and fluffy. Beat in the strawberry powder. 

Place one cake layer on a serving plate or cake stand. Spread a little frosting. Top with half the strawberries. Repeat with the remaining 2 cake layers. Be careful not to overfill your layers with fruit. Frost the cake sides. 
Green Botanical Gin & Tonic
Serves 3 
1/3 cup water 
1/2 cup chopped cucumber, skin on 
1/2 green apple, skin on 
1 1/2 tablespoons fresh mint leaves 
1 1/2 tablespoons fresh fennel fronds 
juice of 1 small-medium lime 
3 ounces gin 
12 ounces tonic water 
fresh mint leaves and edible flowers (I used chamomile and borage), to garnish 
In a blender, blend the water, cucumber, apple, mint, and fennel until completely smooth. Pour through a fine-mesh strainer or nut milk bag into a jar, and discard the pulp. Transfer the green juice to a shaker, and add the lime juice and the gin. Add a few cubes of ice and give the mix a good shake to chill. Pour evenly between three glasses,  and finish with 4 ounces of tonic in each glass. 
Garnish with herbs and edible flowers, and enjoy! 
Grilled Eggplant Sandwich 
Marinated Eggplant: 
1 large Eggplant
2-3 drops Liquid smoke
1 Tbsp Soy sauce
1 Tbsp Maple Syrup
5 Tbsp Avocado oil 
1 Tsp Garlic powder
1 Tsp Onion powder
½ Tsp Smoked paprika
Tossed Arugula:
1 or 2 handfuls Arugula
1 Tbsp Olive Oil
1 pinch Sea Salt
Fig Jam
Vegan mozzarella
Tomato Slices 
Bread Slices 
Prepare eggplant by cutting long ways into thin slices. Lay slices on a baking dish and lightly sprinkle with salt. Let sit for 5-10 minutes. Using a paper towel, pat away any moisture that was released. 

In a bowl, whisk together all marinade ingredients. Allow the eggplant to sit in the marinade for 1 hour or overnight. 

In a hot skillet or grill, put eggplant straight down and allow to cook 3-4 minutes before flipping. Cook for the same amount after flipping and remove from heat. 

Prepare arugula by adding all ingredients to a bowl and tossing with your hand, set aside.

Toast off the bread using olive oil or vegan butter. 

To assemble the sandwich, add fig jam to both slices of bread. Next add the grilled eggplant, tossed arugula, vegan mozzarella, and tomatoes. 

Enjoy without trying to eat two! 
Tips: 
Fig jam is my favorite to use and what I usually reach for. Feel free to use your favorite here; elderberry or blackberry would be really good too!

Again, not all vegan cheese is created equal! For this sandwich, I find the Miyoko brand is best. 
Garden Salad 
Mixed Greens 
Cherry tomatoes 
Cucumber 
Avocado 
Crispy Onions 
Cashew Ranch Dressing
 ½ cup Cashews
1 cup Water
 ¼ Tbsp ACV
1 Garlic clove
½ Tsp  Onion Powder
1 Tsp Dill
½ Tsp Crushed Red Pepper
Pinch Salt and Pepper
3 Tsp Parsley (minced)
To prepare dressing, add all dressing ingredients to a blender and mix until smooth. Adjust salt to taste. Place dressing in a jar, add in parsley, and stir. Set aside. 

Add mixed greens to a larger bowl with 2 Tbsp of dressing and toss. 

Add remaining toppings and an extra drizzle of dressing and enjoy!
Veggie & Pesto Flatbread  
1/2 red onion, thinly sliced 
1 small bunch of broccoli, thinly sliced into small florets 
1/2 yellow squash, thinly sliced into circles 
1/2 zucchini, diced into half-moons 
1 cup mushrooms, thinly sliced 
3-4 stalks asparagus, chopped into thirds 
1 cup feta cheese  
1 8 oz container store-bought pesto  
2 roasted garlic naan flatbreads 
1 tbsp olive oil 
salt and pepper to taste 
red pepper flakes (for garnish – optional) 
fresh parsley (for garnish – optional) 
Preheat your oven to 400. Slice and dice your veggies.

Take your naan bread and place it on a sheet pan. Spread a thin layer of pesto over it.

Top with the roasted vegetables along with the feta and spices. Bake for 10 minutes, or until the veggies are tender and the naan is starting to brown.

Enjoy while hot.
Spring Minestrone Soup
6 medium green onions 
2 green garlic stalks, or 2 large cloves of garlic 
1 pound baby potatoes or Yukon gold potatoes cut into 1-inch chunks 
1 (15-ounce) can diced tomatoes 
4 cups vegetable stock or chicken stock (use vegetable stock if cooking vegetarian or vegan) 1/4 teaspoon salt 
1/2 pound artichoke hearts (fresh or frozen), chopped roughly 
1 (15-ounce) can chickpeas (garbanzo beans), rinsed and drained 
1 cup peas (fresh or frozen) 
1/2 pound asparagus, cut into 1-inch chunks 
2 cups greens (dandelion, chard, spinach, kale, arugula, etc), sliced into thin ribbons Up to 1/4 cup pesto 
Grated parmesan or pecorino cheese for garnish (omit for the vegan version)
1 teaspoon black pepper 
Give everything a good chop, add it to the pot, and let it simmer for about 30 mins. The easiest soup you'll ever make!