Taking care of yourself is a lifelong process. Some core elements of self-care include eating healthy foods, spending time outdoors, staying active and also taking care of your skin. Your skin and face are some of the first things that people notice about you. It is also something you notice about yourself. The habits of good skincare can be started at any age and really can improve your overall health, glow, youthfulness and confidence.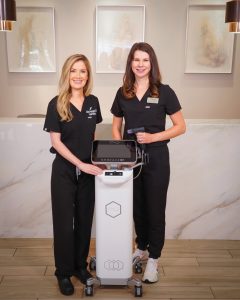 A skincare routine, like any other form of self-care, can be soothing and calming. On a deeper level, it makes you feel like you're honoring yourself aesthetically, by taking time out for yourself.
"Which personally, as a full-time facial plastic surgeon and mother to a 1-year-old and 3-year-old, can be the only minutes I have to myself in a day," Dr. Lindsey Pennington said.
"It's really a way to replenish myself for a few minutes each day. Those few minutes, if spent going through steps in a rhythmic, calm and purposeful manner, can almost be meditative," Dr. Souyoul, Dermatologist and mother of a rowdy 15-month-old boy said.
Skincare is rewarding because with consistent routines of curated skincare, you can see visible results such as improved tone, texture or radiance, and that in itself can boost self-esteem, which in turn will boost mood. With everything going on right now in the world we could all use a little pick me up. Skincare is a twofold way of feeling better, both on the inside and the outside.
IN YOUR 20s
The best thing a person can do in their 20s is taking preventative measures against the aging process. This can be accomplished through high-quality, medical grade skincare. The first anti-aging cream everyone should be using is sunscreen, at least an SPF 30, every day no matter the time of year. Under your sunscreen adding a topical antioxidant, like a vitamin C cream, helps boost your sunscreen and neutralize free radicals caused by sun exposure. Dr. Souyoul recommends using a medical-grade topical vitamin C because it is a complex ingredient to keep active so those drug store brands are not going to give you the same benefit as a medical grade product. Dr. Souyoul's personal favorite topical antioxidant is SkinCeuticals CE Ferulic and Dr. Pennington's vitamin C of choice is Revisions C+ Complex due to its ability to help fight redness as well.
The next most important anti-aging product in your regimen is going to be a retinoid. Retinoids are an all-in-one anti-aging powerhouse. They increase collagen production to help with fine lines and wrinkles, clean out your pores to help prevent acne, decrease melanin production to help with pigmentation and increase cell turnover. Retinoids come in a variety of strengths so it is important to have a skincare professional help you pick the right one for your skin type.
The other thing that is great for anyone of any age but a good time to start in your 20s is the diamond glow dermalinfusion. Dermalinfusion is a non-invasive, medical 3-in-1 treatment that simultaneously exfoliates, extracts and infuses skin with condition-specific serums for an all-inclusive treatment in one step. It is the first and only critically timed, exfoliation-to serum treatment technology with optimal-depth delivery for immediate and long-lasting results on all skin types with no downtime! In our 20s, we often have combination skin so using a serum that is pore-clarifying paired with a vitamin C is great. When we do this procedure in our more mature patients we use either serums that brighten to reverse age spots, or hyaluronic acid to improve hydration, or Patented TNS growth factors to help improve collagen production.
IN YOUR 30s
In your 30s, many patients are starting to consider neurotoxins, such as Botox or Dysport, to prevent expression lines from setting in. The best time to start a neurotoxin is when you notice expression lines on your forehead, between your eyebrows, or next to your eyes starting to be present at rest. For some people, this is in their 20s, and for some, it is in their 30s. Your cosmetic physician can help you determine the optimal time to start neurotoxin treatments.
In your 30s, your skin will start to show signs of aging and sun damage so this is the perfect time to start doing procedures such as chemical peels or microneedling to reverse these signs. Medium depth chemical peels and microneedling improve skin tone, texture, pigmentation and wrinkles. Both of these treatments can be used in patients of all skin types and give optimal results when done in a series of multiple treatments. As always these procedures should be done under the direct care of a cosmetic physician for the best and safest results.
In your 30s, you should also start an eye cream and a neck cream if you haven't already. These two creams are best used for prevention than correction. Dr. Souyoul's all-time favorite neck cream is Revision's Nectifirm Advanced and Dr. Pennington's go-to eye cream is SkinMedica's TNS Eye Repair.
IN YOUR 40s
In your 40s, wrinkles can start to deepen and sun damage becomes more pronounced so your cosmetic treatments need to become more sophisticated. For deeper wrinkles and sun damage, Dr. Souyoul frequently recommends laser resurfacing which uses targeted thermal injuries to increase collagen production, improve wrinkles and remove sun damage.
"This is a procedure I do on myself yearly as preventative maintenance to reverse sun damage and fine lines," says Dr. Souyoul.
For best results, Dr. Souyoul recommends pairing your laser treatment with a topical growth factor such as SkinMedica's TNS Advanced Plus Serum which smooths wrinkles and improves sagging skin.
If your concern is more focused on loose skin and laxity, then Dr. Pennington's favorite procedure is Morpheus8 which combines microneedling with radiofrequency skin tightening. This all-in-one device promotes collagen production to improve fine lines and skin laxity. The best part is that Morpheus8 can be used from head to toe on any area where skin laxity is bothersome such as the face, neck, arms, abdomen or above the knees. To improve your results from the Morpheus8, Dr. Pennington recommends pairing your treatment with Revision's Bodifirm Lotion.
IN YOUR 50s
In your 50s, volume loss in your face will become more pronounced so it is time to consider dermal fillers such as Juvederm, Restylane, Sculptra or Radiesse to correct and restore your cheekbones, lips, jawline and nasal labial folds. It is also the best time to have a surgical consultation with your facial plastic surgeon to discuss what procedures you should get, such as a blepharoplasty (also known as an eyelift), necklifts or even a mini facelift to help maintain youthfulness or turn back the clock. These procedures can also be paired with a fat transfer which is a more permanent option. The age at which loose skin or volume loss becomes bothersome to a person can vary widely on genetics, fluctuations in weight, the amount of self-care and general personal aesthetic preference.
IN YOUR 60s
In your 60s, skin can become thinner and sensitive to your surroundings. Things that help overall skin quality and improve collagen production are a must. Dr. Pennington really loves Sculptra an injection that can help stimulate your body's own natural collagen production. This can replace volume lost while improving the overall skin tone and quality.
There is no right or wrong time to seek out a consultation to discuss what options are best. Everyone's anatomy and goals vary. Dr. Pennington routinely performs facelift procedures on patients from their late 30s into their early 80s, but she can also have a patient in their 50s who has no need for any surgical intervention during consultation. So we explore other options for rejuvenation.
That is the really nice thing about our office, we have all the options available from routine skin care, aesthetic services, botox, fillers, lasers to advanced surgical techniques.  Our office is unique because we have both a board-certified facial plastic surgeon and a board-certified dermatologist. We have every option so there is no heavy push to pursue any one specific treatment. Our goal is to have happy, healthy and confident patients, who look natural and feel confident in their skin.
No matter what your skin care concerns are, it is important to always pick the right physician to help you reach your goal. Your skincare provider should either be a board-certified physician or a cosmetic medical aesthetician who works directly with a dermatologist or facial plastic surgeon. This will ensure you are getting the best and safest treatments for your concern.
Our office, Lindsey Pennington, MD Facial Plastics is located at 6030 Line Ave #110 Shreveport Louisiana 71106. Cosmetic consultations are complimentary and can be scheduled by calling (318)216-5366. We can also be reached through social media on   @penningtonfacialplastics. Website www.penningtonfacialplastics.com or email info@penningtonfacialplastics.com