Written by Teri Netterville
In my personal library, I have shelves full of books about the "Greats" among us: Great athletes, great coaches, great business leaders, world leaders and great every day, ordinary people who defied the odds and became something rather extraordinary in their field of interest. Interestingly, they usually achieved their greatness during a time and space when the world needed their brand of inspiration the very most. And that's usually part of what makes their story so great.
What I have discovered is that many people have come to believe that greatness is a gift reserved only for a select few… only for the "chosen ones." That's simply not true. Greatness is not some rare DNA strand or some precious and rare gift that only some of us are entitled to. It's something inside all of us. But it's also something you must work at; something you must strive for and believe in with all your heart.
What mostly fascinates me about these stories is how these people were able to get around whatever adversity was placed in front of them…whatever stumbling block was meant to stifle their path TOWARD their great destiny.
Adversity seems to be part of the theme in every truly great story. It can come in the form of another person, an illness, an unfortunate event or even a natural disaster.
After all is said and done, we always discover that there was a higher purpose for it. It's always worth going through adversity in the end.
Stories and movies about great teams have always intrigued me the most because the dynamics that must shift into place to make an ordinary team extraordinary is nothing short of miraculous to me.
The different personalities… the different make up of each player… the different mindset…skillset… and "will" set is crucial to the success of any remarkable team. But, quite frankly, whoever is placed at the helm of this group, (meaning the coach), is absolutely critical to the success of it.
Those of us who were lucky enough to be part of this past 2021 baseball season at Louisiana Tech University are well aware that what we witnessed… what we were all part of …was something truly, truly GREAT.
To attempt to encapsulate what happened with this team, this University, along with this very special town of Ruston, into one article seems almost impossible, but I shall do my best. I think the only way to do this is to ask you to step back in time with me and let's rewind the clock and journey back forward through all of the Great Moments that put us on the path to greatness that we all witnessed this past spring.
That first moment of Greatness that set things in motion came five years ago. I'll never forget it.
The year was 2016. My eldest son, Steele, was a junior in high school. I was cleaning the kitchen when I first saw Coach Burroughs on my television screen answering questions at his introductory press conference. Unable to hear very well, I could tell by his facial expressions that whatever he was saying meant a lot to him. I reached for my remote control, rewound the segment, turned the volume up and heard this man very matter-of-factly share with the press, "We will host a regional here."
As if once wasn't enough, he repeated himself with even more resolution, "We WILL host a regional here."
He paused briefly, then continued his thought, "We have the facilities… We've got the support… and there is a commitment to winning here."
Never before had Louisiana Tech hosted a Regional tournament, but I believed his words. I genuinely believed what he was saying because HE believed what he was saying.
Path to GREATNESS set in motion…
A year later, my husband and I are in Coach Burroughs' office witnessing our son shake his hand and committing the next four years of his baseball and academic career to him, his staff and to Louisiana Tech University.
The pride and excitement we felt that day is beyond description.
I was mostly excited about something Coach Burroughs said to my husband and me that day. He vowed to us that our son would not only leave his program a better ball player, but more importantly to him, our son would leave his program a better man… a man who is ready to enter the real world with great strength of character and a willingness to use his life for good.
Path to GREATNESS set in motion…
The year is now 2018 and I am sitting in the audience of the annual "First Pitch Banquet," the one that Susan Burroughs organizes every year. Coach Burroughs had the floor and he was flanked by his staff, as well as every baseball player on his roster. He was describing to all of us what it means to be, "Company Men" in his program.
In his deep loud, baritone voice, he bellowed, "To me, a 'company man' isn't necessarily the most talented guy on the team, but he's the one you can't get on the field without. He's the guy who understands the culture and will go to great lengths to see that it's enforced and maintained. He has a level of toughness and maturity beyond his age. And he cares more about the program than he does about himself. He's a team leader on the field and he's one off of it as well. Company men are an extension of the coaching staff. They take care of business on the field, in the classroom and in the community. And quite frankly, the team suffers when they leave. These are the guys we love to coach."
As I peered at the players during this speech, I couldn't help but notice them stand taller… chins were up and chests were out. They were breathing in his words like oxygen to their souls.
Path to GREATNESS set in motion…
It is now the spring of 2019 and in the wee hours of the night, we all received word that our stadium was in shambles. A terrible tornado had ripped through Ruston devastating the baseball, softball and soccer fields at Louisiana Tech.
It wasn't too long after that that the boys were given a choice by Coach Burroughs: They could leave without judgment or penalty and play for another team… or they could stay and practice at the local high school baseball field, workout in the 50 year-old memorial gym, use their vehicles for their locker rooms and not have a real home team advantage for the next two seasons.
He, himself, had been offered other coaching jobs, but never mentioned this to the boys. He didn't need to. He had already decided that he and his family were going to stay put and help rebuild this program… help with the healing process for this community that they had grown to love so much.
Path to GREATNESS set in motion…
Not ONE player opted the easy way out and asked to be released.
NOT ONE.
Every player and every coach chose to stay. It would've been so easy to leave and start fresh, but not these boys… not this team. This team remained true to their commitment to this school, to their program and to each other. They believed in their mission and they believed in each other.
For two years they sucked it up and did whatever they needed to do to get it done. I believe this is when they picked up the moniker, "Junkyard Dawgs." They didn't care if they had a real locker room, a real state-of-the-art gym or had to play more "away" games than any other D1 school. Nope, they knew their time in the sun was coming so they just did what they needed to do to make that time in the sun count for something.
Path to GREATNESS set in motion…
The year 2020 arrives and with it the most devastating pandemic of our time.
Businesses shut down. Churches shut down. Schools shut down. Everyone is masked up, standing 6 feet away, unable to hug or kiss their family or friends.
Needless to say, this shut down every collegiate spring sport. So there we were again… our boys with another season stifled due to something beyond their control.
The Ruston community was hurting. The country was hurting. Division seemed to be creeping into the fabric of our lives and we needed a hero… or a team of them.
Enter Season 2021 and the Louisiana Tech Baseball team.
Path to GREATNESS set in motion…
As press junkets began, Coach Burroughs set the tone with his no-nonsense approach to what he believed was in store for our 2021 baseball team. He expected GREATNESS from them. And they, in turn, expected it of themselves.
I gathered little snippets from the many press conferences and radio shows that he participated in throughout the fall and spring. I also wrote down quotes he shared on the radio with Tim Fletcher and during his weekly Monday night show that was taped live at the local Ruston restaurant, The Dawg House.
When you read his words, I want you to imagine him saying these things to our boys in the confines of their own time and space together.
Words have great meaning and great power. And when the right words are planted into the psyche of the right group hungering for them, absolutely anything is possible.
Coach Burroughs' quotes:
"Look, each of us has a story that has the potential for greatness. I've told my boys they've been through a heckuva lot these past couple of years. But I know what this team is capable of. I believe in 'em. And they believe in each other. What they've been through and what they are about to do and accomplish this spring will blow this town away. And, quite frankly, it'll make their story legendary."
Path to GREATNESS set in motion…
"I tell my boys that it ain't gonna be easy. But it'll be worth it. They will learn patience. They will learn the gift of a positive attitude and the art of believing and trusting in the journey. They will learn the necessity of grittiness… hard work… .and how to push through pain, frustration and the unknowns. But mostly they will learn that a determined spirit and focused mind will put a stronghold on the heart, which will then catapult their being to a level of greatness that they had no idea was even inside them."
"My boys have learned that communication with God during unstable times will not only strengthen their spiritual muscles, but also their trust in God and God's plan for their life."
Path to GREATNESS set in motion…
"It's going to be an amazing ride. The town of Ruston has been so good to us through all of this and we just want to give something back to them… something to make them proud and excited again."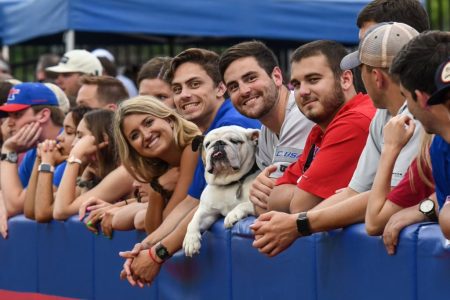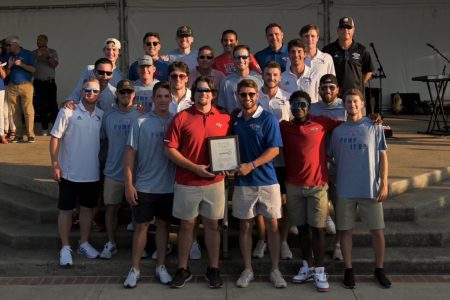 And boy did they! The 2021 season was one for the ages. From no stadium in April 2019 to 40 wins, to winning the Western Division… hosting the Conference tournament and coming up one game short of winning the dang thing… and then, FOR THE FIRST TIME IN LOUISIANA TECH HISTORY, Tech hosted a REGIONAL TOURNAMENT!
And get a load of THIS: In the last six games, there were four walk-off wins… two wins in extra innings and three wins by one run, including two comeback wins over archrival Southern Miss to avoid elimination.
Talk about exciting!
The atmosphere was absolutely electric!
The fans in the stands were rocking to "Pump it UP"… the Kennel was dominating in right field making so much noise that it flustered the opposing teams. Our President turned his rally cap backwards making it very clear that every good mojo he could muster was directed straight to our boys!
The sold-out stadium was packed with every age group of every generation.
Young and old, alike, were dancing together, high-fiving each other, hugging and smiling with one another…
It was joy personified.
For those priceless games, the rest of the world faded away.
We were one.
We. were. one.
… and it felt so good.
We were unified in a way that I believe we will all treasure for the rest of our days.
People who have lived in Ruston for decades were saying that they had never seen or felt anything like this team or this year ever in their lives.
Local sports journalist Cory Diaz tweeted, "Tech Baseball gave Ruston its spirit back."
What a priceless sentiment.
During the last series in Tech's home stadium, Louisiana legendary coach A.L. Williams looked around at the thousands of smiling faces in attendance and said, "Now, THIS is Ruston… yes indeed… Ruston feels like Ruston again."
I'm going to end this piece with something sportswriter Brody Miller shared in his beautifully written article about our team, our town and our coach this past spring. It's so poignant and it encapsulates who we are, what we're about and why this particular season was so very special.
Brody wrote:
Burroughs is the type of coach who likes to preface certain comments with a qualifier that he knows is corny or he doesn't want to make himself sound too good. He provided one of those qualifiers as he leaned back and recalled a meeting this year when the program's chaplain asked the team: "Why are you doing this? Why do you want to win?
Of course, in a room full of college kids, nobody said anything. So Burroughs raised his hand.
"I want to bring people joy," he said. "I want to win because I want people to be happy."
That goal can't quite be quantified and we won't try to say whether it was achieved, but then Burroughs turned to his left and glanced out of his office window. After the storm and the battles, the Little League fields and nearly leaving it all behind, he looked out at a brand-new baseball stadium that at the time was about to host an NCAA regional.
They built something here.
And we did.
We all built it together.
And THAT, my friends, is true GREATNESS.