Written by Patricia Thomas Harper
Photograph By Brittany Strickland (the one of Patricia only)
There is a widely held belief that every one of us appears on this earth with a specific role, a sacred duty to fulfill, and I certainly subscribe to that way of thinking. Perhaps there is a message to be delivered or some special task to perform, or a life to change. None of us is here by accident. Each of us is placed here to change the world.
Libbi Thomas came to earth with a destiny. She came to teach us all specific lessons. Those she touched were strengthened in their faith and learned lessons of humility. She brought us joy and reduced us to tears, as any great teacher does. God made us sisters so we could travel this path together. Every step in her journey, from her birth through the haze of Alzheimer's taught me lessons. God made us sisters so we could travel this path together.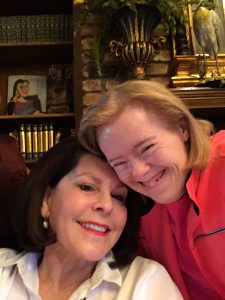 In 1960, my sister Libbi was born with Down syndrome. That world was vastly different from today regarding our understanding and support of individuals with disabilities. When Libbi was born, a mere four pounds, her prognosis was not good. Our understanding was that her mobility would be limited at best. The ability to effectively communicate would be unlikely and any type of learning or education would be difficult, if not impossible.
However, over the past 60 years, I witnessed my sister's miracle milestones every day. Her crawling became walking, which turned into boundless dancing. Babbling became talking and eventually exuberant singing. Playing with blocks became reciting the alphabet and then fearlessly attending her first day of school. Teenage years turned to adulthood, and Libbi was sassy and social and she loved the world of politics. She met five U. S. Presidents and four First Ladies. She interned for two United States Senators. She danced, loved country music, she journaled daily, and she lived every day to the fullest — until five years ago when she was diagnosed with Alzheimer's disease during an examination at The Down's Syndrome Clinic for Neurological Care in Boston. While Alzheimer's disease crept in slowly, it took what Libbi was most proud of; her independence. She prided herself in her stylish ways and suddenly selecting clothes began to be confusing. She was quite tech savvy and loved her iPhone, her iPad and her laptop. If you were her friend, you received an email or a phone call every day. Those devices too, became more difficult for her to use. She would often forget to eat and she began falling as her gait began to change.
Much of my career was spent as an advocate for various issues, primarily in focusing on health care and issues of the aging population. I crafted messages and positions, I lobbied members of congress and state officials, I worked with local community groups and always focused on positive outcomes with a goal of fixing things. Over the past five years, as Libbi's health declined and even the memories of her happy, independent life slipped slowly away from her, I had to face the fact that there is no cure for Alzheimer's. Down syndrome can't be cured, and I couldn't fix this. But when it came to challenges that would affect the quality of life of my sister and people like her, inaction was not a strategy I was familiar with, so, the funding research that would find the link between Alzheimer's and Down syndrome became my chosen course of action. Forming the Libbi Thomas Foundation would allow me to help to ensure that individuals born with Down syndrome in the future would not have to face such a cruel disease.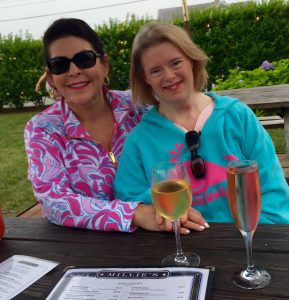 We have since learned that this Alzheimer's is now diagnosed in approximately 30% of those born with Down syndrome who reach age 50 and 50% of those who reach age 60. We are fortunate to have Dr. Florence Lai and Dr. Diana Rosas from Harvard Medical School and Massachusetts General Hospital leading this study as pioneers in this field of research. Dr. Lai believes that the study will identify certain indicators that may predict the onset of Alzheimer's disease and enable researchers to learn more about its link with Down syndrome.
Dr. Rosas and her team have focused on the development of biomarkers to study neurodegenerative diseases, including Alzheimer's disease in Down syndrome. She and her team of researchers have begun to develop models that could explain clinical heterogeneity and disease progression. "For my many wonderful patients with Down syndrome who have genuinely brightened the lives of their families and friends (including me), I dedicate my professional energy to eradicate Alzheimer's disease from their lives," said Dr. Lai.
The Libbi Thomas Foundation was created to provide a better future for people with Down's Syndrome. The good news is that these individuals are living longer. The Libbi Thomas Foundation is committed to ensuring that others not only live longer but that those years are as fulfilling as the rest of their beautiful lives. I am so proud of all that Libbi accomplished in her 60 years, and with today's new advancements, I know that she was not alone in her accomplishments. The world today is a very different place, offering many more benefits to those living with disabilities. We are so grateful to the many who have already pledged their support to The Libbi Thomas Foundation, allowing Libbi's zeal for life and helping others to continue to live on in her absence.
All children deserve the best that this world can provide and that is what The Libbi Thomas Foundation is striving to do—to further ensure that the lives of those born with Down syndrome are grand and that the fear of Alzheimer's doesn't lurk around every corner for the families and their beautiful children. For more information about our work or to become part of our team go to LibbiThomas.org
Libb

i

'

s

Legacy of

Life

&

Love

Written By Libbi's niece, Sarah Thomas Cobb

If you've ever met or known someone with Down Syndrome, then you "know." You know the laugh, the smile, silliness, love, and constant happiness. You know the hugs, the kisses, the cuddles, and the tickles. These are people who contribute a certain brand of goodness, all their own. Our family was blessed with one of the greatest, Libbi Thomas. She was a beloved daughter, sister, aunt, cousin and friend. Most importantly, she was a person that was never defined by her exceptionality. Instead, she was sent out into the world to spread the message of inclusion and acceptance. To Libbi, everyone around her were the "different" ones. It was simply her role to help them become more like her; a role that this world continues to need.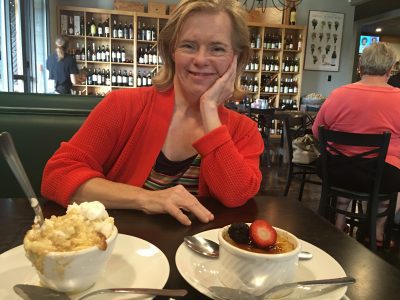 Libbi was born on November 4, 1960. In the '60s, a child born with Down Syndrome was considered a tragedy. It was unheard of to bring a child into the home with this exceptionality and was suggested that all be institutionalized. Parents were presented a list of things their child would never do: walk, talk, learn, be independent. It is unfortunate that this mentality of the '60s is still somewhat alive and well today. Many new mothers, fathers, and families are still presented with dangerously low expectations and capabilities of children with Down Syndrome. Thankfully, Libbi defied these odds. She was never characterized by her limitations and made a lasting impact on people through her presence, actions, and words. Her life is an endless story of all that is possible.
Libbi had many roles throughout her life, the most important being the daughter to Sam and Nita Thomas and sister to Patti, Sammy, and Joey. The understanding in the Thomas household was this: Libbi is a part of everything. This mentality made it possible to have a special bond with her sister and brothers; each sibling had their own unique relationship with Libbi. Her family's support gifted her with experiences unheard of for people with Down Syndrome and helped to spread the message of acceptance and inclusion.
As a child, she attended school, played with friends, went on family vacations and loved playing tricks on her siblings. Libbi loved nothing more than to sneak up on people and give them a good, old-fashioned scare. As an adult, Libbi loved going to parties, Mardi Gras balls, dabbling in politics, listening to country music and seizing any opportunity to have a dance. The list of all her lifelong accomplishments could go on forever. Her laugh was infectious and her zest for life was remarkable. This was not a person that should've been institutionalized. Instead, she is being memorialized as a beacon of hope to those with Down Syndrome and all the wonderful possibilities that come with that title.
Most people with Down syndrome display a general temperament of happiness and joy. I suspect that their elation, like Libbi's, doesn't come from a lack of understanding in regards to pain or nonacceptance. Libbi always seemed content in the midst of any difficult situation. She experienced loss and hard times, but always found a way to find the beauty in her times of challenge. I believe this is a result of support shown by all that knew her; support being that of inclusion and unconditional love. I also believe this to be one of the many gifts people with Down Syndrome possess. They see the joy in situations of all kinds and create opportunities for all around to know that same joy. This was Libbi, inside and out.
Our family is thankful for all the experiences shared with Libbi. Her impact was tremendous and her boundless love was contagious. Although we grieve her loss, we savor all the ways she helped spread the message of acceptance and inclusion. It is our hope that her legacy will ignite this same passion in all people and be a continuous lesson to love unconditionally.