Getting there is half the battle
Spring has arrived and summer is just around the corner. This means it is time for family vacations, and your little ones will be in the car for long hours on the road. It may be your first trip traveling with children or you may be a car seat loading, snack packing pro, either way, traveling with children has its challenges. From what to pack to how to get there, a lot of work goes into a successful family vacation… especially how to keep them happy and entertained on the road. We know it is wonderfully convenient and super easy to hand them an electronic device or put on their favorite movie. Mine would be content watching Toy Story on repeat for hours, but time on the road can also give our kiddos a great opportunity for learning and fun without the trusty screens.
These are some of my favorites for travel play. This list of items offers a variety of options to encourage fine motor skill development and cognitive learning… Don't worry, they don't know they are learning, they are simply playing and that makes for happy children and happy parents!
Ages 2-4
SGILE Magnetic Drawing Board – Draw, write and play games on the erasable sketch pad using the stylus to develop fine motor control and visual motor skills. This is a great open-ended toy to draw letters and numbers or what you see out the window while driving.
Water WOW – No-mess painting for kids! Each of these engaging paint-with-water coloring books includes four reusable pages and a refillable water pen. Simply use the pen to color in each scene–details and vibrant color appear with every stroke! Then let the page dry to erase the pictures and fill it in again and again. The chunky-sized water pen is easy for kids to hold and stores neatly right in the front cover, so these animal, alphabet and vehicle-themed Water WOW books make ideal travel activity toys for kids.
Ages 4-6
Wikki Stix – Wikki Stixs are perfect for road-trips, airplanes, and restaurants to entertain and engage children. Wikki Stix are unique and unusual, which makes them intriguing… and pique the child's curiosity. They are soft, pliable and easy to use… so kids get involved and engaged right away.
Boredom Busters – Skillmatics Boredom Buster is the perfect companion to keep your little one occupied. The highly engaging activities are carefully designed to ensure that your child practices key concepts while having loads of fun! This holistic pack is easy to carry around and will ensure your child is never bored during long road trips!
Reusable Stickers – Puffy-stickers are fun, dimensional stickers with different scenes to create endless possibilities! Each set comes with a folding background card and reusable puffy stickers to fill the scenes. Just place and layer the stickers onto the glossy double-sided background boards. Ready for a story change? It is easy to lift, switch, layer, and rearrange for whatever tale your kids can imagine. The play sets offer endless opportunities for kids to express their creativity and have lots of pretend-play fun, all while improving fine motor skills and communication. They are great for travel: The sturdy backgrounds (with built-in handles!) fold to neatly store them all away.
Toysmith Road Trip Bingo Cards Travel Bundle – Great for long trips or just a trip to the store, Road Trip Bingo engages kids in their environment. It can be played over and over and delivers miles and hours of fun with no screens or batteries. Bring back the glory days of childhood travel games with a rousing round of road trip bingo on your next journey. It keeps kids occupied by interacting with the scenery. Spot various items from the backseat such as a school, dump truck, stop sign, etc. Slide the "fingertip" shutter cards to mark the space. The first to get 5 in a row wins! Makes a great gift and is also great for travel, schools, camps and so much more!
Ages 7+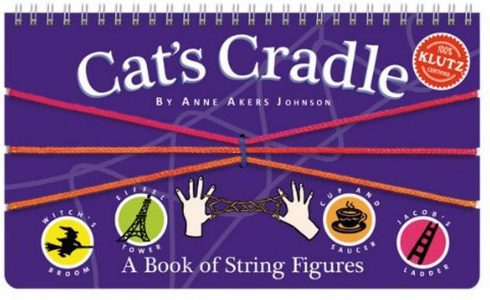 The classic card game of search and find for kids! Travel Scavenger Hunt is the ultimate boredom beater and perfect passenger for your next family road trip. With cards that keep your eyes, ears, and even nose on the lookout, you will wonder where the time on the road went!
Cat's Cradle, A Book of String Figures – As long as there's been string, people have played string games. With this kit, you will learn how to make 5 string figures, including The Cup and Saucer, The Witch's Broom, and Jacob's Ladder. With simple instructions and ultra-clear instructional art, each string picture is foolproof. Cat's Cradle comes with a never-ending loop of rainbow-colored string for hours of entertainment.
Mad Libs Workbooks! – A classic that never goes out of style. Mad Libs Workbooks are designed to reinforce language arts lessons learned in class with all the silly Mad Libs fun!
*Travel toys are NOT recommended for children under two in rear-facing car seats.*
Anna Claire is a pediatric occupational therapist at Building Futures Pediatric Therapy Center. Her love of occupational therapy began at a young age. She incorporates fun, creative facets as well as holistic approaches to better assist her clients in reaching their goals. She has experience in a variety of settings from a multidisciplinary center for children with Autism and communication disorders to home health and an outpatient clinic for children and adults with a wide variety of diagnoses such as traumatic brain injury, CVA, cerebral palsy, Sensory Processing Disorder and dysgraphia. Her diverse population of patients is one of her favorite aspects of occupational therapy. Due to her innate love for children, she chose Pediatric occupational therapy as her focus. Anna Claire cares for all of her patients on a personal and professional level.