Written by Bevin Hicks
Photography by Victoria Arnold
There are many things in life that bring joy, but music is one that transcends all ages, races and demographics. Music is one universal element which brings joy to the entire human race.
The world has endured a year of adapting to changes and tremendous uncertainties. People have lost jobs, loved ones and normalcy. It almost feels selfish to feel sorrow over the loss of live music, but in a world full of music lovers … WE MISS MUSIC. This pandemic does not discriminate to just music fans, musicians are being hit hard in a time when live music is nearly non-existent. It began with the cancelation of festivals and tours, and it quickly carried over to local musicians losing gigs and the momentum of their careers. It is understood that these cancelations were the right choice to make, yet human nature gives us room to feel downright sad.
It has been noted by some health officials that large concerts will not be a realistic option until at least the fall of 2021. Live shows create somewhat of a bond between an artist and a fan. The artist is there for the fans, and the fans are there for the artist. In those instances, we all feel like a part of the magic. So where do we find the music that we so desperately long for? Lucky for us, musicians are of the creative type, and they have found ways to compensate the loss of live venues for their fans.
Three of our most sought-after local artists are continuing to connect with fans and finding ways to bring us music in the madness! Just being around these guys will lift your spirits and fill your soul. With their lighthearted humor and big talents, they will grab your attention … even with an impromptu rendition of, "I'll Fly Away," on a local street on Thursday afternoon. The music lives on.
Monty Russell has been a staple in the north Louisiana music industry for decades. It is hard to find a Louisiana Tech graduate from the last twenty-five-plus years that do not carry his or her own collection of memories made by Monty Russel. He is a country singer, songwriter, Americana radio personality, producer, and promoter, but one of Monty's biggest talents is his ability to connect with people. Monty Russell has been the driving force behind countless local artists making their way in the music industry. Monty takes interest in everyone he meets, wanting to know his or her story before he shares his own, and my goodness does he have some stories to share! At the age of eight, Monty found his passion for music and taught himself guitar. Monty was enthused by the sounds of country, gospel and blues music played by his Grandfather Leon Russell. Over three decades ago, Monty began his musical career playing in bars, at festivals, honky-tonks, churches, theaters and everywhere there was a listening ear.
Monty Russell made his way in the country music industry sharing the stage with Willie Nelson, Dwight Yoakam, Billy Currington, Gary Allan, Little Feat, Merle Haggard, Reckless Kelly, Blues Traveler, Irma Thomas, Marcia Ball, Charlie Daniels, Confederate Railroad, Bucky Covington, Robert Earl Keen, Delbert McClinton, David Alan Coe, Pat Green, Jerry Jeff Walker, Paul Thorn, Cross Canadian Ragweed, Del McCoury, Radney Foster, Pete Anderson, and many others. He has promoted and produced hundreds of shows and concerts at The Rev, formerly known as Rabb's Steakhouse, as well as a list of other venues (fairs, festivals, theatres, corporate). This year will be the 20th anniversary for his Americana radio show, "The Roadhouse," on Monday night on KXKZ.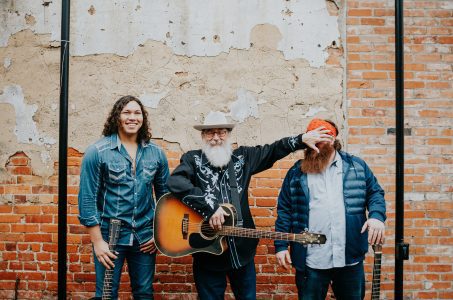 Since the mid-'90s Monty has performed more than 200 shows a year. When he lost a packed schedule in March 2020, Monty said, "It made me scramble for new models.  My friend Jay Howell at Cotton Restaurant in Monroe offered me use of the empty restaurant second floor to produce weekly live streams. He raised funds not only to pay me, but allowed me to hire special guests each show. After May, when restrictions eased, the model became socially-distanced parking lots and patio shows, and other outdoor gatherings. This model has worked great until January when temperatures have remained consistently cold. Crawfish season and milder weather is on the way, that will put the parking lot model back."
It has been frustrating as a producer to finish studio products that began in March, like Trey Gauthreaux's record.  Studios were closed until August and countless rescheduled performances because of quarantines have made "making the music" a lot more complicated. Although his live events were cancelled and production was delayed, Monty is not one to sit still. In 2020 he recorded a jug band acoustic record at Fort Sumner Studios in Monroe with the feel of songs by Woody Guthrie during the Great Depression. He helped produce Beaux Atkins new record, "Redfearn," that was released in January. Just before the world shutdown, he produced and released Dave P Moore's record "Fort Necessity." Talk about an artist that can do it all. Monty is also working on songs with several theatre folks to accompany a play he wrote in hopes for a musical.
In regular Monty fashion, he lights up with optimism, when sharing the special moments and adventures of a trying year. He said, "I was able to sing my daddy's favorite songs at his funeral in July, accompanied by Dave P Moore on harmonica. Right before the ceremony Dave P slipped me a silver dollar from his Dad's collection. I had played his Dad's funeral a couple years before, and this meant a lot. Singing at my Daddy's service was tough to do, but it was my way to show thanks and respect for his greatness as a dad, grandfather, and good soul. He was always a proud supporter of my music. The first time I played a showcase at the Bluebird Cafe in Nashville, my Mom and Dad walked in the door. He had driven straight there after work, grinned ear to ear through the show, then drove straight back to Louisiana."
Monty also performed a great show with Folk Alliance at The New Orleans House of Blues, even with major travel issues. "My long-time touring vehicle 'The Blues Mobile' with over three-hundred-thousand miles, blew up on me on I-49 on the way. I spent a cold night in the car at the Bunkie Truckstop. I even made some money playing for the trucker's late night. I sold the remnants of "The Blues Mobile" to the passerby that pulled me off I-49. My wife Nettie rescued me at truck stop, and we made the NOLA gig in the nick of time. The show must go on!"
These days, Monty spends his time writing new songs daily and is releasing a new album this spring complete with sixteen, self-written songs. He is out promoting his 2018 album, "Fat Man" , available on all digital streaming. "Fat Man" is a twelve song, Honky Tonk vibe, good time, produced by Monty and James Cook/ It is set to be released in spring 2021. In addition, the re-release of 2006 album, "The Fool Monty Russell," will be available on digital in February. Monty is also busy recording (a few songs at a time} for a gospel record and a children's record set to release in 2022. He is also producing new records for Trey Gauthreaux , Victor Abendano, and Bubba Reeves, as well as  working on pre-production for Jarrett Bailey. Monty is grateful to still play solo gigs and keeps finding ways to make big things happen in the music industry, but after a crazy year, more than anything, he says, "I just miss the band!"