Hot-tempered, egomaniacs in the kitchen have been glamorized traditionally, making celebrities out of men who would otherwise be fired for such shouting in the workplace. In that respect, you never know what you're going to get with a talented chef. That said, this series featuring local women in the professional kitchen has led me down a path of pleasant surprises.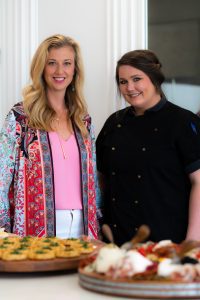 I first heard of Allison from her brother, who at the time worked with me. He would tell me stories of how talented and creative his sister was and how when she returned to Shreveport, she would have the greatest restaurant in town. A young, mild tempered lady with glistening blue eyes, Chef Allison wow'd me in my own kitchen. I invited her and her fiancé to cook my husband's birthday dinner at Glow and it was one of the most elegant dinner services we have ever had. From the delicate hors d'oeuvres to the homemade steak sauce… yes a steak sauce that was elegant enough to sit next to the fork-tender, grass-fed filet that was our entree. Each and every detail was thought out to perfection. Chef Allison Gras is a Shreveport native who attended LSU Baton Rouge. Upon graduating with a business degree, she then attended The Culinary Institute in BR. Growing up in a family who centered time together around meals, as many of us do, she was rooted in a lifelong love of cooking. As I mentioned before, her brother is also a chef. Her fiancé Brad Jones, yep, chef too.
She and I talked about how long and hard restaurant hours can be. Before her daughter was born she would work 100-120 hour weeks, sometimes not getting home until 2 a.m. and turning around at 6 a.m. to do it all over again. That is something myself and most chefs can relate to. Now, a mom of 14-year-old Harper, finding balance has become the priority. She expressed that she wants to set an example for her young daughter that you can be a mom and a hardworking business owner too.
Allison has set out to make her dreams come true. She and her fiancé have partnered on a local project that will bring upscale contemporary French dining to Shreveport. Returning home after her stint in Baton Rouge and a trip to cook at the Cannes Film Festival in France, she and Brad are bringing a taste of their travels and talents back to Shreveport. Hence the name "The Revenir." The Revenir is set to open early 2021 and when it does, you don't want to miss it. Until then, Allison and Brad are available for private dining experiences and catering. She also let me in on a little secret: she loves cooking desserts and she has shared a favorite fall recipe with us!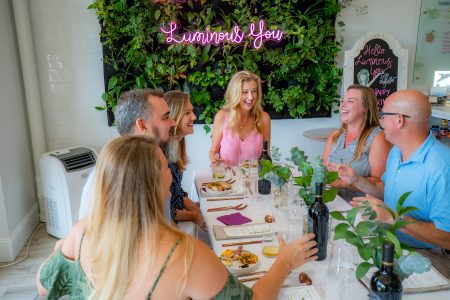 Allison Gras: Executive Chef, Communications Director
The Revenir Restaurant, Every Man A King
TheRevenir.com   
Instagram @therevenir
Chocolate Nutella Torte, Salted Caramel Nutella Ripple Ice Cream, Candied Hazelnuts, Gold Leaf, Blackberry Gastrique
Salted Caramel Nutella Ripple Ice Cream
(Makes 1 Quart)
1¼ cup Sugar
2¼ cup Heavy Cream
½ teaspoon Kosher Salt
½ teaspoon Vanilla
1 cup Whole Milk
3 large Eggs
3 Egg Yolks
½ cup Nutella Chocolate Spread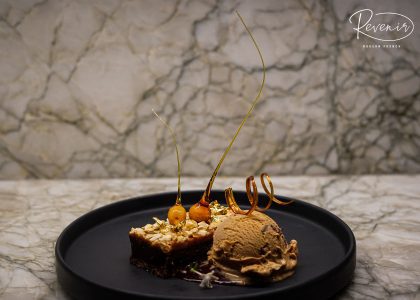 Heat 1 cup of the sugar over medium heat, stirring with a fork to heat sugar evenly, until it starts to melt. Stop stirring and let sugar cook until it is a dark amber color.
Add 1¼ cup of the heavy cream (mixture will bubble up, can be scary). Stir until all of the browned sugar has dissolved into the cream.
Transfer into a bowl, stir in salt and vanilla, and cool to room temperature.
Bring milk, remaining cup of cream, and remaining sugar to a boil in a small saucepot, stirring occasionally.
Lightly whisk eggs in a bowl, then add half of the hot milk mixture slowly, whisking constantly. Pour this back into the saucepot and cook stirring constantly, until the mixture coats the back of a spoon.
Strain liquid through a fine-mesh sieve. Stir in the cool caramel cream mixture. Chill mixture for 3 to 6 hours.
Freeze mixture in ice cream maker. Stir in Nutella to ripple throughout. Store in an airtight container in the freezer.