I want to start out by saying that we want to give credit to God for giving us the idea of Twin Blends Photography because it's not something we could have come up with on our own. 
So, what is
Twin Blends Photography? 
We hear that a lot and are glad you asked! We are twin brothers and we have a photography business but it's NOT quite the photography you see every day. Let me explain. We grew up in Southern Hills in Shreveport and played sports together. As we got older and retired from sports, we started to get more interested in photography and our city's history, so we decided to combine them together. We find old pictures from the past, go to the exact location where they were taken, snap our own picture and then combine those two pictures to form what we call a "Blend." That's where the name Twin Blends comes from and you can find us on Facebook, YouTube and Instagram. Tina Calligas, with The Best of Times Magazine, also features two of our Blends in each month's edition in the "Shreveport Then and Now" section. We are also working on a website, so stay tuned! All of our pictures and Blends are for sale, so check them out!
People always ask us how Twin Blends Photography got started. A few years ago Mike found a Facebook page called "If you grew up in Southern Hills, Shreveport" created by Mark and Barry Walker. The people on there were talking about places in Southern Hills and in Shreveport that everyone went to back in the day that no longer exist, like the Sunset Drive In and other places. Mike had come across some old pictures of those locations a few years earlier, so he posted them to the group. People on there really liked them and wanted more! So, we went up to the LSUS Library and asked if we could look through their old photo collection. They were extremely nice and allowed us access. Little did we know but they have literally thousands of pictures there, and a lot of them are negatives. We then spent hours and hours combing through the photos and negatives looking for old pictures of Southern Hills. During that time, we came across some really, old pictures of downtown Shreveport and also some of Bossier City. We were blown away! There were tons of old pictures starting from the early 1900s that were buried in their vast collection, many of them probably hadn't been seen in several years! We were hooked! In return for letting us post their pictures on social media, LSUS Archives asked us to always credit them on the pictures so everyone would know where they came from. We started posting those old pictures and everyone loved them.
Then I had the idea that we should go to the spots where those old pictures were taken and take our own photo and put the old and new photos side by side to show people what it looked like now. Mike wasn't sure that people would care what it looked like now, but I pointed out that people who had moved away, or even people that still lived in town but haven't been back to those places, would probably love to see pictures of the places where they grew up. And boy was I right! Once we posted the Then and Now pictures side by side, people loved it! Then one day we went downtown to get a Now picture in a spot where an old photo was taken in front of the courthouse on Texas Street. I was on a 14' ladder to get the right angle and was lining up the shot but needed a size reference to compare with the people in the old picture, so I asked Mike to step into the shot, then I took the picture. Later, Mike started putting the Now and Then pictures side by side on his computer program for a Facebook post and decided to overlay one on top of the other to see if the angles and distance were the same and when he did, the picture came alive! It was amazing! He immediately called me and told me I had to see this! It was amazing, but it was still missing something. He showed his wife, Shoni, and she knew exactly what was missing. In the Now picture, Mike was wearing a drab colored jacket. She said the picture needed color to contrast with the black and white portion of the old picture. The next week we went back, and he and his wife wore bright colors and we took another picture. That was it! The picture really came alive! That very first Blend was what we call our "Barney Blend" since one of the people in the picture resembles Deputy Barney Fife! When we posted that on the Southern Hills Facebook page it received a lot of likes and comments! Later, the Best of Times Magazine featured that picture on one of their covers and it won several awards. When that happened, we really knew we had something special and that's when Twin Blends Photography was born! We then created our own Facebook page so that we could post old photos and Blends from all over the area. Later, while researching old photos online, we saw that there were a few other photographers in other parts of the country combining new and old pictures, so even though we aren't the only ones doing it, we think ours is the best!
Our Motto: You have to look to the Past to appreciate the Present! 
We get tons of positive feedback from our 7,000+ followers! People stop us in stores, message us and comment on our posts telling us that what we do brings them back to a time with loved ones that almost had been forgotten. Some of them are amazed at the history of this area that they had no idea about! For example, recently one of our followers, Russell Heins, contacted us and told us that he was so excited because when he showed his grandmother, Norma Heins, our Barney Blend, she recognized her mother, Eva Snider, in the 1950s portion of that picture. That means it was Russell's great grandmother! Since then, we have had several people contact us to say they had seen their relatives in other pictures. That really makes our day! 
We also have over 100 videos on YouTube and our most popular video was one we created that was a tribute to the brave men and women of the Shreveport Police Department (past and present). We named it SPD Heroes Then and Now and posted it on Facebook. The video features current SPD officers and we blend in their past counterparts using images from old pictures and set it to music. It now has 95k views and over 2,900 shares! Law Enforcement Agencies all over the country shared it. One of those agencies even asked us for permission to play it at an event to honor Fallen Officers. We also have several other popular Then and Now videos such as Shreveport Scenes Then and Now, Hamels Amusement Park, Ford Park and many others. We don't take ourselves too seriously so that means we can have a lot of fun in our videos! 
Being twins meant that we grew up getting stared at everywhere we went, so we were extremely shy. People are surprised that we overcame that and now do speaking engagements. (I still make Mike do most of the talking!) We've had businesses and organizations invite us to come and talk about what we do at Twin Blends and show our pictures and videos. We love doing that and have spoken to several organizations including The Blake of Bossier, Brookdale Assisted Living, Montclair Park Assisted Living, The Oaks of Louisiana (twice), Shreveport Genealogy Society, and The Dames of Louisiana. We've been on the Best of Times Radio program and on Red River Radio telling their listeners about what we do.
Drones? Yes, we also offer drone services and we are Part 107 Certified with the FAA, so we are authorized to sell our drone pictures and videos. We've done drone work for Real Estate agents and property owners in the area. We use a Mavic Pro Platinum drone which is very easy to fly, and we have a lot of fun with it. 
A little more about us. Not only are we identical twins, we are best friends. We grew up playing sports together and played baseball at Woodlawn High School and Centenary College. After college, I played four years in the minor leagues as a knuckleball pitcher. Two years with the Houston Astros organization and two years with the St. Louis Cardinals organization before retiring in 1988. Later, we played recreational sports together but now spend time together doing Twin Blends. Some days we can even be found hunting for Civil War relics with our buddy, Marty Loschen, who is the curator at the Spring Street Museum. That keeps us extremely busy but believe it or not, we both have other full-time jobs. Mike has worked for Nabisco for 33 years and I have worked for Mars-Wrigley for 28 years. Also, our wives are very supportive of us. Mike and I are always in contact with each other every day, either through phone calls or messages and they are totally ok with it. When we all four get together for a double date we have a blast! God has truly blessed both of us!
Who inspires us? We would have to say that Dr. Gary Joiner and the late Eric Brock have always been an inspiration to us. Their knowledge of this area has helped us tremendously! Rick Rowe, who is a master storyteller, has done 3 stories on us and is also someone who inspires us. And our favorite photographers are the late Bill Grabill and Jack Barham who took amazing pictures!
Our mission is to show people some of the history and beauty of Shreveport – Bossier City in a fun and exciting way through photography. It's a way to help them connect to the past and bring everyone together. It's also a way for us to honor the men and women of the past who helped build Shreveport and Bossier City.
Our goal is for our Blends to be in as many homes and businesses as possible all over the Ark-La-Tex. We would love for businesses to contact us and commission Blends for their offices. Who knows, maybe one day one of our Blends will be on the side of a wall in downtown Shreveport! What a conversation piece that would be!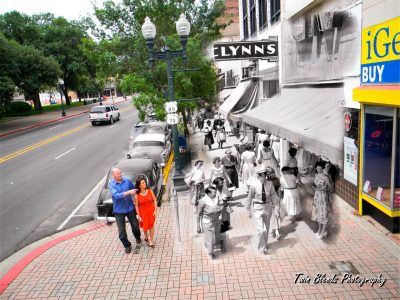 We have to say that without the LSUS Archives and their support, there would probably not be a Twin Blends Photography. They have been absolutely amazing in their support of us by allowing us access to their photos. Laura, Fermand, Domenica and Dave Bland have been extremely helpful each time we go there. We also want to thank Mark and Barry Walker for allowing us to post our Blends on their Facebook page early on and to their followers who gave us the confidence to start our own Facebook page. And of course, we must thank all the followers of our Twin Blends Photography Facebook page! Their support and positive feedback are what keeps us going!
Lastly, we want to thank Lola Magazine for reaching out to us and asking us to be in their magazine! We feel very honored that they chose us. We look forward to helping bring history to life for their readers.
And remember… At Twin Blends Photography (and Lola Magazine) the Past and Present are about to Collide!