#MeetTheFoxes 
Life happens so fast. Every day makes us who we are, for better or for worse. When you're young, you see things one way, but as you get older, you start to see things differently. 
To some people, growing up and getting older means more endings than beginnings. For Ricky and me, it's just the opposite! You might think you know how your life will turn out, but you never know when it could grow into something beautiful that you'd never expect. If there's anything I've learned in my 55 years, it's that it is never too late for love, and it just might come from the place you always hoped it would.
According to Ricky, our story started at University Elementary School. That's when we met for the first time. Imagine that — We were only children! After University, we went to Youree Drive Junior High and Captain Shreve High School together. We even graduated in the same class in 1982! All those years we were right alongside one another. Just about everyone had a crush on Ricky and I certainly did!
One moment, in particular, stands out in my memory from all those years ago. It's vivid and surreal to think about now in my adulthood. I was in seventh grade looking at our yearbook from Youree Drive, staring at who I thought to be the most beautiful boy in the world. He was so handsome with his blonde, feathered hair — my goodness! He could have been in Tiger Beat along with David Cassidy, my favorite star crush in the 1970s. It's funny how that moment in time stands out to me even now at 55 years old. It makes me wonder if it was a premonition of some kind — a soul connection that only my subconscious could understand at the time. It may sound crazy, but love often works that way. It can make you feel crazy in the best way. 
That beautiful, blonde boy was Ricky Fox, and he turned out to be my perfect match. Before I share any more, I'll let him tell you about this part from his perspective! 
Love from Ricky's perspective…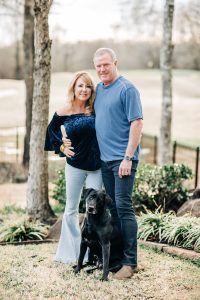 Can you imagine knowing someone your whole life and not truly connecting until your 50s? That's Lauren and me. We went to school together all our lives — we even graduated from LSUS together. We never dated but she was my "secret pal" for football. She had to roll my house with toilet paper in the front yard but was such a scaredy-cat! I later found out she thought I'd wake up and catch her. So we had small, fun interactions like that when we were younger. It wasn't anything serious until much, much later though. I knew her, but I didn't really see her the way I do now.
In recent years, I always ran into Lauren and her friends at different local restaurants or social settings. After a couple of years, I found out she was single again. Then it dawned on me: Wow, how did I miss this in high school? I could see her in a way I missed when I was younger. But this time I was paying attention. 
One night at a local restaurant, Windrush Grill, I sat down at a table with her and some friends to socialize. During the conversation, I mentioned I was going to organize our 35-year high school reunion and would be looking for a venue that upcoming Thursday. I needed help with it, so Lauren said she would help organize with me. She agreed to meet that Thursday afternoon to look at potential venues. I wasn't sure if she would show, but she did, and I suppose the rest is history. We have not been apart since that day.    
A year and a half later, I proposed to Lauren at Windrush where it all started! She is my perfect better half. We enjoy life together and are compatible in every way! We share the same views and like the same things. I feel so at home with her — like we've always been together. In a way, we have because we've known each other all our lives, but being in love makes it all the more fun! 
I honestly never thought I would remarry, but Lauren came along and completely changed my mindset. I couldn't let her get away this time! I knew she was a keeper. She is the most amazing woman — smart, beautiful, creative, fun, and an excellent businesswoman. 
We try not to let those missed years get us down because we know we are each other's happy ending. There are moments when it's hard to keep from wondering what our lives would have been like if we had hit if off sooner, but we've decided to make the most of the time we have now. We can appreciate the history we shared without knowing where it would take us. Now that we know what we have, it's the best, and I am the happiest I've ever been. 
Lauren's Love story…
I know I said Ricky was my perfect match, but it took many twists and turns over the years for us to finally figure that out! Ricky was one of the cutest boys in our class, and sixteen-year-old me might have had a heart attack if he had noticed me! To be honest, he still makes me feel that way. I guess that's how you know it's the real deal! As thankful as I am for the life we share together now, I can't help but wonder how amazing life could have been if only we had started dating back then and realized we were made for each other. He was under my nose all of those years and I had no clue. But I'm a firm believer in timing, so I suppose we had lessons to learn before we became Mr. & Mrs. Ricky Fox!
Like Ricky said, we reconnected on January 19, 2017, and have not been apart since! I have been living my best life with a true partner who is supportive, thoughtful, fun and just the most amazing man in the world to me. We enjoy the same things, which allows us to be partners in a new way with the businesses we run together.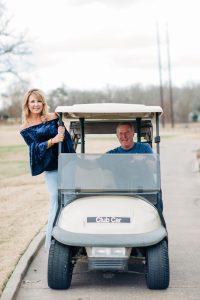 I am the founder of Sleek Physique, a boutique fitness studio that I sold this summer. Ricky has been the support I needed to pursue a new venture —laurenfoxondemand.com. My online exercise classes take up most of my professional time and energy, and Ricky is there through it all. He's the best partner! We started our own nonprofit together, too. The Fox Fitness Project exists to fight childhood obesity. We get to do all this because of our shared passion for health and fitness, and I never dreamed I'd be living a life like this! 
We do everything together and are totally content in the big moments and small ones. Whether we are having coffee on our patio in the morning or traveling somewhere we've never been, we finally have each other and are doing our best to make up for lost time! We don't want to miss a thing now that we have each other.
We waited a long time to reach this point, and I truly believe it is never too late for love. It may not come when you hope or expect, but when it does, hold on and don't let go! I am so very thankful for our story and can't wait to spend the rest of our days together. I'm so grateful to get to share our story, and starting in early 2020, the journey will continue with our new reality show, #MeettheFoxes! I never would have dreamed this would happen, but here we are. I'm forever glad to have met my Mr. Fox!