Tracy's King Crab Shack in Juneau, Alaska, is 3,417 miles from my home in Monroe. Not a weekend jaunt. 
But I dreamed of dining there as I began planning our Alaskan vacation. My research revealed the best way to taste Alaska within the one- to two-week time frame most people have for a vacation is through a cruise or a land-cruise journey.
That's where it gets complicated.
You can go to whatever cruise line you want and book directly.  I recommend you consult with a travel agent to plan this type of complicated travel because your agent is going to give you the best advice and will be there if you encounter any blips along the way. It costs you nothing.
After looking at our available time, budget and cruise lines, we chose a balcony stateroom on Royal Caribbean International's Ovation of the Seas, Seattle round trip, for travel Sept. 6-13.
Our ports were Juneau, Skagway, glacier cruising day at Endicott Arm and Dawes Glacier, and Victoria, British Columbia. 
We flew American Airlines from Monroe to Seattle through Dallas-Fort Worth. We had a shuttle from the Sea-Tac Airport to the Hyatt Regency in downtown Seattle. It's a new hotel and is absolutely pristine with good food options and superb customer service. A shuttle the next morning took us straight to Pier 91, our departure dock. 
Boarding was fast and easy, and we had early access to our cabin to drop off carry-on bags. We had a 9th-deck, starboard side, mid-ship balcony room. Great views, convenient to elevators. 
Our first day, we had lunch outside Café 270, which is a beautiful space in the aft of the ship. It was included in our fare.
A word about cruise ship dining, beverages and amenities:  The basics and somewhat beyond are included. There is no absolutely shortage of good food, beverages and entertainment.
Increasingly, some of the more upscale options for food, beverages and special events or activities bear additional fees or require advance reservations.  Ask questions and do your research. 
A lot of Facebook groups are formed for the cruise lines and for individual cruises. Scope them out but take the advice in social media venues with a grain of salt. 
Just like I'm reporting on my experience here, it's simply that – the experience of two people who have flown and cruised before. Always consult an expert like your travel agent or call the cruise line directly if you have questions. 
Our first port was Juneau, the capital of Alaska. Did you know that no roads lead to Juneau? The way to get there is by ship or air. We booked a whale watching tour through Dolphin Jet Boat charters that included a meal at Tracy's Crab Shack, a landmark on the Juneau pier. 
Great tour, super people, highly recommend. Saw lots of whales and other wildlife. I was amazed at the number of bald eagles we saw – they are so beautiful they always give me chills! And Tracy's? Well, it was a ton of awesome food. King crab legs, crab bisque and crab cakes. I did manage to eat it all.
In Skagway, our next port, we did the White Pass train excursion booked through the cruise line. It was a beautiful ride. We had plenty of time for souvenir shopping in the quaint downtown area. I negotiated hard for a silver whale tale necklace, and we purchased and mailed the grandkids wooden "Alaska" postcards.
Glacier day was not a stop, but a trip in as close as we could safely get to the glacier based on the amount of ice in the water.  Our captain paused and very slowly turned the ship 360 degrees twice so everyone on board would have an opportunity to view and photograph it. 
Victoria, British Columbia, was our final port. This is one of the cleanest, most beautiful metropolitan areas I've ever seen. We took a tour through the cruise ship to Butchart Gardens. We have been to lovely gardens all over the world, and even been to the famous Chelsea Flower Show in England. Butchart was amazing – a beautiful place created out of a limestone pit.
The Ovation of the Seas was a city unto itself. But it's broken up into smaller spaces – there's no "mega" Main Dining Room or giant show room. I often felt like I was in a hotel/mall. There were tons of smaller restaurants and entertainment venues, so you had amazing choices for things to do all day and all night. 
Tons of "included" food choices were available outside the main dining rooms and the Windjammer buffet. I picked up plates of "free" pizza at Sorrento's and walked them next door to the English pub where we watched the Saints' game, and we fell in love with the grab-and-go fruit, salad and sandwich options from Café Promenade, Solarium and Café 270. 
We dined at Chops and Jamie's Italian, two of the specialty restaurants on board. We bought a "Chops + One Specialty Dining Package." Loved Chops. Very solid upscale steakhouse meal. I would compare Jamie's to any Italian restaurant next to any mall – a lot of food, a lot of pasta.
There is SOOO much conversation about the "drinks packages" on cruises. We have never done it. We bought a specialty coffee card for Lindsey and a soda card for me. He didn't use all of his coffee card in a week, and I probably broke even on my soda card with a couple of Cokes every day. Even selecting cocktails or wines by the glass when we wanted them, our bill came in far less than it would have been with a package. 
With numerous cruises under our belt, we skipped the photographers and the photo packages. They do some good work, and if this is one time you get your whole family dressed up for dinner, go for it! We also skip spa and salons unless there's an amazing deal. 
I definitely enjoyed the "Wines Around the World" class that was held one afternoon, and we had an amazing four-hour Chef's Table experience one night. Both of those were at added cost, but they were well worth it. 
Ovation of the Seas also has North Star, which is a glass bubble that lifts you high above the ship, iFly – a skydiving simulator, and Flowrider —  a surfing simulator. They are included in your cruise fare, although some North Star rides now cost extra (at the time of this writing, that was dependent upon demand and location.) 
The ship has multiple covered and open pools and hot tubs, including adults-only in the Solarium. Every other convenience imaginable is included. This ship even has a SeaPlex gymnasium that is also used for bumper cars and trapeze lessons!
Weather was moderate. Jeans or leggings, sneakers, long-sleeved shirts and fleece or hoodies were our uniforms. We took heavier clothes, but never broke them out. It rained one day and I was glad to have a raincoat with hood.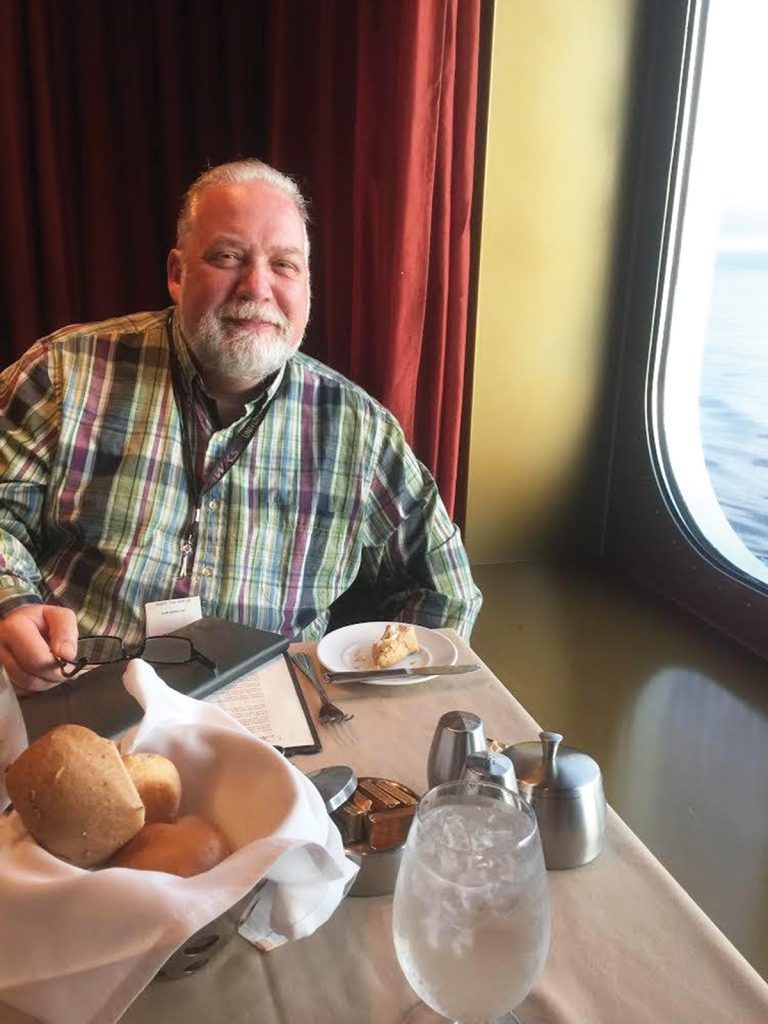 We had traveled to Seattle before, but if you haven't and that's your cruise departure port, definitely go in a day or two ahead of time. My favorites are the Chihuly Museum, which celebrates the amazing glass artistry of Dale Chihuly, and the Space Needle.
After our awesome stay at the Hyatt Regency on the way to our cruise, I was glad I took the advice of my travel agent and booked the Kimpton Alexis on our return. This little beauty of a boutique hotel was in a great location and featured newly renovated, beautiful rooms with super amenities and service. 
Once back in Seattle, I had to have one more fresh Alaskan king crab leg. Elliott's Oyster House filled the bill and was an easy walk from our hotel. 
I'm already dreaming of my next Alaskan adventure. It's a great break from summer in Monroe. The best prices are available by booking early. Unlike the Caribbean, where you can snag some lower rates by watching the prices, our cruise went up in cost substantially as the ship filled up!
If you're thinking Alaska is in your sights for 2020, consider booking your cruise soon. Various insurance riders are available, including "cancel for any reason." It is amazing.