(headshot photography by Steven Palowsky)
"Are pageants even still relevant?"
"Are you sure you still want to compete? Aren't you getting a little too old to be dedicating so much into a pageant?"
At 22 years old with nearly seven years of involvement with the Miss Louisiana Organization — three years of competing for and one year of serving as state titleholder with the Miss Louisiana's Outstanding Teen Organization, and then going on three years of competing for the Miss Louisiana title, these were questions I received fairly regularly. What many did not realize about the Miss America Organization when asking about its relevancy is that it is the largest scholarship provider for young women in the world, and as a first-generation college student needing all of the scholarship money I could get, competing in a pageant that would provide me those scholarships was completely relevant.
So to me, it did not matter how long it took, I had a dream that needed to be fulfilled, and as my mom has always liked to so fondly call it, I've always been a bit "strong-willed."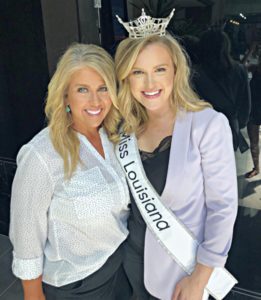 Don't get me wrong — my dream to be Miss Louisiana has not always been so clear cut. In fact, after two years of competing, I felt like God was leading me in a different direction, so I took the 2018 competition off.  Little did I know, however, that ironically my time away from Miss Louisiana is what would prepare me MOST for Miss Louisiana.
During my year off, I went on to become heavily involved on campus at LSUS, even serving as SGA president for my university. I had really begun to enjoy my time away and had even started to consider not coming back to compete.
But once again God's plan prevailed, and I went on to compete for and be crowned the Miss Louisiana preliminary titleholder of the Miss Louisiana Watermelon Festival. It was the most fun, supportive year of preparation I have ever had throughout my years of competing. So much of my winning Miss Louisiana is owed to being Miss Louisiana Watermelon Festival. I am so clearly reminded daily of God's grace and perfect timing.
Since being crowned Miss Louisiana 2019, my year has been a complete, utter whirlwind. You know the movie "Princess Diaries" when Amelia learns she's the Princess of Genova and overnight her life went from pauper to princess? Yeah. That's my life. Overnight I gained a new home on ULM campus where the university so kindly sponsors a beautiful apartment by the bayou, a new vehicle provided by JPS Ford in Arcadia, and a new job — all of which I get to keep for a year. I'm now almost two months into the job, and I still find myself waking up in the mornings pinching myself, afraid it's all a dream. But I guess it is — only it's a dream come true.
While being Miss Louisiana is fun, it is not all glitz and glamour. It's a job, and a real, challenging job at that. And with only a year to live this dream, it's my goal to not allow a single day go to waste.
In addition to preparing for the Miss America competition being held in December, I've set forth several goals and initiatives I intend to accomplish throughout my year of service. I'm learning every day the wide variety of hats that Miss Louisiana wears — from speaking to students at schools to serving as the official hostess of the state. But one of my personal first priorities is to serve as an ambassador for my social impact initiative, the Northwest Louisiana YWCA Leadership Empowerment and Development (LEAD) Program, working to establish the LEAD program in all five of our YWCA locations throughout the state. Secondly, I will advocate for our Children's Miracle Network Hospitals, as that is the Miss America Organization's national philanthropy, and visit all five of our CMN Hospitals in Louisiana as well as raise funds for the foundation.
Throughout this journey, I am focusing on cherishing every moment and remaining grateful. I have been blown away by all of the love and support I have received so far, and I can only hope to make my state and hometown of Bossier City, Louisiana, proud as my year continues.