Who knew that coffee can build community? I didn't know either until I met mother-daughter duo Teresa and Shelby Sheppard. These women own and operate two of Monroe's newest coffee houses and are taking a unique twist to the ever-growing Coffee Culture.  The Sheppards are no strangers to entrepreneurship. Theresa and her husband Phillip have owned several businesses throughout the years like a garbage company, an arcade, and a community swimming pool to name a few. However, in 2010, the couple sold their commercial and residential construction company. Teresa then opted to stay at home and raise her grandkids to allow her three eldest children an opportunity to work and pursue their passions. But, when her youngest grandchild began school, she found herself wanting to go into business for herself. Theresa says, "I had always worked for my dad or my husband and I wanted something to do." At the suggestion of her youngest child Shelby, she decided to open Bayou Brew House in October 2018 at the age of 61. But it became a family venture and a labor of love. Teresa, along with her husband and her family, completed the labor themselves to turn a once-residential property into a local coffee house.
Prior to the suggestion of the new family business, Shelby already had a peaked interest in not only coffee, but entrepreneurship in general. As the youngest, she had long witnessed the family being in business for themselves. When asked what she witnessed, Shelby states, "I saw my family have determination, tenacity, and ambition to go after things and see things through."
That same tenacity and ambition is what ultimately led Shelby to coffee. While playing basketball at Centenary College in Shreveport, Shelby would often frequent Rhino Coffee, which unbeknownst to her would become her muse. She says, "I always loved coffee and I enjoyed the vibe and atmosphere there." It wasn't until Shelby blew out her knee that she really decided to pursue her interest. In speaking about her life following her injury, Shelby says, "I worked as a camp counselor for two summers then I completed one semester at University of Louisiana Monroe (ULM), but when the opportunity came to go into business, I acted on it." In preparation to start her business, Shelby enrolled in Texas Coffee School in Mansfield, Texas, and completed 17 hours of training to become a barista. Shelby learned everything from different brewing techniques to how many parts per million of water should be in a cup of coffee to achieve a certain taste. Shelby exclaims, "My favorite thing is seeing my friends drink black coffee; that's incredible to me and one of my favorite things!"  She also states, "I knew that I wanted coffee making to be a craft and not just something that we do." And with that, Cypress Coffee Co. opened its doors in February 2019.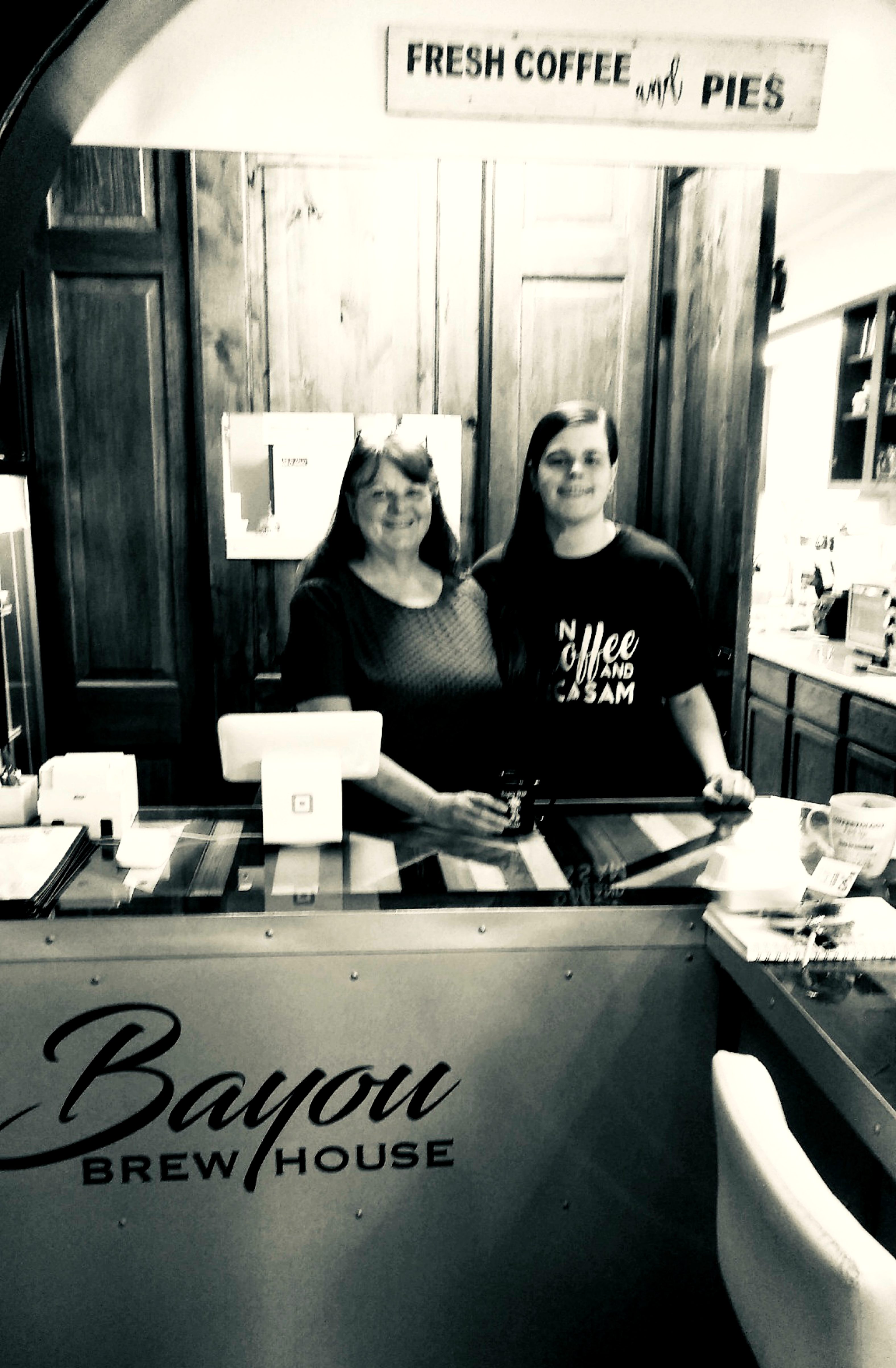 In describing their businesses, Teresa likes to describe her coffee house Bayou Brew House as "comfort cozy," while she describes her daughter Shelby's location Cypress Coffee Co. as "urban trendy." Despite the differences, the women agree on one thing – creating a coffee culture in Monroe that's not commercially driven. In both locations, the women strive to know your name and memorize your order. Teresa states, "I want to be an established location and when people pass by, they think, that's always been there." She further states, "I want to be a gathering place for the neighborhood and when people have events to host, I want them to think about Bayou Brew House." Not only does Bayou Brew House offer an assortment of artisan coffee, but also breakfast, plate lunches, sandwiches, and homemade desserts.
In speaking of her menu, Theresa insists, "people connect over food." And she wants to live up to her "comfy cozy" title, "I love when ULM students come in to study and eat. I had one customer that spent hours in here. Once I fed her, she wrapped up in her blanket and took a nap in the booth, then woke up and got back to studying." Also, as part of her business model, Teresa does not utilize other baristas or servers that frequently approach customer's tables. She takes and delivers orders herself. She explains, "I don't want people to think they have to leave, I want them to stay awhile." On the other hand, Cypress Coffee Co. takes on a different persona. Shelby likes to think that she caters to young professionals and creatives since she's nestled in Monroe's revitalized downtown area. However, the space has kept its urban rawness with exposed brick and a meeting room with velvet chairs that's sectioned off with a large glass partition, hence the "urban trendy" label. In speaking of her business, Shelby wants to be the hub for innovation and forward-thinking. She outlines, "I want to show that Monroe is not stale or still. We can all work together to succeed. Monroe is big enough to where you can't know everybody, but still small enough to build community."
Both believe there is room for growth in Monroe for women and small businesses. Teresa states, "We're on the edge…we're right there within reach." However, she believes we all must be active participants for the vision to come true. She further states, "Monroe needs community – If you can't find a spot, create one!" Which is what this mother-daughter pair plan to continue to do. In speaking of the future, both Teresa and Shelby have their sights on expanding. Shelby describes, "I would like for each location to take on the persona of the environment. I want each coffee house to be unique and connect, but not like a chain (commercial franchise), but branches on a tree where one location is an extension of the other." They also have hopes of becoming more social and integrating in the community by hosting open mic nights and live music. The businesses may even expand to offer craft beer, wine, and signature drinks for after-hour events. However, the community is already taking notice. Bayou Brew House was a 2019 nominee for the Thomas H. Scott Award of Excellence for Small Business by the Monroe Chamber of Commerce. And although they didn't win, both Teresa and Shelby remain steadfast in their commitment to coffee. Shelby affirms, "It's my hobby and my livelihood!"
Bayou Brew House
7129 DeSiard Street
Monroe, LA 71203
6:30 A.M.-5:00 P.M.
Cypress Coffee Co.
523 DeSiard Street
Monroe, LA 71201
7:00 A.M.-4:00 P.M.