From the moment you meet Holli Conway, you are comforted by her presence. She illuminates a room with her infectious persona, and she has a passion for life on and off stage.
Holli' was born from the union of Hollis and Charlotte Bergeron Conway on September 9, 1994. She was raised in Monroe, Louisiana, along with her sisters, Angelique Conway and Tarvia Conway. She graduated from Northwestern State University with a Bachelor of Science degree in theatre with concentration in musical theatre. During her time at NSU, she acted in productions of Rent, Avenue Q, Hairspray, and Sweeny Todd.
I had the privilege to share the stage with Holli' in a production of South Pacific in 2015 with Strauss Theatre Center and the Monroe Symphony Orchestra. From that moment, I knew I had worked with a precious jewel just beginning to shine.
Holli' celebrated her 24th birthday in one of the most magical ways. She competed for the title of Miss America on September 9, 2017, representing the Bayou State as Miss Louisiana 2018 where she finished as second runner-up and preliminary talent winner.
When her life's journey began, pageants were no where on the radar of her passions and dreams. She was very athletic and somewhat of a tomboy growing up. She competed in field and track though she was a theatre major.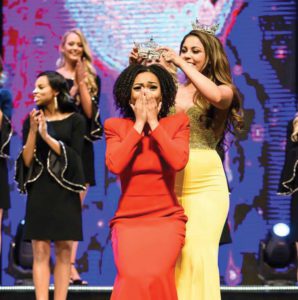 Holli' comes from a very athletic and competitive family. Her father, Hollis Conway, is a two-time Olympic medalist in the high jump, taking home the silver at the 1988 Olympics at Seoul, Korea, and the bronze in 1992 at Barcelona, Spain. Her mother Charlotte is an active runner.
That competitive spirit and her genetic catapulted Holli' into a place she never saw on the horizon. While attending Northwestern State University, Holli' sang during the Miss Northwestern Lady of the Bracelet competition as entertainment between competitions. She was not a competitor and never intended to be.
After the pageant, she was heavily approached by the reigning Miss Louisiana, the board, the judges, the local directors. They all thought that Holli' needed to step into the world of scholastic pageantry. Holli was perplexed. She didn't know how to do a pageant; she was an athlete. She didn't do pageants. Track and field were her only competitions.
Her lack of knowledge in the pageant world created an organically authentic breath of fresh air. She just wanted to be herself. She took heed to the Miss Louisiana America Organization's standards of promoting confidence, self-love, and encouraging others to be as real as they can. That realness paid off when she competed in her first preliminary and won the title of Miss Taste of the Twin Cities 2015.
She didn't want to change herself. She just wanted to have fun with it and win some scholarship money along the way. She was third runner-up that first year to Miss Louisiana, Jaden Leach. The following year she would go on to be first runner-up to Miss Louisiana 2016, April Nelson.
As she was one spot from the title, one might think that Holli' would have found the next preliminary to gain a title to allow her to compete in the 2017 Miss Louisiana Pageant. Holli' was graduating college by then. She threw everyone a curve ball when she opted out of competing to embark on the open waters.
Holli' signed a contract with Bloc Talent agency. She was part of the Number One play cast in the fleet on the Carnival Sunshine and Carnival Elation cruise ships. She was exploring her artistic side and career passion of performing.
During that time sailing from port to port and performing, something kept resonating in her mind. Though it would come and go, it always reappeared in her thoughts. She wondered if she would just give it one more shot in the pageant arena.
As Holli' was home a break to see family and friends in more than a year, the opportunity presented itself. Holli was in the audience of the Miss Louisiana 2017 as Justine Ker took the crown with her most supportive friend, Cassady Adams, who been with her along this journey. There she was wishing she was on that stage competing. There was a short window of time before Holli' would return to the cruise line to fulfill her contract. There was no way possible that she could compete and fulfill her contract.
God opened a door. The first preliminary, Miss Heart of Pilot, was more than three days before she would return to work as the playlist vocalist for Carnival cruise lines. Holli' decided she would give it a shot and compete. If it was meant to be, it would happen. Holli' competed that evening and won.
Holli' was now taking on a second job while working on the cruise ship. She would have to prepare herself for the 2018 Miss Louisiana Pageant. There would be no pageant coaches, personal trainers, or mock interviews throughout the year. She was responsible with keeping in shape and staying current on the world events.
That is a lot for any one person to take on. Many would snap under pressure, but Holli' knew her strengths and weakness and focused on them. She left the handwork in the hands of God and allowed him to mold her through the process as she continued to perform well into the spring of 2018.
When she docked back in the United States in March 2018, Holli' knew it was crunch time. It was three months away, and she didn't have a dress for the pageant. She took to the streets of New York City shopping for that perfect dress for competition. Then it was time to get with her pageant team, coaches and trainer for crunch time. While most girls had been preparing with assistance since the remainder of 2017, she was just beginning. Among her assistance was Miss Louisiana 2011, Hope Anderson, a registered dietician that helped her focus on heathier eating habits.
As the days drew closer, it was announced that the Miss America Organization's new reigning board and president were taking the competition in a new direction with the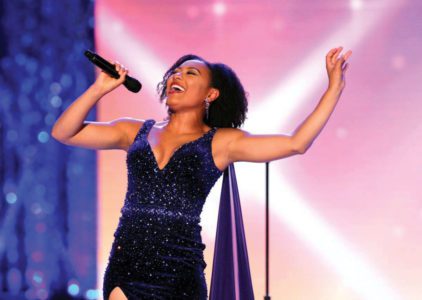 development of the "ME TOO" movement. The swimsuit and evening gown portion were being eliminated and being replaced with a red carpet attire and extra onstage interview portion.
As Holli' took the stage at the 2018 Miss Louisiana Pageant, she won preliminary night talent with her rendition of Fantasia Barinno's, "I Believe". On June 23, 2018 Holli' once again took the stage at the final night of the competition. She advanced into the Top 10 once again where she would complete before the judges as well as a live and televised audience. Over the next two hours she would compete in swimsuit, evening gown, and talent portions of the pageant. As it was time to trim the competition down to the Top 5 the lady in red heard her name called. She would advance to the onstage question with four other lovely ladies.
As it was time to announce the winner, Host Ed Walsh and Hostess Melissa Clark Whitworth, Miss Louisiana 2003, began to call out the runners-up. As each name was called, Holli's name was not among them. When it was down to the final two women, Holli' stood locking hands with friend and competitor Emily Randon.
In that one amazing moment, the words, "Your new Miss Louisiana 2018 is Miss Holli' Conway, Miss Heart of Pilot." The crowd went wild. The sheer joy and genuine appreciation beamed from Holli's infectious smile. She had captured that crown and was headed to Miss America.
Preparing for a new version of the national competition in a short two months was going to take some legwork and fast thinking. During her preparations, Holli was sent to Los Angeles where she would spend time with two former Miss Louisiana winners for interview coaching and vocal preparation for Miss America. She was taken under the wings of the Miss Louisiana 1984, Anita Whitaker and Miss Louisiana 2000, Faith Jenkins. Whitaker was the first African American Miss Louisiana and Jenkins was the second. She was also first-runner up at Miss America. She was in good hands with two of the best who have crafted a life in film, music and television.
With any contestant in the system, they are required to have a platform. Holli' chose "InspHIGHER". InspHIGHER is a motivational platform to encourage others to discover their gifts, develop their talents and display them for the world to see with hope that it will take them to new heights while inspiring others along the way. She takes her knowledge of inspiration along with her in every aspect of her life on and off stage.
Her platform's unusual spelling is intended as to send a message of higher thinking and inspired actions to encourage others to follow their dreams and give them a good foundation to get there. She says that having a passion and finding it can pull people out of bad situations. Much of this inspiration also comes from her father who is a motivational speaker.
While Holli' had set her goal to become the first Miss Louisiana to be crowned Miss America, God had a different plan for Holli'. After the competition she returned to Louisiana to fulfill her reign as Miss Louisiana until the June 2019 pageant.
Her presence as Miss Louisiana has been a breath of fresh air for the organization and our state. She effortlessly conveys a heartfelt sense of joy and happiness to everyone she meets in her statewide travels. She is very approachable and just happens to be wearing a crown.
Holli' has a smile and a voice that will captivate any audience. Since Miss America, Holli' has made the national television airwaves and live streams twice more. She had a dream fulfilled as she sang the national anthem at the New Orleans Saints vs Atlanta Falcons game on Thanksgiving Day in the Superdome. At a last minute, she was informed that it would be televised as part of the game for all the multimedia viewing audience to witness. Her beautiful rendition was celebrated with arousing applause from football fans in the dome.
Just a few days later she was asked to share her vocal talents for the 70th Bayou Classic at the Superdome between the Grambling State University Tigers and the Southern University Jaguars with the national anthem that would again be televised.
As Holli' is committed to fulfilling her reign as Miss Louisiana for the next six months, she is preparing for a move to New York City to pursue her theatrical and vocal gifts from God. To hear this angel sing is a pure joy. To call her a friend is a blessing.
Holli' Conway is a LOLA Lady and LOLA LEGEND in the making.
Photo credit: Yachin Parham