Singer, songwriter, arranger, producer, author, educator, actress, leader, minister and friend.
What does a lady from Bastrop, Louisiana, do to let the world know she is alive? Especially when this young lady had a famous brother and Rock and Roll Hall of Fame inductee, William "Little Willie" John. Well, if your name is Mable John, you must do what comes naturally and be yourself. That essence of John is personable, affable and universally loved and respected. With a career spanning four decades as a professional singer, she has seen the dramatic shift in music. She herself has stayed closed to her roots of blues, soul, and gospel.
When I placed a call to contact Mable's public relations, I was stunned. The voice on the other end of the line was Dr. Mable John herself. All the qualities and attributes of her character were evident in the first five minutes of our call. Her voice was warm, her laugh was infectious, and her spirit was spry. As a legend in her right, this down-to-earth demeanor resonated her humble beginnings as eldest of 10 children in a highly musical family.
Mable John was born on Nov. 3, 1930, in Bastrop, Louisiana, to Mertis and Lillian John. Her father worked for the paper mill.
"My dad would roll those logs with his feet in the pond to the mill. He was a hard-working man. That pond isn't there anymore. A road covers it now," said John. "We did not live in Bastrop long after my birth. Though I was christened in a small church there. That church is now gone. The current owner of it was going to tear it down. I have convinced her to redevelop it as a bakery or restaurant or something great for the community. She needs to give it a new life. It is part of my legacy. It was part of my family."
She and her family moved to Cullendale, Arkansas, when Mable was 3 months old. In 1942, she moved to Detroit, Michigan, when she was 12 after her father moved north to scout out better employment. "He found that in Detroit he could work at the automobile factory," John said. "So, he came to Detroit, and then sent for his family later. He took a job working for Dodge."
Mable John began singing with her siblings as a child. They put on programs and sang traditional gospel hymns while her mother, Lillian played the guitar. "She wanted us to sing, so we did. After a few years of being there, my mother was already coaching us how to sing. She taught us dramas, dialogs, poems and all sorts of stuff. She did it at home as a hobby. She never did it professionally," she continued.
These harmonious youngsters formed a gospel group. "We sang in churches and all kinds of musical programs," said John. "We sang material by the Blind Boys, the Soul Stirrers, the Hummingbirds — everybody that was singing at that time. When my brother Willie was performing, he would sneak me into The Paradise in Detroit at night. I would often sing with him. I was even in the amateur night with Louis Stubbs of the Four Tops."
John wanted an after-school job. She crossed paths with a matriarch of the Gordy family while working for her Friendship Mutual Insurance Co. Bertha Gordy was the insurance company owner and was a writer of insurance. She asked her for a job after graduating Pershing High School. "She had some things, some nuggets that she dropped also into my heart that I'll never forget. She said, 'If you learn to just sell, people will buy anything you're offering. Don't try to just sell them insurance, you can sell chewing gum, you can sell anything, and you can sell a song.' "She began working there as a secretary in 1956 as result of their friendship. Mable later left the company and spent two years at Lewis Business College. Once again, she ran into Mrs. Gordy.
Bertha also happened to be the mother of Motown music founder Berry Gordy. Yet it wasn't Mrs. Gordy who introduced Mable to her ambitious son, Berry.
"By the time I got around to meeting Berry, someone else had made the introduction," John said. "I had to go over to Berry's house so we could rehearse. Berry and I were coming out of the house as Mrs. Berry was coming in. He said, 'Hi mom!' And I said, 'Hi, Mrs. Gordy!' She said, 'Do you know my son?' I said, 'Is this your son?' And he said, 'Do you know her?' I said, 'Yes!' It was kind of ironic. So, I became a member of the family."
Once Mable and Berry joined musical forces, the two of them hit it off beautifully. Gordy took a very personal interest in molding and sharpening John's act. This process began in 1956 with Berry's motto: to make you an act and not a gimmick. He wanted her to be an artist and not just someone that had to have a record to be recognized or perform to get a job.
"He was so good with me until I became crippled. I absolutely could not perform unless Berry was on the stage playing piano for me, until one night with Billie Holiday. He decided not to show up for the first show. And I had to go on without him being at the piano. And from then on, he never played piano for me again. He said that if I could only sing with him playing, that means I that was not meant for the business."
That shared 1957 bill with Billie Holiday at the Flame Show Bar was a turning point for John. It was Holiday's last show in Detroit just weeks before her death. Holiday's husband liked a pictured captured of the Billie and Mable so much that he had a floor-to-ceiling, wall-to-wall blowup made that now hangs in the studios of Paramount Pictures in Hollywood.
"I was the opening act for the first two weeks," she said. "It was really a lesson for me. I adored her so much, and her singing. She taught me so much. She was able to instill some good things in me in two weeks, in 60 years nobody has been able to take out. I rely on those things she taught me in 10 days today."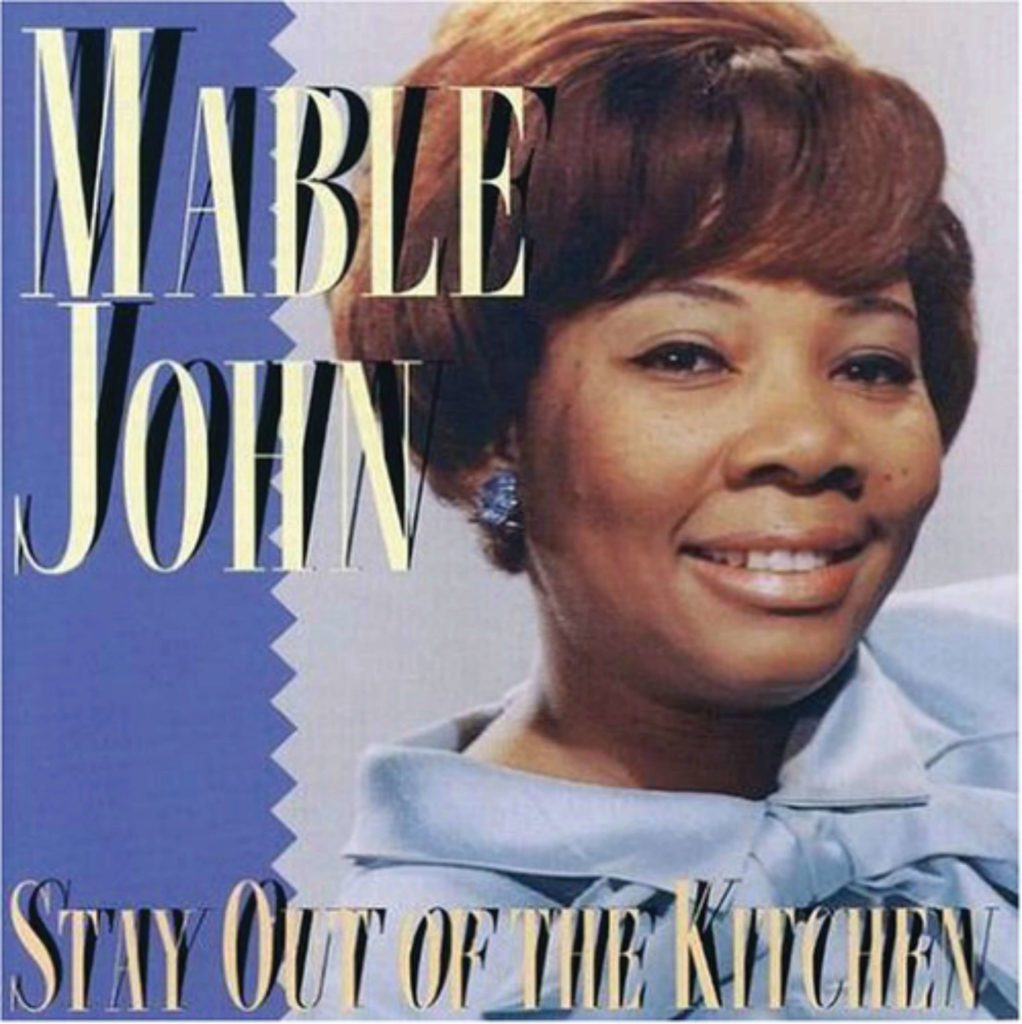 In 1958, John became the first female artist on Gordy's new label, Tamla at Motown. Her first single, "Who Wouldn't Love a Man Like That" did not make the pop charts but did establish her as a popular live performer. She sold out her shows at the legendary Apollo theatre in Harlem in 1960 with her legendary brother, Willie, and the Howard Theatre in Washington, D.C. Though a success on the stage, John was out of her element with the blues market as acts like The Supremes, the Miracles, and Martha and the Vandellas were seeing pop chart success.
In 1966, John made a painful decision to depart Motown to switch labels. She called Gordy in Chicago and asked to be released from her contract with his label. She was a blues singer and didn't quite fit in with the pop format that the label had her under. She knew if she continued with his label that she would get lost in the shuffle. She needed a label where she could shine in her craft as a blues singer. She would sign with Stax Records. This deal was set up by WVON deejay Lucky Cordell, who was moonlighting as her manager. She signed the deal with Al Bell not even going into the offices in Memphis to sit at the desk, looking to see where the money was coming from.
John's first song on Stax, "Your Good This (Is About to End)" soared to number six on the rhythm and blues charts in the summer of 1966. The same year she released the single, "Same Place, Same Time." In 1968, John's brother, "Little Willie," died from unknown causes, which subsequently sent John into a deep depression. John left Stax Records at that same year.
In 1969, John received a phone call she never dreamed of receiving. On the other end of the line was none other than music legend Ray Charles. "He called me, told me he was looking for a lead singer for the Raelettes, and asked me if I could help him find somebody," she said. "I said, 'Oh, I don't know anyone that could fit that bill.' And he followed me down for six months. And finally, I told him, 'I can't find anybody. I don't want to recommend someone, and they flop, and then you blame me.' He said, No I won't.'" He asked Mable if she was interested in the job. She had never sung with a group. She was not sure this world work. Contrary to her belief, it worked like a hand fitting into a glove.
Many a talented vocalist would pass through the Raelettes. None of them had the staying power of John. She stuck with it for a dozen years and took lead honors on two of his hits, "I Want To (Do Everything for You)" and "Bad Water" in 1970. Ray Charles carried her to another level. On the "Johnny Cash Show," she and her fellow Raelettes backed Charles on a steamy rendition of the Man in Black's "Ring of Fire." John also co-wrote 50 of his songs during her time with him.
As the '70s were drawing to a close, a new message beckoned. John left secular music. She heard her calling to the ministry. "I heard that call on stage in Birmingham, Alabama, onstage with Ray Charles," said John. "I heard this voice telling me to go home, that He had something else for me to do. And I just of turned and said, 'I heard a voice telling me to go home!' That was
the ending of our show for that year." It was December and she went home.
John started studying and went into the ministry. She graduated from the school of ministry. She started studying Hebrew and Greek, went to Israel to study the Bible in its original form in Hebrew and Greek. She received a doctorate degree in divinity in 1993 from the Crenshaw Christian Center.
Today, Dr. Mable John heads her own ministry in Los Angeles. Her Joy Community Outreach to End Homelessness program was launched in 1986 to feed and clothe the poor. She is also a published author. She has penned three fictional books with celebrated author David Ritz, "Stay Out of the Kitchen," "Sanctified Blues," and "Love Tornado," about a former R&B diva-turned-pastor. She's made moving gospel recordings that reflect that part of her life.
After leaving the spotlight, she has never abandoned her blues roots. In 1994 she received a Pioneer Award from the Rhythm and Blues Foundation. She also joined the 1998 Chicago Blues Festival for a reunion with Ray Charles and his legendary band.
In 2007, Mable made it to the silver screen. She starred alongside Danny Glover in the 1950s-set "Honey Dripper." It was her first acting role of her career and naturally as a blues singer. In 2016, she would star as herself in the Academy Award-winning documentary "20 Feet from Stardom." It would go on to win Best Music Film at the Grammy Awards.
In her personal life, Mable is the mother of a daughter and four sons, three of which have passed in recent years. Her surviving son and daughter are still part of her business life.
Recently, John has made plans to give back to her community. She wants to start a music and educational center for youth in Bastrop, while preserving her hometown's history. During our lovely conversation she enlightened me on her upcoming mission. "Though I only lived in Bastrop a small part of my life, it is where I was born. I want to give back from my legacy that God has given me. Bastrop was good to my parents and where my life began," she said. "I want to make an impact on this small town for the better. I plan on celebrating my 88th birthday on November 3rd there in Bastrop. I will be there days prior to seek out option for this center. It's going to be amazing. I hope to have it up and running in the next year. We are planning a big concert in the area in the spring. This will be my first trip back to the Bastrop and Monroe area in thirty years. The last time I was there I performed with Bobby 'Blue' Bland."
As our conversation continued I was asked to come on board as part of her entourage visiting with public officials, an amazing volunteer committee at KEDM radio and scouting sites. I informed her that my call was not related. I had known of her as a blues pioneer from northeast Louisiana. I had called to get her permission to write a piece on her.
She quickly responded with, "It was God. I have been praying for someone to join this mission with me like you." I agree it was a God thing. I never expected to get her at the end of the line. As the weeks approach, I am excited for our formal visit in person. She is as down to earth as the soulful soil from which she came.
Mable has special plans for her 88th birthday. A celebration will be held in her honor at the Bastrop Convention and Visitors Center Nov. 3. It is an event open to the public to celebrate as a Louisiana Legend comes back home.

Dr. Mable John is not only one of northeast Louisiana's profound blues musicians, but she is also an advocate for growth within her community where she now resides in Los Angeles as well as Bastrop where she was born.