A legacy of generosity, strength and passion.
What makes Ainsley Anderson Herlevic a Lola Lady? It's her charisma, uniqueness, wit and talent. She exemplifies each of these with humility and grace.
Ainsley was born on November 22, 1988, from the union of her parents, Mark Kent Anderson and Rosemary Burns Upshaw Anderson. She is the sister to younger brother, Mark Kent Anderson, Jr. Ainsley grew up in Monroe, Louisiana, where she graduated from Neville High School. After high school, she went on to attend and earn her bachelor's degree from Louisiana State University. Ainsley grew up in a family that helped her
to excel in all her wishes and dreams. She was highly influenced by her grandmother, Martha Jane Upshaw Anderson, and her mother Rosemary. They both had a flair for the finer things in life with the etiquette and panache of a true southern belle. It is from her father, Mark, that she inherited a great business sense as well as her drive and determination. That, intertwined with her own carefree spirit, gave Ainsley a great balance for life. Over the years, decorating for events at their home, I became friends with her mother, Rosemary. It was a special friendship that was most welcoming after moving back to Monroe after several years away. Rosemary had a kindness that was unmatched. Her generosity, strength and passion for life were a marvel to experience. It was during this friendship that I watched young Ainsley grow up to become a young lady. As she matured from adolescence, she began to take on the many wonderful traits of her mother. I can remember her bubbly personality and maturity. One might say it was from a proper upbringing, though I tend to think it resonated from her lineage.    
At the age of 18, Ainsley experienced something that no young lady could imagine. She was beginning college, the best years in her young adulthood, when they learned that her mother, Rosemary, had cancer. With optimism, Ainsley had hope and faith that Rosemary would make a full recovery with treatment. During this painful time, Rosemary told Ainsley that she knew the man that God had planned for her to marry. Always the social planner, Rosemary began helping Ainsley prepare the vision for the wedding of her dreams helping Rosemary keep the determination to live to see that very special day. No detail was left out, from creating the menu to picking out the flowers and design for the wedding and reception. Rosemary possessed a thoughtful vision, making all her surroundings inviting, classic and stylish with elegant ease. On August 29, 2009, Rosemary spread her wings to heaven surrounded by Ainsley, Mark and Mark Kent. She loved life and lived it to the fullest until that last day. In spite of her grief, Ainsley went on to finish college and planned her career and future.
Ainsley met a wonderful man, just as her mother had predicted. This young gentleman, Vincent Herlevic, brought a light of happiness and hope to Ainsley's life. On November 17, 2015, Vincent asked for Ainsley's hand in marriage on one knee in his parents' living room. It was the moment her mother had predicted five
years earlier. With the wedding date set for December 31, 2016, Ainsley began to implement the blueprints she and her mother prepared. With the assistance of her grandmother and one of her mom's best friends, Nancy King, the planning began for what would be a one-of-a-kind, fairytale wedding. Ainsley ended 2016 on a high note and began 2017 in wedded bliss. Rosemary's vision was brought to life at the Bayou DeSiard Country Club for the New Year's Eve wedding of the century. If Cinderella were late for the ball, she would have been upstaged by Ainsley, the vision in white who resonated the charm and spirit of her mother. It was a celebration that would go down as one of the most magnificent moments in the club's history. The evening was carefully orchestrated to perfection from an angel from above. 
Settling into marriage, Ainsley and Vincent established a home in Shreveport, LA, as he finished out his residency for medical school. Antsy and looking to do something in the meantime, Ainsley began working, assisting with florals and events. It was a natural choice as it was written in her DNA. As time progressed it became apparent that Ainsley wanted more. During one of our conversations in May of 2017, while assisting on an elaborate wedding together in Shreveport, Ainsley expressed her desire to explore her passion for
design. She wanted to create an events company, equipped with the finest and most unexpected props, furnishings and accessories to create one-of-a-kind signature events. While the interest was there, she was a little apprehensive on embarking on this dream just six months into her marriage. Before the year was over, that spark and drive to make her dream a reality fully ignited and she quickly began to create a business plan for her company. With market trips and research, the fineries she envisioned began to fill a warehouse and even without an event on the books, Events by Ainsley was up and running. With organization, cunning planning, and a strategy, it wasn't long before Ainsley began to book events with only the portfolio of her wedding. 
Within her first six months in business, Ainsley received a phone call from Los Angeles that seemed too good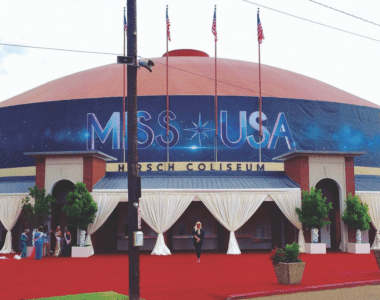 to be true. The event producer of the Miss USA Pageant was looking for someone to transform the 64-year-old Hirsch Memorial Coliseum into a red carpet and camera-ready spectacle of elegance. Looking at the barebones of the very dated, domed structure, Ainsley knew it was going to be a challenge. But, it was one that she gladly accepted. It was going to take a special eye to make this transformation happen…and an army of support. With the assistance of Philip Reeves, Stuart Scalia, Teyna Cater Pate, Camille Whittington, and, last but not least, her husband who was Dr. Herlevic by day, design assistant by night. May 21, 2018, quickly approached for the 67th annual Miss USA Pageant, and the reality set in that this was something bigger than life and her mother had prepared her to experience. Upon arrival at the pageant, I was mesmerized by the lavish green hedges adorned with white roses and the flowing curtains of cream slick bunting. It was as if the Hirsch had been transported to Hollywood. The atmosphere seemed somewhat familiar, but I could not quite place it. As Nick and Vanessa Lachey crowned Miss Nebraska as the new Miss USA, I was still curious about the feeling I was experiencing. I exited the coliseum and immediately recognized the beaming smile and a sparkle in Ainsley's eyes behind her sapphire blue frames as she turned around in joyous laughter. It was one of those moments that came full circle and resonated within me. Standing before me was Ainsley, embodying
the very aura and energy of her mother and my late dear friend, Rosemary. It was a beautiful moment; the little girl who had so many dreams growing up had embraced her talents, drive, passion, and love for design and beauty. It was equally emotional as I saw her joy – Vincent was there by her side as she was shining the spotlight of this moment. The legacy of Rosemary Anderson is alive and well as Ainsley has picked up the torch and taken it to another level. That was the real crowning achievement of the night. It is not that often that you are so blessed to have a friendship with a soul as beautiful as Rosemary and then form an equally blessed friendship with a daughter like Ainsley. To have been a part of both their lives is something I cherish. Nearly ten years have passed and Rosemary's favorite Bible verse, "I can do all things through Christ who strengthens me." (Philippians 4:13), is still my favorite as well. It is through His strength that Ainsley has become a lovely daughter, sister, granddaughter, wife, great friend to many, and mom to her dog, Jack. Ainsley is a lady that represents Louisiana and hers is a lifestyle worth recognizing.