In the realm of fashion, where colors, textures, and forms converge, there lies meaningful narratives of women who have brought their passions to life with pride, art, and purpose.
These women inspire us to believe, that WE TOO can create our own stories of success.
Ames Layne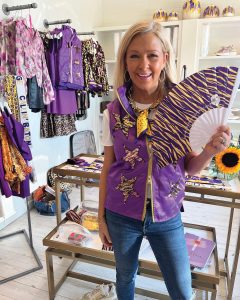 Tru Colors Game Day: Where Style Meets Team Pride
Have you ever come across the saying, "Football is not just a sport, it's a religion"? If you've ever felt the exhilaration of college football in the South, those words resonate deeply. The exhilarating Saturdays spent tailgating and passionately cheering for your team create more than just memories – they weave into the very fabric of your life.
Amy Chenevert, founder of Ames Layne, is a Louisiana girl living in Houston, and deeply rooted in her southern pride. Following her LSU journey, she embarked on a professional path that led her through the realms of fashion and luxury goods, spanning cities like Dallas, New Orleans, and Houston. Yet, a call remained unanswered for her. An epiphany struck during a Saints game in 2007, when she observed fellow fans adorned in their team apparel. A realization dawned – there existed a void in women's sports attire. This revelation ignited the birth of Tru Colors – a fusion of modern fashion and team colors, offering stylish choices for women eager to showcase their team spirit in an chic and savvy manner.
In 2008, Tru Colors took its first steps, with every design given the name of a cherished friend. Crafted with pride in the USA, her collection is meticulously designed to ensure your comfort during the scorching southern tailgates. Her commitment extends beyond college game days – she is dedicated to nurturing a sense of pride and community. From educational institutions to sororities, Tru Colors custom designs not only let you exhibit school spirit but also contribute to meaningful causes.
Amy's personal journey revolves around growth and passion. From intense workouts to crafting healthy culinary delights sans recipes, her motivations stem from fashion, nature, and connections. Above all, Amy's family and spiritual beliefs are her guiding lights. Now, in Houston, she has rekindled her "passion project."  She believes in celebrating the enchantment of football season, the camaraderie it brings, and the unity it fosters among fans. Together, Amy and her team infuse the game with energy and enthusiasm. So, let Tru Colors be your ultimate choice for game day style – where fashion seamlessly merges with team pride!
ameslayne.com | IG:@ameslayne_
Model- Gabby Godfrey  | photographer- Jess@Barefoot Photography | Setting- Natchitoches Regional Airport/Louisiana Sports Hall of fame
Exploring the Artistic Journey of Lynn Sanders
A Fusion of Chaos and Beauty
Lynn Sanders is an artist whose world is illuminated by the allure of beauty found in various forms – be it architecture, landscapes, seascapes, or even interiors. This visionary artist is adept at extracting palettes and shapes from her surroundings, infusing them into her work with a conviction in art's profound ability to invigorate both environment and state of mind.
Driven by intuition, Lynn's painting process is a dance of chaos, with its tempo and intensity often mirroring her prevailing emotions. Guided by a unique tool she designed herself, she commences her creative journey by applying custom colors blended with diverse mediums onto the canvas. Her preferred mediums, acrylics and ink, interact chemically to amplify the composition, creating an intricate interplay of tones and transparent shapes. Through this tool, she captures her impatience, maneuvering the paint with a pace that's inherent to her nature. This meticulous approach yields deep hues layered with delicate textures, a result of her profound familiarity with the precise balance of pressure and paint required to achieve her signature style.
Centering her focus on the process rather than the concept, Lynn's creations beckon the viewer to delve into the technique and imagery. Her gratification springs from the knowledge that her pieces eloquently converse in her own distinctive visual language.
Lynn's abode is nestled in Lafayette, Louisiana, where she resides alongside her husband, son, and cherished pets – all of whom contribute to the vibrant tapestry of her creative existence.
Model- Gabby Godfrey
Photographer- Jess @Barefoot Photography
Setting- Lynn Sanders Art Studio
Headband- Alivia
Alivia Clothing
Where Fashion and Empowerment Converge
In the world of fashion, Alivia Clothing emerges as a beacon of innovation, bridging the gap between style and social consciousness. Founded by Jovana and Brandon, who were inspired by the expressive art of individuals with differing abilities, the brand transcends mere fashion, becoming a platform that empowers marginalized voices. Alivia's unique journey delves into the vibrant minds of creators with disabilities, transforming their artwork into mesmerizing designs that redefine inclusivity.
At the core of Alivia Clothing is the vision to provide purpose and voice to the unheard. By showcasing the talents of individuals with disabilities, the brand challenges the norms of the fashion industry and pushes for meaningful inclusivity. Each garment starts as an artwork created during art therapy sessions by individuals with developmental disabilities. These creations are transformed into intricate designs that reflect the artists' unique perspectives and personalities.
Alivia's commitment extends beyond aesthetics. The brand ensures ethical and sustainable production practices by collaborating closely with domestic and international suppliers. Most of their products are crafted in the NYC garment district, fostering personal connections with the skilled artisans who bring their designs to life. What sets Alivia apart is its pledge to pay artists for their work and donate 10% of each purchase's revenue to the associated nonprofit art therapy program, amplifying creative voices for generations to come.
Moreover, Alivia's garments come with a scannable tag that unravels the artist's story, offering wearers a tangible link to the creator's journey. This distinctive approach transforms fashion into a medium for storytelling and connection, emphasizing the profound impact of each purchase. Alivia's commitment to sustainability is evident in their choice of materials and production methods, ensuring minimal environmental impact.
With a foundation rooted in empathy and collaboration, Alivia Clothing redefines fashion's potential. By merging art, empowerment, and sustainability, the brand transforms clothing into a canvas for diverse narratives. Through Alivia, fashion becomes a means to not only adorn oneself with style but also to champion inclusivity and inspire change.
www.shopalivia.com
Model Gabby Godfrey
Meet Gabby, a determined and creative high school senior at St. Mary's Catholic School. With an unwavering passion for fashion, she's set her sights on pursuing her dreams in the world of design. Gabby's commitment to her education shines through her enrollment in honors and college dual enrollment courses, showcasing her willingness to challenge herself and excel academically. As she prepares to spread her wings and embark on her journey towards a fashion-focused future, Gabby's resilience, ambition, and artistic flair are sure to propel her towards success in fashion and following her dreams.
Model- Gabby Godfrey
Photographer- Jess @Barefoot Photography
Setting- Lynn Sanders Art Studio
Headband- Alivia