A football watch party is an exhilarating experience that transforms a casual gathering into a heart-pounding celebration of sportsmanship and camaraderie.
As the anticipation builds and the game kicks off, the air is thick with energy, laughter, and friendly banter. Each goal, near-miss, and spectacular play becomes an electrifying moment shared with friends, magnifying the excitement tenfold. The collective cheers and groans of the crowd, the dramatic highs and lows, and the shared thrill of victory or the bittersweet taste of defeat all combine to create an atmosphere that's truly electric.
Whether you're a dedicated football aficionado or a casual observer, the energy of a football watch party is infectious, igniting a sense of belonging and unity as everyone comes together to witness the beautiful game in all its glory.
So, if you're a football-loving hostess looking to organize a memorable gathering for your fellow female fans, you're in for a treat. A girls' football watching party is the perfect way to combine excitement and a dash of competition all in one. In this guide, we'll walk you through the steps to throw an unforgettable event that celebrates both the game and the company of friends.
1)Pre-Party Preparations
Choose the Right Game: The first step is to choose an exciting match that will keep everyone engaged. It could be a championship game, a local derby, or a highly anticipated international clash. Research the upcoming schedule and select a game that's likely to be a nail-biter.
Invitations: Send out creative invitations that capture the spirit of the event. Incorporate football-themed elements and use playful language to amp up the excitement. Whether it's digital invites or traditional ones, make sure they set the tone for a fun-filled evening.
Decorations: Deck out your space with football-inspired decorations. Balloons, banners, and tablecloths in the team colors will create a festive atmosphere. Set up a mini 'stadium' area with comfy seating and cushions to mimic the feel of a real match.
2)Game-Time Essentials
Dressing The Part: Be sure to show off your favorite team with festive attire, and encourage your friends to dress the party too!
Seating Arrangements: Arrange seating in a way that ensures everyone has a good view of the screen. Create a mix of floor cushions, bean bags, and couches to cater to different preferences. If space permits, consider having designated 'fan zones' for each team's supporters.
Football Fare: Elevate classic game-day snacks by giving them a creative twist to please the ladies. Shrimp Pasta Salad, Buffalo Chicken Pinwheels, and my favorite party snack: Hummus. Incorporate football-themed desserts like cupcakes with edible goalposts or jersey-shaped cookies. Don't forget a variety of beverages to keep everyone hydrated and refreshed.
DIY Photo Booth: Set up a photo booth corner with props like team scarves, hats, and foam fingers. This is a fantastic way to capture memories and create shareable social media moments during the event.
3)Football Frenzy
Activities
Score Predictions: Before kick-off, have everyone predict the final score, the first goal scorer, or any other interesting game-related outcome. Offer a small prize for the guest who comes closest to the actual result.
Football Bingo: Create football-themed bingo cards with events like 'player scores a goal', 'referee shows a yellow card', or 'crowd does the wave'. Guests can mark off the events as they happen during the match.
Halftime Entertainment: Plan a brief halftime activity to keep the energy high. You could have a quick trivia game about football history or play charades using famous player names and celebrations.
4

)After Party

Thank You Notes: Send out personalized thank-you notes to your guests, recapping the highlights of the event and expressing your gratitude for their presence.

A girls' football watching party is more than just watching a game – it's an opportunity to celebrate friendship, camaraderie, and the joy of a shared passion. By following this guide, you'll be well on your way to hosting a fun and memorable event that will have your guests eagerly waiting for the next game day gathering. So, get ready to score big with an unforgettable football season!
Buffalo Chicken Pinwheels: A Touchdown Party Favorite
With their bold buffalo flavor, creamy filling, and easy-to-eat format, these buffalo chicken pinwheels are sure to be a hit at your football party. They offer the perfect balance of heat and cool, making them a delicious and satisfying snack that will have everyone cheering for more!
For the Filling:
2 cups cooked and shredded chicken (rotisserie or poached)
1/2 cup buffalo sauce (adjust to taste)
1/2 cup cream cheese, softened
1/2 cup ranch or blue cheese dressing
1/2 cup shredded cheddar cheese
1/4 cup chopped green onions
Salt and pepper to taste
For the Pinwheels:
4 large flour tortillas (10-inch diameter)
1 head butter or romaine lettuce
Additional buffalo sauce
for drizzling (optional)
Prepare the Filling:
In a mixing bowl, combine the cooked and shredded chicken with buffalo sauce, softened cream cheese, ranch or blue cheese dressing, shredded cheddar cheese, chopped green onions, salt, and pepper.
Mix well until all the ingredients are thoroughly combined and coated with the creamy mixture.
Assemble the Pinwheels:
Lay out one flour tortilla on a clean surface.
Spread about a quarter of the buffalo chicken filling evenly over the tortilla, leaving a small border around the edges.
Sprinkle a layer of lettuce on top of the filling.
Roll and Secure:
Start rolling the tortilla tightly from one end to the other, creating a compact cylinder.
Repeat for Remaining Ingredients:
Repeat the process with the remaining tortillas, buffalo chicken filling, and shredded lettuce.
Chill and Slice:
Place the rolled tortillas in the refrigerator for about 30 minutes. This will help them firm up, making slicing easier.
Once chilled, carefully remove the toothpicks and slice each rolled tortilla into 1-inch thick pinwheels.
Serve and Garnish:
Arrange the buffalo chicken pinwheels on a serving platter.
Drizzle a little extra buffalo sauce over the top for an added kick if desired.
Serve the pinwheels with extra ranch or blue cheese dressing on the side for dipping.
Enjoy the Game-Day Delight:
These buffalo chicken pinwheels are ready to delight your guests during the football game.
Their spicy, creamy, and savory flavors combined with the convenience of finger food make them a crowd-pleasing option for any football party.
7-Layer Loaded Hummus Dip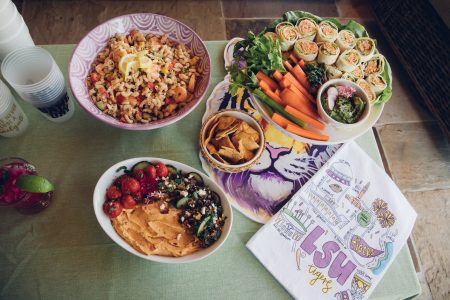 Impress your guests with this 7-Layer Loaded Hummus Dip. Layers of creamy hummus, homemade tabbouleh, cucumber, tomato, olives, feta, and pine nuts is served with toasted naan.
2 cups hummus (store bought or homemade)
1 cup tabbouleh (store bought or homemade)
2 Persian cucumbers, diced
½ cup cherry tomatoes, halved
¼ cup crumbled feta cheese
1⁄3 cup kalamata olives, pitted
2 tablespoons pine nuts (toasted), see notes
1 tablespoon dill, chopped
black pepper, freshly ground
toasted pita (or pita chips), for serving (see notes)
On a large platter or flat cheese/charcuterie board, spread out the hummus with the back of a spoon.
Top with tabbouleh, cucumbers, tomatoes, feta, olives, toasted pine nuts, fresh dill and freshly ground black pepper.
Serve with toasted naan or pita chips.
Creamy Lemon Shrimp Pasta Salad
Serve this refreshing and satisfying salad as a light lunch or a delightful appetizer. The Creamy Cashew Lemon Dressing adds a luxurious touch to your shrimp pasta salad, infusing it with zesty brightness and a rich, velvety texture. The nutty cashews provide creaminess while the lemon adds a tangy punch, complementing the succulent shrimp and vibrant vegetables. This dish is perfect for gatherings, picnics, or whenever you're in the mood for a light yet indulgent meal that's bursting with flavor.
For the Creamy Cashew Lemon Dressing:
1 cup raw cashews, soaked in water for 2-4 hours and drained
Juice of 2 lemons
Zest of 1 lemon
2 garlic cloves, minced
1/4 cup extra-virgin olive oil
1/4 cup water (adjust for desired consistency)
Salt and pepper to taste
For the Shrimp Pasta Salad:
12 oz cooked shrimp, peeled and deveined
8 oz cooked pasta (such as penne or fusilli)
1 cup cherry tomatoes, halved
1 cup cucumber, diced
1/2 cup red onion, finely chopped
1/4 cup fresh parsley, chopped
Salt and pepper to taste
Prepare the Creamy Cashew Lemon Dressing:
In a high-speed blender, combine the soaked cashews, lemon juice, lemon zest, minced garlic, olive oil, and water.
Blend on high until the mixture is smooth and creamy. If needed, add more water to achieve the desired consistency.
Season with salt and pepper to taste. Blend again briefly to incorporate the seasoning.
Assemble the Shrimp Pasta Salad:
In a large mixing bowl, combine the cooked shrimp, cooked pasta, cherry tomatoes, diced cucumber, red onion, and chopped parsley.
Gently toss the ingredients to evenly distribute them.
Add the Dressing:
Pour the creamy cashew lemon dressing over the shrimp pasta salad.
Toss and Season:
Gently toss the salad with the dressing until all the ingredients are coated in the creamy goodness.
Adjust Seasoning:
Taste the salad and adjust the seasoning with additional salt and pepper if needed.
Chill and Serve:
Cover the salad and refrigerate it for at least 30 minutes to allow the flavors to meld together.
When ready to serve, give the salad a final gentle toss and transfer it to serving plates.
SPECIAL THANK YOU to JAC Clothing FOR PROVIDING:
Tailgate Cups
Stadium Cocktail Napkins
Football Stir Sticks
Lets Geaux Tigers Towel
Campus Tote Bag
Tiger Door Hanger