Chris Hart grew up in Ruston with craftsmanship in his blood.
His grandfather was a cabinet maker and a skilled woodworker. When his grandfather wasn't working on houses, he was crafting wooden boats and had the honor of creating hand-carved longbows for the LSU Archery Team. Chris's father, Bill Hart, learned the skills of craftsmanship from his father. He established Hart Country Shop in the early 1960s, building accent furniture and chandeliers from wood and metal. Later Bill partnered with his brother, and the two brothers operated as Hart Associates for forty years until Bill retired in 2003.
Chris said, "As a child, I can remember being by my dad's side constantly. He was someone that knew how to do a little bit of everything. He took the time to teach me how to do anything and everything that he could. I wasn't big into sports or normal activities kids my age were into, so I spent most of my time in Dad's shop. I started with sorting parts and painting, eventually working my way up to using the machinery, learning to weld, and fabricating lights and furniture. Of all the facets of fabrication in the shop, I gravitated to welding and metalwork most. I spent most of my summers and any free time I had learning the skill of welding."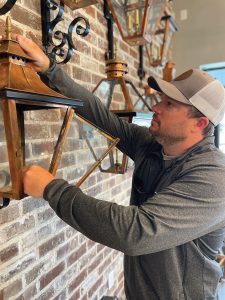 After working various jobs throughout college, Chris kept feeling a strong urge to carry on a part of his family legacy and try to carve out a living doing what he loved. In 2007, Chris established Hart Designs. Starting simply, his first shop was in a separate garage at his family home. He needed a high-demand product that could be built in a small shop with limited equipment. After much thought, and trial and error, Chris landed on copper lanterns. With no capital for marketing, he went to Office Depot and printed some trifold brochures with a few lantern designs. Chris reflects, saying, "I always splurged and got the fanciest paper they had!" He crafted several of each style, loaded them up in his SUV, and traveled to Dallas and New Orleans, visiting lighting showrooms. Hoping to convince store owners to display his lanterns in their store, Chris found his niche saying, "They usually didn't think much of my literature, but when I would bring the lanterns in to show them the quality, they were sold almost instantly!"
After establishing a few quality accounts, lantern orders began coming in, and Hart Designs slowly started to grow. Chris had a good handle on his lighting business when he began noticing a local need for ornamental ironwork, custom vent hoods, railings, and awnings. Chris developed his skills for crafting these items and added them to his company's offerings. Chris established solid relationships with designers and contractors, and Hart Designs began to quickly take off. His customers encouraged Chris to open a retail lighting showroom that would offer popular lighting brands as well as custom-built items. In 2015, Chris opened his first retail lighting store by adding on to his home shop and keeping the fabrication side there. In 2018, Hart Designs moved to its current location in Ruston, a full-service lighting showroom and fabrication shop.
Over the past sixteen years, Hart Designs has had the opportunity to work on numerous distinguished projects. Their lanterns light one of the oldest sections of Hollywood Boulevard, The MGM Grand Casino Resort, a castle built into a hillside in Canada, and countless homes and businesses throughout the United States. Chris expressed his gratitude saying, ''I'm just so grateful to be able to do what I love for a living and to interact with some of the best employees and customers every day. I absolutely love Ruston and the surrounding areas. I always speak up about what a wonderful community we are blessed to live in."
From giant chandeliers to copper range hoods and handcrafted iron doors, Hart Designs has a full set of projects in the works for 2023 and 2024. Chris maintains his mission for Hart Design's handcrafted lanterns to light up beautiful spaces around the country and provide quality ornamental ironwork for our local area. Built on a standard of excellence and generations of quality craftsmanship, Hart Designs continues to base its business on just that, hard work and a lot of heart.