By Dr. Skylar Souyoul Board Certified Dermatologist And Dr. Lindsey Pennington Double Board Certified Facial Plastic Surgeon
The cosmetic industry grows every year. The access of social media has made learning about and undergoing cosmetic procedures more accessible and mainstream. It is easier now more than ever to research, schedule and even watch procedures from the comfort of your home. So, it is no surprise that as our education grows and more people are having procedures so does patient experience.  When researching the popularity of procedures, we have found the most useful information has been from patients themselves. Here are some of the most "worth it" and most popular procedures of 2022 as rated by patients through consumer websites.
1. The most popular non-invasive at number 1 is Neuromodulators, such as Botox and Dysport. They top the list with 96% of patients saying they are worth it. This is no surprise to us since this procedure improves expression lines in 1-2 weeks with results lasting 3-4 months, and the best part is no downtime. If you haven't tried Botox yet, it's definitely worth the hype. Not only does it improve dynamic lines and wrinkles but also prevents them from forming.
2. Next on the list at number 2 was dermal fillers, such as Juvéderm, Restylane, Radiesse or Sculptra. These injectable products can be used to lift and contour the cheeks, fill the temples, smooth nasolabial folds, sculpt the jawline or plump the lips. When done by a trained cosmetic physician, fillers provide a natural result that puts volume back in areas where you have lost it over time to restore and refine your natural beauty.
3. Overall for invasive fat reduction and body contouring, the top non-surgical solution is still CoolSculpting. CoolSculpting has been around for over a decade and the results just keep getting better with improvements in the technology. We have the newest machine, the CoolSculpting Elite, which freezes fat causing it to melt away permanently. This device is perfect for getting rid of stubborn pockets of fat that diet and exercise cannot. It can be used to treat fat under the chin, below the bra, on the arms, stomach, love handles, and thighs. The best part is that the Elite device has two handpieces so it can treat two areas at once! If you have an area of unwanted fat please come in for a complimentary consultation.  There is no downtime, and it's the perfect time of year to get working on feeling your best.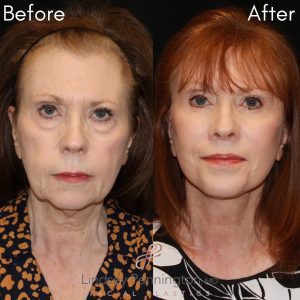 4. For surgical procedures, facelift also known as rhytidectomy was the number two overall requested procedure after only liposuction. When selecting for facial procedures, it was the number one requested with 93% of patients undergoing a facelift rating it as "Worth It!" for their results and would recommend it to friends and family and would do it again. Most common ages for patients to start showing an interested in facelift procedures is 45 years of age, but honestly in my office I have performed facelifts on patients 35-85 years of age. So many factors go into when is the right time, such as genetics, history of significant weight loss, overall health and the goals of the patients themselves. It really can be a huge confidence boost for patients, who always tend to say, "it just happened overnight" or "I feel good, but my face isn't matching how I feel". We have so many options to be able to get that refreshed youthful glow and feeling back!
5. Rhinoplasty is one of the most popular surgeries worldwide. 91% of patients who underwent a surgical rhinoplasty to correct the look of their nose were happy with their results and would recommend the procedure. Rhinoplasty patients tend to be younger on average.  Many have not liked their nose from birth, instead of a result of aging or trauma. I find my average age is between 24-36 years of age, but I have patients as young as 16, due to congenital issues, or in their 60's who are finally fixing things that have bothered them for a lifetime.  Common reasons to get a rhinoplasty are to reduce a bump or hump, to narrow or define the nose better, to improve symmetry or to straighten a crooked nose.
6. Although not the most requested, the highest rated surgery in patient satisfaction is Blepharoplasty surgery, also known as an eyelid lift. 94% patient who underwent this procedure say it was "Worth It!" and would recommend it. Average age for this procedure starts in the early 30's and goes up. Genetics can play a large role in when this area becomes an issue for people, but addressing sagging, droopy, or puffy eyes can make a very big difference in a patient's overall look and can help them look and feel more refreshed with minimal downtime and a big improvement in their quality of life.
If you are considering any cosmetics procedures please come see us at Lindsey Pennington, MD Facial Plastics for a complimentary consultation. We are located at 6030 Line Ave in the heart of Shreveport and are open Monday thru Saturday for your convenience. All procedures in our office are done by or under the direct supervision of one of our board certified physicians who work together to ensure optimal results. Come experience the difference!
Lindsey Pennington, MD Facial Plastics
6030 Line Ave. #110 | Shreveport, LA | 71106
  @penningtonfacialplastics
www.penningtonfacialplastics.com