Need an excuse to throw a festive-yet-casual gathering this Christmas season? Look no further than the holiday brunch brought to life in these pages!
Tis the season for gathering with close friends to have some holiday fun and enjoy a delicious meal! The way to a girl's heart is undoubtedly food and gifts, so throwing a holiday brunch for your best girls is a sweet way to show how much you appreciate their friendship, and to spend some extra time together this busy season. It's also an easy way for a lot of us, maybe even from different groups, to get together in one fun swoop. We even do a gift exchange that keeps the spending to a minimum and ensures everyone on the list is included.
I decided on a brunch for two reasons. One, my husband goes duck hunting every year the two days before Christmas Eve. And this year he is taking our son for the first time! Which means – I have the house to myself! Two, you just can't go wrong with brunch. Who doesn't love brunch and champagne?
Holiday Grazing Board, Hot Smoked Salmon & Festive Juices by Glow Alchemy Kitchen 
Breakfast Pastries & Desserts by Lowder Baking Co. 
Liquor, Wine, Dips & Extra Snacks by Cuban Liquor 
The number one complaint I get when I share party ideas is "I don't have time". Time for party prep, invitations, grocery shopping for party, food/drink prep, decorating, etc.  I'll admit, it can be a lot to manage! I'm always looking for ways to help you cut time so you can actually entertain but also enjoy it without being a slave to all the elements that go into throwing a party.
It's hard to run around town to pick up items, especially if you have kids. I have an 8 year old son, and the thought of hauling him to three grocery stores to get food and drinks for a last-minute party is sometimes enough for me to call it off. There are only so many hours in a day, am I right? Enter my favorite solutions and the secret to hosting an effortless brunch. Bonus, two of them are right across the street from each other and you don't have to get the kids out of the car! 
Set the table with pretty dishes, napkins, gold silverware and festive drinking glasses
Place beautiful flowers and greenery along the middle of the table
Add some candles and small festive trees on the table
Create a food buffet table for easy self-serving
Create a menu so that guests can see what's being served
Play Christmas music (no holiday party is complete without "Last Christmas" playing in the background—just saying!)
Make or purchase some delicious food—see following pages for recipe suggestions!
Set up a mimosa bar with a couple of different juices. 
Have time at the end for gift exchanging
Relax, laugh and enjoy this fun time with your girls!
Ham & Cheese Croissant Strata
Stepping up our holiday brunch with this Ham and Cheese Croissant Strata. Buttery croissants, Brie cheese, prosciutto, and mushrooms, all tossed together in a mustard "cream" sauce, then baked to golden, cheesy perfection. This a cross between your favorite ham and cheese croissant sandwich and your mom's old school Christmas morning strata. It feels extra fancy but is actually easy, and of course, so yummy. You can prep this croissant bake in advance, then bake it off just before you're ready to serve. Perfect for holiday entertaining!
2 cups (about 12-16 croissants) roughly torn, day-old croissants
2 tablespoons salted butter, thinly sliced
2 tablespoons extra virgin olive oil
2 cups mixed mushrooms, roughly chopped
kosher salt and pepper
2 cloves garlic, minced or grated
2 tablespoons fresh chopped thyme (or 2 teaspoons dried thyme)
1 cup heavy cream
1 cup whole milk
3 large eggs, beaten
2 rounded tablespoons dijon mustard
1/2 teaspoon cayenne pepper, using more or less to our taste
3 ounces deli ham or prosciutto, torn
4 ounces creamy Brie cheese, cubed
1/2 cup shredded Swiss or fontina cheese
Preheat the oven to 350 degrees F. Grease a 9 x 13-inch Pyrex Deep baking dish.
Arrange the torn croissants in the baking dish and lay 2 tablespoons of thinly sliced butter over the croissants. Transfer to the oven and bake 5-8 minutes, until the croissants are lightly toasted.
Meanwhile, heat the olive oil In a large skillet over medium heat. When the oil shimmers, add the mushrooms, season with salt and pepper. Cook undisturbed for 5 minutes or until golden, stir and continue cooking until the mushrooms have caramelized, 3-5 minutes. Add the garlic and thyme, cook an additional minute. Remove from the heat and set aside.
In a large bowl, whisk together the cream, milk, eggs, mustard, cayenne, and a pinch each of salt and pepper. Add the toasted croissants, mushrooms, ham, and Brie cheese, gently toss to combine. Pour the mixture back into the casserole dish. Top evenly with Swiss cheese.
Cover the dish with foil and bake for 30 minutes. Remove the foil, then continue baking for another 10-15 minutes or until the croissants are golden on top. Serve warm.
Notes:
To Make a Few Hours Ahead: This can be made assembled a few hours ahead of time and kept in the fridge. Allow the stuffing to come to room temperature before baking.
To Make a Few Days Ahead: complete the recipe through step 3. Toss the mushrooms and croissants together. Store in a sealed container in the fridge for up to 3 days. When ready to assemble, remove from the fridge. Continue on with step 4, tossing the croissants + mushrooms with the egg mix, then assemble in baking dish. This can be done up to 4 hours ahead of time. Bake as directed.
Wild Rice Salad with Parmesan Vinaigrette
WILD RICE SALAD
3 cups wild rice, rinsed or a mixture of wild with white and/or brown rice
2 jars (6 ounce) marinated artichoke hearts
1 package (10 ounce) frozen green peas, thawed and dried on paper towel
1 green bell pepper, cored and chopped
1 bunch green onions, chopped (white, light green and some of the dark green portion)
1 pint small cherry tomatoes, halved
½ marinade from artichoke hearts (from 1 jar)
In a large saucepan, heat 2 quarts and 1 cup water and rice to boiling. Reduce heat to low, cover and simmer for 45 minutes or until rice is done. Drain off any remaining liquid and set aside to cool.
Drain artichoke hearts, reserving marinade for dressing. Pat dry, chop and add to cooked rice, along with thawed peas, green pepper, green onions and tomatoes.
Add half of the reserved artichoke marinade to the rice mixture and gently toss to combine. Set aside.
PARMESAN VINAIGRETTE
½ cup white wine vinegar
1 tablespoon sugar
2 teaspoons kosher salt
1 teaspoon celery salt
½ teaspoon ground white pepper
1/2 teaspoon dry mustard
1/4 teaspoon paprika
1 clove garlic, minced
1/2 marinade from artichoke hearts (from 1 jar)
1 1/3 cups extra virgin olive oil
1/4 cup grated Parmesan cheese
Toasted slivered almonds, for garnish
In a large lidded jar, whisk together vinegar, sugar, salts, pepper, mustard, paprika, garlic and remaining 1/2 of artichoke marinade.
Slowly pour in extra virgin olive oil, whisking until combined.
Whisk in Parmesan cheese.
ASSEMBLY
Shake Parmesan Vinaigrette and pour half over the rice mixture; toss. Cover and chill for at least 1 hour. Cover remaining Vinaigrette and refrigerate.
Just before serving, toss again and taste. Add additional dressing as needed and season to taste with salt and pepper. Sprinkle with slivered almonds and serve.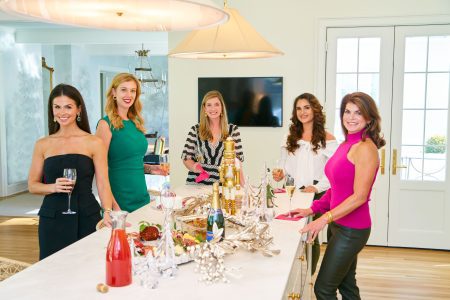 Special Thank you to
Attire
Jane Allen Designs
X PEARL By Lela Rose
Shreveport-Bossier City
Pearl.NYC/Janiedickson
www.janeallendesigns.com
Shoes
Pretenses Boutique
Vertage Clothing