I'm sure everyone has heard the terms "Botox" and or "dermal fillers" aka Juvederm or Restylane. The terms are everywhere these days and have rapidly become mainstream in both men and women of all ages, but if you are new to the idea of cosmetic injections the amount of information can be overwhelming. Whenever new patients come into our practice we always start with a physical exam, discussing with the patient their concerns. Oftentimes patients say, "I don't know what to ask for", and that is ok. It's my job as a board certified dermatologist specializing in cosmetic injections to know how to treat your concerns. However, it is also important for patients to be educated about their options so that together we can make the best choice of what products and treatments will address your concerns based on your anatomy and goals.
Our most requested in-office procedure are neuromodulators, such as Botox or Dysport, these are injections done to address dynamic movement which can cause lines and wrinkles. When patients are new to our practice, this is usually where we start. Not only are neuromodulators great at stopping set in lines and wrinkles, but they can prevent their formation in the future. With lighter dosing, commonly used in our younger patients, it can prevent lines and wrinkles from even forming. Neuromodulators is a great option for patients of all ages. The most common areas I recommend are between the eyebrows to stop you from scowling and making the dreaded "11s", the forehead to soften horizontal lines and around the eyes to alleviate crow's feet. Another popular area is around the mouth to help improve down turning of the corners of mouth or in the upper lip to help have more upper lip when smiling, also known as the Botox lip flip. Neuromodulators can also be used in some lesser known areas such as the neck to prevent the skin from hanging down lower, with platysmal band Botox. Or, in the jaw muscle to help with temporomandibular joint (TMJ) pain or teeth grinding, which can have the added benefit of helping slim the lower face. Things that always help prepare patients for exploring treatments with neurotoxin is to know that they can take 2-4 days to start working and up to two weeks to fully kick in. So, plan any treatments for special events, family pictures, or holidays at least 2-4 weeks ahead of time to make sure you have the full result of your treatment before the event. The nice thing about neuormodulators are they last about 3-4 months, and for some patients having injections done just every 6 months is enough for them to have smoothing and prevention of further lines and wrinkles. We always discuss with our patients the timing that is best for their goals and anatomy.
The next most requested in-office procedure is dermal fillers such as Juvederm and Restylane. These most commonly are just called "fillers" and are made of hyaluronic acid which is naturally found in the skin and other areas of the body. With them being a synthetic version of something your body already makes, they naturally metabolize over months to years depending on the filler used and the location they are placed. The purpose of fillers is to replace lost volume or enhance an area. As we age, we lose volume in our faces causing areas to droop and lines to form. The most common area I place filler for facial rejuvenation is in the cheeks. This lifts sagging skin and can help with nasal labial folds and jowls. The next place I usually place filler is in and around the mouth to help revolumize the lips and correct the down turning of the corners of the mouth. Other areas fillers can be used are the nasolabial folds, smile lines, temples, jawline, chin, under eyes to help look more refreshed, ear lobes for sagging and nose for a liquid rhinoplasty. Fillers can be very versatile and safe when injected by a trained physician. Unlike neurotoxin filler results are instant, but for the first week after there can be some swelling and potential bruising, so again doing any filler treatments two weeks prior to any engagements, events, vacations or photos is recommended. There is a wide range in how long fillers last, some last about four months with the average lasting twelve months, and some even last 24 months. So, depending on the area they are placed, your anatomy and goals, your doctor can help guide you in the direction of which filler is the best choice for you.
Another popular less known in-office procedure is biostimulatory fillers such as Sculptra and Radiesse. These are fillers which volumize over time by stimulating your own natural collagen production, we call them fertilizer for your skin. These fillers last two or more years and are good for full facial rejuvenation since they help with skin quality and loss of volume. These fillers are also great to use in areas off the face for crepey skin such as on the neck, chest, arms, thighs, abdomen and above the knees. These fillers do take 6-12 weeks for full results, since your body has to make its own collage. In addition, a series of treatments, usually 2-3 sessions over time are recommended depending on the area and what we are trying to correct.
The most common concern I hear from my patients, and their significant others, is they are scared they won't look like themselves or will look overdone. As a board-certified dermatologist and expert injector, I can confidently say that if you go to the right board-certified cosmetic physician you will walk out of their office looking rejuvenated, refreshed and like a refined version of yourself. It's always important to take your time, research your physician injector, and ask lots of questions.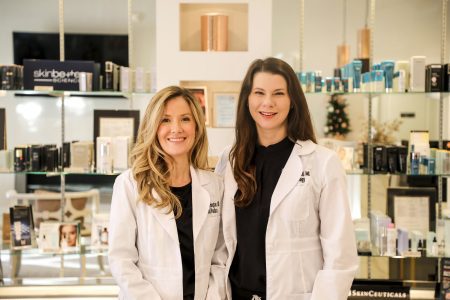 If you are thinking about trying neuromodulators or fillers, or have more questions please come in for a complimentary consultation. Both Dr. Skylar Souyoul, board-certified dermatologist, and Dr. Lindsey Pennington, double-board-certified facial plastic surgeon, are accepting new patients. 
Lindsey Pennington, MD Facial Plastics
6030 Line Ave. #110 | Shreveport, LA | 71106
   @penningtonfacialplastics
www.penningtonfacialplastics.com