How time flies when you're having fun… or burning the candle at both ends perhaps? That's exactly what Bevin and I have been doing. I first met this elegant energetic girl with a huge heart twenty years ago while we were making our way through college and working late nights at the hottest new restaurant in town. Little did we know then, we'd be lifelong friends and dream builders together. Fast forward to 2016, Bevin asks me for coffee to excitedly announce that she's started a magazine to highlight all things local ladies. I in turn, share my updates and tell her that I'm building a health food brand and hope to open a restaurant soon. She looks me square in the eye and says "Jessica, you will do it and we are going to start here, you are Lola's Hostess With The Mostess". That September, 6 years ago, this column was born. Now here we are celebrating this anniversary with the biggest project yet. The Lola Inspiration Home. Bevin once again pulled out all the stops and pushed the limits of her dreams and goals. 
I am so proud of her and honored to be invited to cook the first dinner in this beautiful new home. So as you flip through the pages of this magazine I call home, remember the dreams, the sleepless nights, the tears and the laughs, and most importantly the friendships we make as women building together to create our legacies and our special bonds that know no bounds.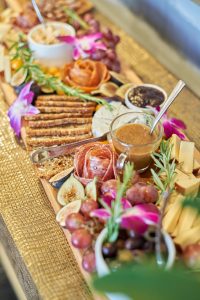 Sure, your home might be your personal sanctuary but, like all good things, it's best shared with others. You've spent a lot of time and effort decorating your home to the nines, so you deserve to show it off every now and then. And what better way to do so than with a party?
It doesn't matter if you're whipping up a multi-course meal or throwing an old-school house party, entertaining is a great way to show off your space and hosting skills in one fell swoop. But before you assemble your cheese board and uncork that special bottle of vino, it's important to get your home in the party spirit.
A Small Starter
When your guests arrive, ease them into the evening gently (and tastily!) with something to snack on immediately while you put the final touches on the main meal. It doesn't have to be a big effort – a carefully selected fancy cheese with some artisan crackers sitting prettily on a wooden board is an amazing way to start an evening off right.
Have Your Guests Come Empty-Handed
If your guests are super keen to bring a nice bottle of wine, let them, but if they ask the standard question "What shall we bring?" surprise them by waving them off and letting them know they can just bring themselves. It really adds to the hospitality of the evening and makes them feel looked-after. Plus, it ensures against the room-temperature gas station drinks they're bound to grab at the last minute on their way over!
Go Green
Nothing elevates a room like fresh flowers and greenery. A simple bud resting in a delicate vase beside the powder room sink can make the space feel intimate and special. A bouquet gathered from the garden or purchased at the floral market can add a pop of color and energy to the table. Even sculptural fern fronds on an outdoor table for a barbeque can be a simple, eye catching way to bring punctuation to the party!
Consider the details
Make sure the butter is soft and the drinks are chilled. Have a good stock of ice cubes ready to go in the freezer. Buy a nice, crusty loaf of bread in the morning. Sprinkle some sunflower seeds in the salad. These little details don't take a lot of work, but really add a nice touch to your affair.
Cook what makes you comfortable
It can be tempting to bust out that fancy French recipe book to impress your friends, and if you are a confident cook, then by all means go crazy! But the last thing you want to do is offer yourself as a frazzled, stressed-out host when your friends arrive and things aren't going to plan in the kitchen. Want to know the big secret of a successful dinner party? The food is secondary to the connections made. So, if all you can really cook confidently is pasta in a sauce straight out of the jar, that is so fine. I guarantee your guests will simply appreciate being invited to your home to have a meal with you.
CHILEAN SEA BASS EN PAPILLOTE
2 large zucchini
2 medium sized carrots
1 small red onion
1 large red bell pepper
2 garlic cloves large
1 T. olive oil
salt and pepper to taste
4 6 oz. Chilean Sea Bass fillets
4 tsp. Emeril's Bayou Blast seasoning divided
4 lemon slices divided
8 sprigs fresh thyme divided
4 T. butter divided
4 T. white wine dividedolive oil for drizzling
Julienne zucchini and carrots using a mandoline or by free hand.
Slice the onion and red bell pepper into thin slices
Mince garlic cloves with a hand grater
Place the veggies in a bowl and add olive oil, salt and pepper to taste. Toss to coat.
Season fillets with about 1 tsp. of Emeril's Bayou Blast seasoning on all sides.
Place fillet on right side of parchment and top with 1/4 of mixed veggies, 1 lemon slice, 2 sprigs of fresh thyme, 1 T. of butter, 1 T. of white wine and a drizzle of olive oil.
Fold the left side of the parchment to create a half moon shape and fold & crimp the edges from one side to the other to create a little cooking pouch for the fish. Make sure it's tight as you want all the steam to remain inside. Repeat with remaining three servings.
Place all of the pouches on a baking sheet and cook in a 375 degree oven for about 15-20 minutes depending on the thickness of your fillets. Enjoy while it's steaming hot! 
Pernod-spiked tomatoes with feta and spicy prawns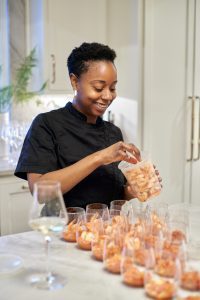 3 cloves garlic, crushed
pinch of dried oregano
3tbsp olive oil
2 small shallots, diced
2 cups cherry tomatoes, quartered
4-5tbsp Pernod
1tsp thyme leaves
pinch chili flakes
1 fennel bulb, diced (save fronds for garnish)
1/2 cup crumbled feta
juice of ½ lime
1 lemon, halved
2lbs raw king prawns or the largest shrimp you can find, peeled
1/2 cup powdered crab boil
Bring a large pot of water to a rolling boil. Add in crab boil and lemon. Then add the prawns. Allow to return to a simmer for 2 mins. Turn off the heat and set to the side, allowing the prawns to soak a bit.
Cook the shallots, fennel and garlic in olive oil over medium heat until soften, careful not to burn. Add the tomatoes for 4-5 minutes until they are starting to soften and collapse. Add all but 1tbsp of the Pernod, the thyme and the chili flakes. Cook for a further 5 minutes, until the tomatoes have thickened but still have some texture. Add in the lime juice.
Divide the tomato mixture between the glasses and top with the prawns. Crumble the feta and scatter it over the prawns. Garnish each verrine with a sprig of fennel and serve.