Captain Wendy Wilson Billiot, better known as "The Bayou Woman," takes the term Louisiana Lady to a new level. Captain Wendy is a US Coast Guard licensed captain and this Louisiana Lady has truly done it all. The list of her accomplishments include: freelance writer, photographer, public speaker, wetland educator, wetland tour guide, charter fishing captain, radio show co-host, and Wendy says, "somewhere along the way, I became "The Bayou Woman"…though I suspect it was always in me!". This captain is also a proud mother, grandmother, and can cook a gumbo they say "will make you slap your momma."
Wendy Wilson was raised in Bossier City and is a Louisiana Tech graduate. In 1978 she moved to south Louisiana to work as a roustabout. She found her home with her innate love of the water and the warm culture of Cajun country. In 1981, she married and became Wendy Billiot, raising five children in the community of Theriot which lies along Bayou Dularge in southern Terrebonne Parish. Although she considers herself "pretty much retired", Captain Wendy Wilson Billiot has created a legacy to be celebrated. Her passion for our Louisiana wetlands has affected others to continue her mission of honoring and preserving Louisiana wetlands. 
Wendy found her greatest joy in her "Bayou Woman Adventures", bayou-life immersion weekends for adventurous women. Throughout her time guiding her clients through bayous, lakes, and swamps, she taught women how to catch, cook and eat blue crabs, as well as several species of fish. Captain Wendy's charters included fishing from brackish waters, freshwater, to saltwater. The experiences she provided gave her guests the opportunity to see abundant wildlife in their natural environment–alligators, dolphins, birds of all kinds, and other magnificent creatures they would never have had the chance to see otherwise. Wendy also hosted eco-tours for educating visitors from around the world on wetland loss causes, solutions, and preservation. These tours gave interested participants a first-hand view as to why every hour we are losing hundreds of yards of our Louisiana coastlands and the projects that are being implemented for restoration. Wendy demonstrates southern hospitality and gives all of her guests an immersive Louisiana Wetlands experience that will remain unforgettable. 
As a mother of five, whom she home-educated, Wendy became a self-published children's book author. She published Before the Saltwater Came in 2005. This enchanting children's book explains coastal degradation from the view of an old otter, illustrating for children the cause and effect of our actions.  Most recently, Wendy published her second children's book, Regret The Egret. This book is a South Louisiana adventure set in a time when wading birds were hunted to near extinction for their coveted feathers. The story follows Regret, a cattle egret, and his bayou buddies as they discover the importance of being true to oneself.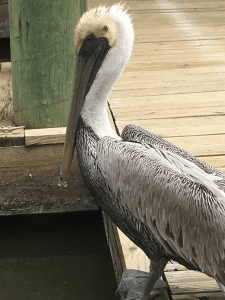 Captain Wendy's website "Bayou Woman – Life in the Wetlands" has become one of Louisiana's most popular blogs. Her tour guiding experience gives Wendy the opportunity to raise awareness for Louisiana's wetland loss and is an outlet for her creative side wherein she shares her captivating stories and delicious recipes. Wendy is also the owner of Camp Dularge, a bayou getaway rental for small groups that offers the experience of South Louisiana living. She has been well recognized over the years, winning a slew of awards for both writing and broadcasting. Wendy is a respected member of Louisiana Outdoor Writers Association and has been featured in Southern Breeze, Louisiana Travel, POV-Houma, Louisiana Outdoor Adventures, and Bayou Wild TV.  There is no doubt that Wendy Billiot knows her business and is a voice to be heard in coastland restoration. 
Southern Terrebonne Parish, Louisiana, is home to some of the most rapidly disappearing wetlands in the world. The Louisiana coastlands are disappearing at a rate of approximately 18 square miles of wetlands a year due to natural and man-made causes, which impacts all living things. Our wetlands are a precious resource that we must continue to value, protect, and preserve. For now, Bayou Woman Adventures have been canceled.  Wendy says "Retiring has been a tough pill for me to swallow. So many circumstances have kept my tours from being profitable in the past two years, and with economic times as they are for everyone, I could not possibly continue".  Although Captain Wendy has docked her tour boat for now, her voice continues to empower others. In addition, her enthusiasm for wetland restoration awareness is as strong as ever. The Bayou Woman's mission is far from complete, and for one as dynamic as she, retirement is a very relative term. 
Visit her website: http://bayouwoman.com