Written By Erin Souder, Owner And Creative Director For Earnest Home Co.
The step-by-step tutorial that will take your market bunch of flowers from ho-hum to perfection! You can arrange a whole case full of varying blooms to create a striking arrangement out of the regular bunches that you buy in your grocery store. There is a secret to making this so easy to conquer.
1. The trick to a full and round looking arrangement – make a grid of tape on the top of the vase.  I cut one piece of regular scotch tape in half lengthwise. 
You'll notice that this vase starts narrow at the bottom and wide at the top, this is definitely a trick you'll want to employ.
2. Then, create a foundation using your greenery, and using only the outer holes in your grid.
3. Next, use whichever flower would be your focal flower.  The tiger lilies are the largest and most dominant, so I chose those.  Make sure that each dominant flower stem is placed equidistant with one sticking straight up to begin creating the overall shape.
4. Once you have an outline for your shape and size created with the dominant flower, start adding in your secondary flowers (mine here are mums and daisies).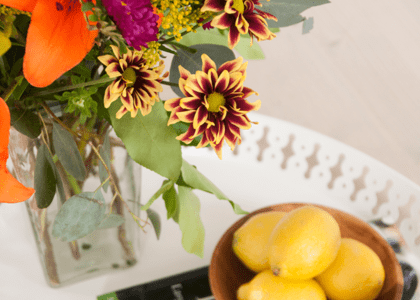 5. Once your secondary flowers are in, go back through and fill in any blank spots with a filler flower.  This is usually something that is sort of a flower, sort of a green.
Try to make sure all of the secondary flowers are sticking out of the vase about the same amount, and that some stick more perpendicular to the vase, extending over the edge of the vase.
Last, add in just a couple of touches of greenery at the top of the arrangement. Ta-da! It's as easy as that.