Did you know that summer is the best season for your health & happiness? 
Aside from people being more active and eating better, warm weather can improve your sleep and even boost your immune system! With so many health benefits to reap, you definitely don't want to miss out on getting your daily dose of vitamin D.
So who's ready for some pool parties?! We're celebrating the summer with a festive summer party and sharing some pool party recipes for hosting the best summer party ever!
A pool party should have a relaxed and casual vibe. Toss some comfortable cushions on the grass, set out garden stools as side tables, and create charming setups around the pool.
Blankets: Outdoor blankets to lay on the grass.
Towels: Roll the towels up and place them in a round basket.
Colorful Pillows: Outdoor pillows are key for creating a relaxed environment.
Stay Hydrated with Fun Drinks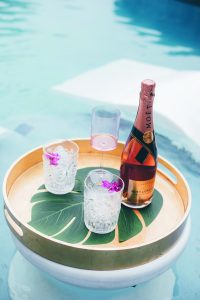 If you're going to be spending many hours in the sun, you need to make sure your party is stocked with refreshing drinks. To keep things simple, fill a cooler with some ice and popular drinks like bottled water and soda.
If you're having an adult pool party: 
Fun spirits! As an ambassador for Chandon, because it's my favorite, the Garden Spritz evokes a delightful summer spent at sunny gatherings with good friends. 
Sophisticated yet authentic. Simple yet intriguing. Crafted with half the sugar of any other spritz, it has no artificial flavors and no artificial colors. It's nothing more than naturally delicious. It's a no-brainer easy refreshing summer drink with its bitter-orange liqueur, handcrafted with locally sourced oranges, herbs and spices. Ready to serve, ready to share – ideally served over ice with a sliver of fresh orange and a sprig of rosemary.
Grilled Artichokes with Chive Blossom Goat Cheese
Now, these aren't just any grilled artichokes. The garlic and chives make them extra tasty. They are steamed first, then brushed with some oil, and then grilled/charred to perfection and served with a beautiful chive blossoms goat cheese spread! 
While my husband prefers dipping artichokes in butter, this beautiful purple chive blossom goat cheese gives it a little bit of a Hostess with the Mostess spin – plus when you walk away from the table and realize that you just ate 2-3 full artichokes, you won't feel quite as guilty because artichokes are packed with fiber, a summer body's best friend. Fire up the grill this weekend and you're well on your way to the best summer app of your life!
Grilled Artichokes with Chive Blossom Goat Cheese
3-4 large artichokes 
½ cup, roughly chopped chives with blossoms – separated 
1 clove of garlic 
½ teaspoon red pepper flakes 
½ cup olive oil 
1 teaspoon kosher salt 
1 lemon, juiced 
1 log of herbed goat cheese
Clean and trim the artichokes and cut them in half. Remove the choke. 
Boil a large pot of water liberally salted. When water boils, place as many artichokes as you can fit. Boil artichokes for 30 minutes. You should be able to easily piece the artichoke heart with a knife after it's been steamed. 
In an airtight container or mason jar, combine olive oil, garlic, salt, red pepper flakes, lemon juice, and 1/2 the minced chives (green parts). Shake to combine. 
Once cooked and tender on the bottom, remove from the water upside down so excess drains off. Allow to cook for a few minutes. Cut in half from top to bottom.
Bush vinaigrette over the exposed parts of the artichokes and then transfer to a heated grill. Grill for 15 minutes over medium-high heat until charred. 
In a small bowl, pinch off a teaspoon of goat cheese and roll it into a ball. Then roll the ball around in the chive blossoms. Serve next to the chokes for smearing on each bite.
Healthy, Flavorful, & Delicious
This orzo pasta salad is packed with protein from the seasoned shrimp. Its citrus flavor wakes up the senses to the bright and sunny days breaking out of the winter season. Grape tomatoes, crunchy cucumbers, and some aromatic chopped red onion pair well with the classic Greek flavors of kalamata olives saltiness, lemon's tartness, and fresh dill's complexity.
This is the best summer recipe for all Greek food lovers at heart. I am 100 percent positive that the longevity of life, good health, and happiness of the Greeks are due to their delicious Mediterranean diet. There is truly nothing better than lemon zest and cucumber scents filling the kitchen to make you feel like summer. This recipe is a great go-to for pool parties, family picnics, or gatherings with friends because it's the perfect dish to make ahead of time, and rest in the refrigerator until you are ready to run out the door. In fact, the tangy lemon vinaigrette continues to season and flavor the shrimp and salad, creating a more intense experience that will leave the crowd asking for your recipe.
Greek Shrimp and Orzo Salad with Lemon Herb Vinaigrette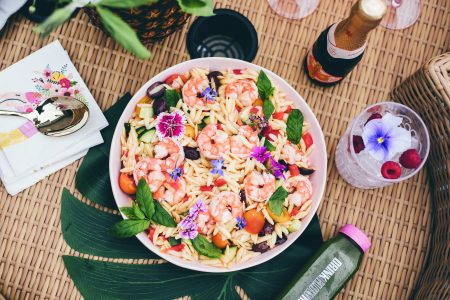 ½ pound orzo 
1 10-oz container of grape tomatoes, quartered 
½ English cucumber (peeled and chopped)
½ red onion (finely chopped) 
8 ounces feta cheese (crumbled) – optional 
1 small jar of kalamata olives 
fresh dill for garnish 
Kosher salt & cracked black pepper 
1 tablespoon olive oil
1 pound medium-boiled shrimp (peeled and deveined)
In a large pot of boiling salted water, cook the orzo until al dente. Drain and let cool.
In the meantime, make the vinaigrette – the recipe follows. 
In a large serving bowl, combine the cooked orzo, tomatoes, cucumbers, red onion, olives, feta, dill, and vinaigrette. Toss fully then season to taste with salt and pepper.
Mix the boiled shrimp into the salad and season to taste with salt and pepper once more before serving. The salad will keep in an airtight container in the refrigerator for up to two days. 
Lemon Herb Vinaigrette
½ cup extra virgin olive oil 
¼ cup of water 
3 tablespoons lemon juice (1 large lemon or 2 small) 
2 teaspoons Dijon mustard
1 tablespoon minced shallot 
1 garlic clove (minced)
1 tablespoon honey 
1 tablespoon minced fresh parsley 
1 teaspoon minced fresh dill 
1 tablespoon minced chives 
In a medium bowl or two cup measuring cup add all of the dressing ingredients and whisk vigorously to fully emulsify. Serve immediately or store in an airtight container for up to 7 days. Shake or mix before using to incorporate the ingredients once they've settled.
Splish Splash!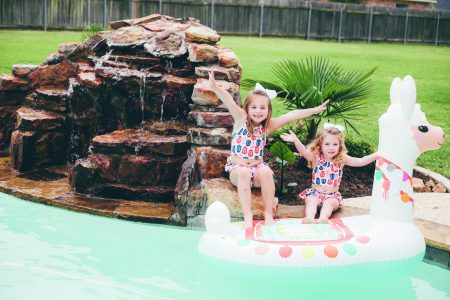 Parties with children invited? Not everyone may know how to practice water safety. Let's prepare our children with lifesaving skills this summer season-ISR provides just that! Contact a local ISR provider to help infants and small children and give them the ability to self-rescue in unimaginable scenarios. Don't know if all your tiny guests are capable of swimming and don't have a pool gate? It is necessary for someone to pull the pool duty shift, especially in places where gates and doors can get opened. It only takes moments for an accident to happen, so it's best to be prepared! 
"Infant Swimming Resource is the safest and most effective provider of survival swimming lessons worldwide, teaching ISR Self-Rescue® skills to children ages 6 months to 6 years old. With over 45 years of experience and the highest safety standards in the industry, ISR is able to deliver the best survival swimming instruction in the world today. The result? Over 8 million safe and effective lessons delivered, providing children with a foundation for safety and a lifetime of fun in and around the water."
I have witnessed firsthand my friends childrens' ability to swim, float, and swim at 2 and 3 years of age. There's no better feeling than knowing that your children have this skill around any body of water you may be visiting or live near.