Get to Know
BIANCA PLANT
Bianca Plant: A cookbook author, registered dietitian and nutrition advocate.
Whether through writing grants, creating farmers' markets or promoting chronic disease prevention through eating and ifestyle changes, Bianca is passionate about bringing wellness to her community.
She provides counseling in Medical Nutrition Therapy and inspiration through her blog on how to build balanced meals to reduce the stress of dinner time.
She is the Founder of the "Eating God's Way" food blog and cookbook.
She is featured on the monthly nutritional segment on KLFY TV 10's Passe Partout Show.
A Typical Day in Bianca's Life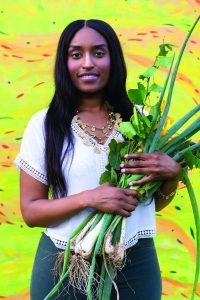 Every day is different and that's what makes it so exciting! Some days are filled with educating patients of Medical Nutrition Therapy that may suffer from numerous disease states. Other days are focused on nutrition advocacy through a family cook along on Zoom, FB Live, or radio/tv segments. Because of my hectic schedule, it is so important for me to prepare myself for the week through grocery shopping and meal prep. Practicing the nutrition that I preach is vital so that I can understand the challenges of my clients.
Values she brings to her work: Passion & Perseverance
The Best Part of Running Your Own Small Business
Knowing that I've educated or connected with at least one person through my cooking segments, seminars or social media gives me great joy. This individual may or may not schedule a personal consultation, but something will spark within them to begin creating a healthier lifestyle for themselves and their families. Beating chronic disease before it beats us is possible — we just have to make wellness our priority!
The Most Challenging Part of Running Your Own Small Business
My field of work is ever-changing when it comes to health, wellness, diets and even scams. I try to stay up-to-date on the latest research especially if my audience finds it to be popular. With popularity, however, comes questions and speculation. Because I am an expert in my field, I find it necessary to have those questions answered and correct wrong information that is disseminated on the internet daily.
Where can we buy from you?
Check out EatingGodsWay.net to purchase a cookbook, schedule a consultation or book a speaking engagement.
Location: For Bianca's PopDrop portrait, we chose the River Road African American Museum in Donaldsonville, Louisiana where she has served as a board member since 2017. This space features important documents, artifacts and architecture that highlight African Americans within the state. This is a special location to Bianca because it represents her culture while also touching on the history of food production. She is interested in looking at how the cooking techniques and cultivation of produce have evolved yet all link back together. She loves that the museum features a Freedom Garden that grows vegetables every season.
Creative Direction: My inspiration for this shoot came from Bianca's passion for heritage and health. The color palette was based on her connection with her African and Creole roots, as well as the bounty that comes from a fresh home grown garden. Our props were pulled that morning from fertile soil and the baskets were handwoven locally. The painted design creates a buzz of energetic brushstrokes that represent the community focus and cheerful warmth Bianca brings to her business.
Photography: Brittany Boudreaux is a Lafayette photographer who creates beauty, portrait and fashion photography through a female perspective. Through her work, she aims to empower women to see, feel and acknowledge their beauty and power. She seeks to cultivate friendships and meaningful dialog through the work she creates and the community she shares it with.
Funded by: ArtSpark, an individual artist stipend supported by LEDA (Lafayette Economic Development Authority) and administered by the AcA (Acadiana Center for the Arts).
Social Handles:
Hannah Gumbo: @hannahgumbo
PopDrop: @popdropbooth
Bianca Plant: @eating_gods_way
Brittany Boudreaux:
@breakfast_at_briffanys
Hey there! My name is Hannah Gumbo.
I'm a full-time muralist and illustrator creating work that embraces color, positivity and joy from my home in the Cajun Prairies of Eunice, Louisiana. I'll be sharing my latest outdoor art adventure with you over the next few issues of Lola! My project the"PopDrop Booth," is a rentable mobile backdrop that showcases my original paintings while providing an immersive art encounter that can take place anywhere. Through ArtSpark, I partnered with local photographers to create a series of portraits celebrating Louisiana women of small business. These photos highlight PopDrop's possibilities while showcasing these incredible ladies and their unique career paths. The booth was re-painted or redesigned with each portrait session, allowing me to use various mediums and techniques to bring each story to life.