In 1887 Denver, Colorado, a woman, a priest, two ministers, and a rabbi got together… It sounds like the beginning of a bad joke, but they didn't walk into a bar. What they did was recognize the need to make Denver a better place for all. Together, they had an idea that became the nation's first United campaign, benefitting 10 area health and welfare agencies. They created an organization to collect funds for local charities, coordinate relief services, counsel and refer clients to cooperating agencies and make emergency assistance grants for cases that could not be referred.
That year, Denver raised $21,700 for the greater good and created a movement that would become United Way.
In 1921, the movement made its way to Shreveport, Louisiana, and was known as the Community Chest. One hundred years later, it is known as United Way of Northwest Louisiana (UWNWLA) for its 10-parish footprint: Bienville, Bossier, Caddo, Claiborne, DeSoto, Natchitoches, Red River, Sabine, Webster and Winn.
Over the years, UWNWLA has narrowed its focus on four important qualities of life: health, education, financial stability and essential needs. It has also focused its scope on ALICE (Asset Limited, Income Constrained, Employed). ALICE individuals are our nurses, cashiers, waiters, and many others. Their households are forced to make tough choices, such as deciding between quality childcare or paying rent, which have long-term consequences for ALICE and all. Last year, the 2020 ALICE Report was released and stated since 2018, 55 percent of individuals make up ALICE and poverty households in Northwest Louisiana. UWNWLA aids ALICE families and others by offering free programs and services to help them make ends meet.
UWNWLA has made many strides over the last 100 years to make Northwest Louisiana a better community for all. Many of UWNWLA's victories have taken place under the leadership of President & CEO, Dr. Bruce Willson Jr. Since his induction in 2008, UWNWLA opened enrollment for Dolly Parton's Imagination Library, introduced the ALICE Report, re-established the 211 health and human service hotline, and opened the Shreveport Financial Empowerment Center in partnership with the City of Shreveport.
UWNWLA's Dolly Parton's Imagination Library program is a literary resource that mails free books to children from birth to age five to prepare them for kindergarten success. Since the program opened for enrollment in 2012, UWNWLA has mailed more than 200,000 books to children in our region.
Many have seen 211 advertised on digital billboards throughout COVID-19; that's because it quickly became a leading resource with the most up-to-date information on the coronavirus. 211 is a free, confidential call line available 24/7 that connects individuals to resources like food, clothing, utility assistance, and more. Since its re-establishment in 2017, 211 has answered nearly 46,000 calls in our region.
Another resource that has blossomed through United Way is SingleCare, formerly FamilyWize. Through SingleCare, individuals can search for their prescriptions at local pharmacies and receive offers at discounted rates. Since the program's launch in 2007, our region has saved 2.1 million in prescription costs, insured or not.
One of UWNWLA's proudest accomplishments was opening the Shreveport Financial Empowerment Center (SFEC) in May 2020. The SFEC provides free financial counseling and coaching as a public service to residents. Trained counselors help individuals and families manage their finances, pay down debt, increase savings, build credit, and access safe and affordable mainstream banking products. According to recent data, client savings have risen more than half a million dollars, and the same amount has been reduced in client debt.
After these accomplishments and 13 years of serving our community, Dr. Willson has announced his retirement. However, he is excited to see what UWNWLA has in store to kick off its next century.
"It is because of our generous supporters that United Way's efforts are successful, and it's the reason we will carry on for another century," said UWNWLA President & CEO, Dr. Willson. "I see United Way in the next 100 years deepening and strengthening its relationship to the governmental entities where we serve. They are helping to set the agenda of citizens by bridging the gap between the municipality and the workplace to bring everyone together."
UWNWLA will have a new President & CEO in office by the first quarter of 2022.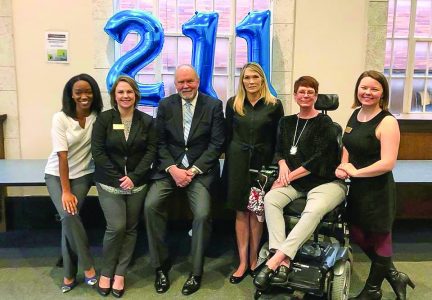 "Bruce's influence has shaped not only the morale within the organization but also the community at large," said Board of Directors' Chair, John Adams. "We are confident that the next President & CEO will embody those same qualities and will be ready to represent and fight for all in our community by strengthening relationships, getting involved, and getting hands-on."
UWNWLA looks forward to continuing the fight for health, education, financial stability, and essential needs for another century. However, the organization can't do it without help. If you are looking for a way to give back this giving season, please consider supporting United Way of Northwest Louisiana. Donations can be made at unitedwaynwla.org/donate.
For more information on how to get involved, contact Carly Koen at carly@unitedwaynwla.org or 318-606-6590.
Please help us continue to provide essential programs and services to our region by choosing to LIVE UNITED this season.