Louisiana is full of vibrant local artists that encompass everything from artisans making traditional handcrafts to makers shaking up contemporary fashion and design. There is no better way to be a part of Louisiana's colorful culture than by supporting local artists and designers. These Louisiana-made accessories are packed with style and made with passion. Each Louisiana-made accessory is created with heart and there is always a story behind the magic.
Caddo Bros' Handcrafted Hats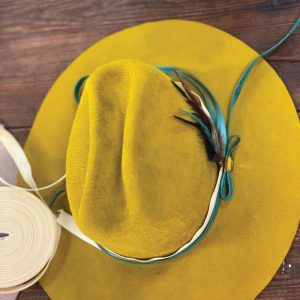 Caddo Bros' Hats are crafted by local artisans using age-old methods, which are timeless and unmatched by quality and style. Caddo Bros' is an environment that preserves American-made, handcrafted hats and leather goods.
Caddo Bros' hats are individually created for each customer. The process starts with hat body. The customer comes in to be measured, pick a color, a crown style, and a brim width. Caddo Bros' use custom hat blocks to create the shape and a stiffening agent, so the floppy felt holds shape memory. The hat is then steamed to release the memory and allows the mold to be shaped by hand. The hat body, made with rabbit or beaver fur is then customized further by designing the hat band and pin. Using everything from vintage grosgrain ribbon to a grandfather's old tie for the brim and special coins or broches for the finishing touch, each hat is unique to the client. Caddo Bros' collaborate closely with each client to create a personalized hat design like no other.
Available at C&C Mercantile
Muddy Boot Jewelry
Laurie Calahan is an artisan jeweler from Shreveport and the creator of Muddy Boot Jewelry. This name is an endearing play on words based on Louisiana often being referred to as "The Boot".  Muddy Boot Jewelry was birthed from her intense love for travel and her desire to take pieces of beloved places along with her in her travels. Louisiana, her original home, is one of these places. Because the Red River is the border between the sister cities, Shreveport, and Bossier City, where she resides, Laurie created a special mixture of the red soil found in and around the Red River with moldable binders to form her jewelry. By doing so, she was able to find a unique way to wear a beautiful symbol of life and take a little piece of home with you wherever you go.
Available at 318 Art&Garden and lauriecalahan.com
LARO ART by Kelly Moeller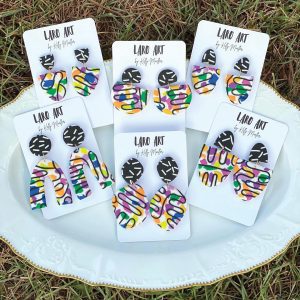 Kelly Moeller local jewelry designer creates her collections of resin earrings to make a statement for every occasion. Kelly Moeller started LARO Art in 2020, to get back in touch with her creative side. As a Shreveport native, she grew up participating in Artbreak, drawing, painting, scrapbooking, and crafting. However, it fell by the wayside during long hours of studying in school and a decade of clinical practice as a PA. Now, she is grateful to do both! Through LARO Art, Kelly makes fun to wear and lightweight resin and polymer clay earrings. LARO Art earrings are where original art meet fashion.
Available on Etsy at "LAROART," and locally through The Agora Borealis, Amethyst Boutique, and pop-ups at Simply Chic Bossier and Shreveport.
Brantley Cecilia
Brantley Cecilia is a collection of elevated jewelry uniquely designed and crafted with precious stones. All pieces are handmade with love from New Orleans. B Extra is a collection by Brantley Cecilia for the extra bold, extra daring, extra embellished jewelry that makes a statement that is on point for the season. From classic everyday pieces to showing your team spirit, Brantley Cecilia has something special for any style.
Available at JAC Clothing and Brantleycecilia.com
Bayou Bowties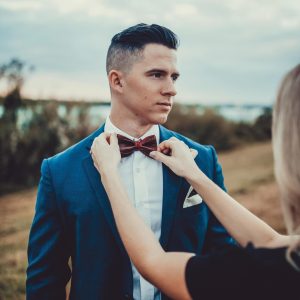 John and Marissa Gleason founded Bayou Bowties with an enthusiasm for the outdoors and a passion for style. Bayou Bowties combine adventure and class, helping your guy to be daring, stand out, and always look his best. All created with genuine alligator leather, Bayou Bowties are handcrafted for the most prestigious and adventurous to a simple classic style. He will be looking sharp showing his inner outdoors man or representing his team in style.
Available at Walker&Co or Bayoubowties.com
Bayou Glass Arts by Contina Pierson
Contina lives in an Acadian farmhouse with a wrap-around gallery deep in the Louisiana Piney Woods. It's a wondrous place of lush greens and the colors of vibrant wildflowers. This is where she's grown as an artisan jeweler.  Always drawn to all things sparkly, glass became her medium. Her journey began years ago as a hobby and now Bayou Glass Arts has evolved into two studios. Her staff of ten work daily toward the same goal of creating elegant, natural jewelry. Her work is custom to the core by crafting unique mementos or keepsakes with a personal touch. Each piece of Bayou Glass Art is designed with the beauty of nature and never duplicated.
Available at Bayouglassarts.com
Raven Jones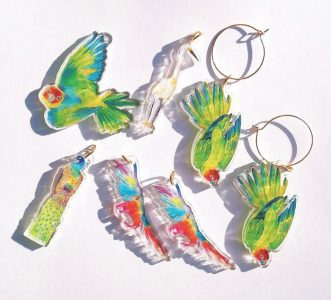 Shreveport raised, Baton Rouge fashioned, and New Orleans planted, Raven Jones, owner of The Birdburger Paper & Aesthetic Shoppe finds her creative release in her art. She creates with intention to fill a void in an over-saturated market by providing wonderfully idiosyncratic originals, bespoke paw-traits, branding, stationery, eclectic and home goodies as a black woman artist. She hopes to also enchant some hearts along the way. Doll-up your glasses and bottles with something a bit more sustainable than the typical disposable paper types for your private parties. Ravens handcrafted Boozee Drink Charms are created to help your soiree guests identify their own wine glasses but these charms are certainly versatile for more than drink charms. Upscale them as keychain charms, ornaments, eclectic jewelry and reusable gift tags for the holiday season!