An Impressive and Inspiring Career Continues at LSU
Written by Victoria Arnold
Basketball Hall of Famer, Olympic gold medalist, storied college coach and Louisiana native Kim Mulkey has spent decades inspiring athletes and pushing past barriers. Along with her natural athletic talent, Mulkey's perseverance, endurance and hard work have sustained her throughout a championship career. But she's not finished yet. Now, Mulkey, a hard-working Louisiana girl at heart, is bringing her drive and passion back home to where it all started.
​Mulkey was born in 1962 in Tickfaw, Louisiana, and her passion for problem solving and working hard became noticeable to her peers and loved ones even from an early age. It was this perseverance for tackling obstacles head-on that eventually led Mulkey to the world of athletics. ​"Competing made me feel good," said Mulkey. "I love to compete. I loved to compete in the classroom. It was always a challenge for me to get good grades, so I studied harder and studied longer than most others my age."
Mulkey also credits her dad for playing a part in instilling her athletic drive. "My interest in sports began by following my father around when he would play in recreational leagues—whether that be for softball or basketball," Mulkey said. "I think that drive can come from a lot of different areas. Maybe that's just something that I was born with."
It wasn't long before Mulkey came across her first opportunity to play in an organized league herself when she spotted a stack of Dixie Youth Baseball applications at her elementary school. Some girls would have been deterred by the fact that the league was for boys, but not Mulkey.
"I knew I was good enough to play, and the same guys who were joining the Dixie team were the same ones who'd usually pick me to be on their teams, and I was usually the first one they chose." Mulkey recalled her dad picking her up after school one day and driving her to the try-outs for Dixie Ball. "I was the first player selected," she said.
At age 12, Mulkey became one of the first girls to play organized baseball for boys. She played Dixie Ball for two years and then Pony Ball for two more.
Although she was interested in basketball from an early age, Mulkey recalls that there weren't many opportunities for young girls to play, so she had to opt for other sports, like baseball, volleyball, softball and anything else that caught her attention. By the time she got to junior high, though, Mulkey had her sights set on the one sport that excited and challenged her the most.
After making the basketball team at both Nesom Junior High School and Hammond High School, Mulkey helped lead her high school team to four consecutive state championships. Not only did Mulkey succeed as a student athlete, but she also worked hard to excel in her academics. Upon her graduation, Mulkey left Hammond High School with a 4.0 GPA and the title of valedictorian under her belt.
Mulkey had also caught the attention of Louisiana Tech University president F. Jay Taylor and headed to Ruston. There, Mulkey became one of many talented players under head coach Sonja Hogg and associate head coach Leon Barmore to breathe life into a women's basketball program that was just getting started.
​Mulkey knew early on that Louisiana Tech would be an excellent option for her because it offered both the opportunity to play basketball and to receive an outstanding education.
​After much practice and countless hours of hard work, Mulkey stepped onto Louisiana Tech's basketball court as a Lady Techster—#20 jersey, hair divided into her signature braided pigtails, and game face on.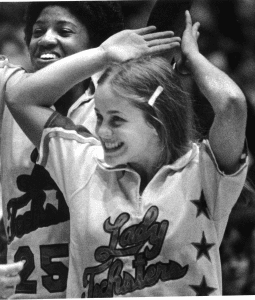 ​Mulkey described entering the world of college athletics for the first time. "As a freshman, you feel the butterflies, but you also feel the excitement because you'd walk out onto the court in Old Memorial Gym and it was packed," recalled Mulkey. Playing alongside teammates and colleagues like Janice Lawrence, Pam Kelly, Angela Turner, Lori Scott, Jennifer White and more, Mulkey and her teammates eventually led the Lady Techsters to winning the national championship—the very first win for Louisiana Tech University.
It was a special time for women and the sport, especially at Louisiana Tech. ​"Certainly for us in the '80s it was the love of women's basketball. In comparison to other kinds of sports—you weren't second fiddle to any other sport on Tech's campus," Mulkey said.
​Throughout her time as a Lady Techster, Mulkey won two national championships—one for the AIAW title in 1981 and the other for the inaugural NCAA title in 1982. In addition, Mulkey was also awarded the Frances Pomeroy Naismith Award in 1984. This award is given to the nation's top college seniors under 5'6", and Mulkey was 5'4" at the time.
One of the greatest things that Mulkey looks back on in regard to her career as a player for Tech? The fans.
"My first year that I was at Tech, we played in Old Memorial Gym and you could hardly find a seat," she said. "The one thing I remember the most, other than winning, was that our fans didn't sit in their seats until the opposing team scored."
From 1980-1985, Mulkey enjoyed her time as a student athlete at Louisiana Tech and remembers it with fondness, though she soon received news of an opportunity that at that time she had only dreamed about. After many hot and exhausting college summers dedicated to training, she reached a new height in her athletic career: becoming an Olympian.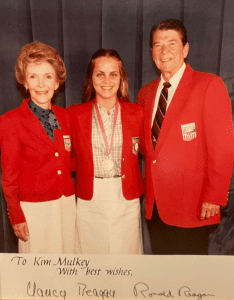 Since she was a little girl, Mulkey fantasized about participating in the Olympics. "I remember as a young person watching Nadia Comaneci when she was competing in gymnastics for Romania. I just watched her and thought, 'She's the best of the best,'" she recalled.
Inspirations from fellow athletes, like Comaneci, fueled her drive to work toward her own goal of one day becoming an Olympic athlete. And finally, that day came when Mulkey discovered she had been chosen to participate in the 1984 Olympics in Los Angeles, California.
To begin her Olympic journey, Mulkey was sent to the William Jones Cup competition in Taipei, Taiwan, for pre-Olympic training. During their time there, Mulkey and the rest of the U.S. national team easily beat each of the eight teams they competed against, winning by an average of just under 50 points per game, with Mulkey averaging 6.8 points per game. That same year, Mulkey helped lead the United States to its first ever Olympic gold medal for basketball.
"I was very fortunate I was selected and very fortunate to play for Pat Summitt, and I'm very fortunate it was for the United States and we were able to win a gold medal," she reflected.
Though she began reaching new heights in her basketball career, Mulkey's motivation, strategy and passion for the game remained constant. The thing that kept her going during high-stake games like the Olympics? Her keen ability to focus on whatever challenge is right in front of her.
"You're just so in the moment—the heat of the moment. Our game is so fast-paced… you've got so many things happening so quickly that you have to make quick decisions and stay focused. Sometimes you make the right decision and sometimes you don't, but you just have to stay focused and in the moment."
After taking home the gold, Mulkey began to set her focus toward winding down her athletic career and opening a door to a new world of opportunity—the world of business. Having graduated from Tech with her bachelor's in Business Administration, Mulkey buckled down and began to pursue her master's in business administration in 1985. However, fate had other plans.
During her Naismith Basketball Hall of Fame Induction speech in May 2021, Mulkey reflected on her time after the Olympics and recalled that she had no idea that her athletic career in school could ever become her primary career.
"I never thought I would be a coach. After the '84 Olympics, I received a post-graduate scholarship from the NCAA to work on my master's degree, and I was sitting in a class when police officers came and got me out of class and asked me to report to the president's office, and at the time the president of Louisiana Tech was F. Jay Taylor."
During that meeting, Taylor informed Mulkey that he wanted her to become the assistant coach under Leon Barmore. Mulkey remembers, "He wanted me to be part of that world, and my first reaction was, 'No way. I'm done. I want to be a CEO and travel across the world and fly on corporate jets—not coach basketball.' "
However, after much reluctance, Mulkey ended up accepting a position as assistant coach for Louisiana Tech. She says, "Little did I know, that man knew more about what I was supposed to do than I did."
In 1985, Mulkey began her 15-year coaching career at Louisiana Tech. Under her leadership, the Lady Techsters reached new heights that would propel them into being ranked as one of the greatest women's basketball teams in the country.
During Mulkey's tenure as assistant coach and eventually head coach, after her promotion in 1996, the Lady Techsters posted a 430-68 record and advanced to seven Final Fours. More impressively, the Lady Techsters also won the NCAA championship in 1988.
When asked about the feeling of winning a championship as a player versus winning a championship as a coach, Mulkey's answer was straightforward: "I'd say it felt about the same. I've been blessed to be on so many championship teams as a player, assistant coach and head coach, but the truth is that they all feel the same. I believe people think that it feels better as a player or it feels better as a coach—but the truth is that I really did love it all. When you're competing for a championship, you just feel like you're a part of it. No matter what part you play, you're a part of that championship."
It was her natural, headstrong, down-to-earth leadership as a coach that eventually led Mulkey to pack her bags and relocate to Waco, Texas, in April 2000 after she landed the role of head coach for Baylor University's women's basketball team. Even though she felt anxious and excited to start a new job as a head coach, Mulkey said, "It turned out to be a great decision—and I spent 21 wonderful years at Baylor University."
Mulkey's start at Baylor came with a good omen, as she received the honor of being inducted into the Women's Basketball Hall of Fame in 2000 for her outstanding accomplishments as a basketball player. With this achievement under her belt, she began investing in her next achievement—revamping Baylor University's basketball program.
Upon her arrival, Mulkey's mission was to reconstruct the program from the ground up. The previous season, Baylor had finished with a final record of 7-20 and finished last in the Big 12 Conference. The Lady Bears had also yet to receive an invitation to the NCAA tournament. That is, until Coach Kim stepped onto the court.
Mulkey brought energy, passion and true grit with her to Baylor. In fact, during her first season at Baylor, the Lady Bears received their first NCAA tournament bid thanks to Mulkey's leadership. The team has continued to go into postseason play every year since her arrival.
Throughout her 21-year reign at Baylor, the Lady Bears won an average of 20 games each year, and only once has the team lost more than 10 games in a season. With Mulkey's guidance, Baylor's team continued to strengthen in their success until finally, in 2005, the Lady Bears took the championship title.
It was this victory that changed Mulkey's basketball career forever. After leading the Lady Bears to their first national championship, Mulkey became the first woman in NCAA history to have won NCAA Division I basketball titles as a player, assistant coach and head coach. In fact, since her initial tournament win as a player for Louisiana Tech in 1982, Mulkey has been involved in the NCAA tournament either as a player or coach every year, except in 1985 and 2003.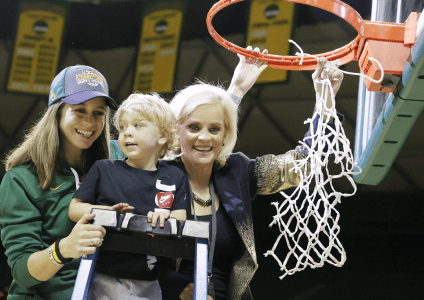 Mulkey's string of success would continue. After signing a 10-year extension as head coach for Baylor, in 2008 she released her autobiography, Won't Back Down: Teams, Dreams, and Family. Four years later, in 2012, Mulkey made NCAA history yet again when she led the Lady Bears to a perfect 40-0 season, the most wins in basketball history for women or men.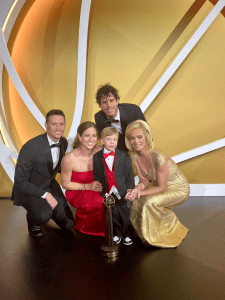 In 2019, Mulkey climbed another mountaintop after Baylor defeated Notre Dame with a score of 82-81 –making Mulkey the third coach to win three or more NCAA Division I Women's Basketball Championships, ranking her with some of Mulkey's own sources of inspiration—Geno Aurimma and previous Olympic coach Pat Summitt.
However, Mulkey and her Baylor team would soon face a challenge that would be one of the most difficult yet—the devastation of the COVID-19 pandemic and lockdown in March of 2020.
Mulkey remembers, "We were headed to the conference tournament in Kansas City, sitting in an airplane and waiting to take off, when I saw my phone light up on the seat next to me. I received a text from one of our administrators saying that the conference was going to be canceled. I was able to ask a flight attendant to knock on the pilot's door, and he kindly turned the plane around and took us back to the terminal area."
Mulkey described the reaction her players had to this news: "We were just devastated. Particularly the seniors were devastated. I just told them to head home and be safe and that they'd hear from me in a few hours." Unfortunately, there was more bad news to come.
"It wasn't until a few hours later that we learned about the NCAA tournament being canceled. I think we were all in a kind of denial, disbelief and disappointment. It was very difficult. We felt that we had a team that could really win another national championship. The Final Four was also going to be held in New Orleans, which I was sad couldn't happen."
Despite the heartache of not being able to see players or participate in any organized games, Mulkey did receive some exciting news in the midst of the disappointment of 2020—she was to be inducted into the Naismith Basketball Hall of Fame. Not only that, but the beginning of 2021 had more good news in store: an opportunity to return to her home state of Louisiana and become head coach for Louisiana State University's women's basketball program, which she accepted.
Though the announcement was devastating to many Baylor fans, the community that supported Mulkey in her transition was a testament to all the lives that she has touched. Upon the announcement of her departure, several of her staff even followed her to Baton Rouge as she began her new chapter at LSU.
In her 2021 induction speech to the Naismith Hall of Fame, Mulkey discussed how thankful and humble she was to have participated in an amazing university and basketball program at Baylor University.
"I'm amazed that a university in Texas, with which I had absolutely no prior connection, welcomed me, embraced me and provided me, my family, my two children with unwavering and unconditional support," said Mulkey. "They took a chance on a little country girl from Louisiana that had never left the state of Louisiana, and they gave me every resource and all the support in the world."
Mulkey also expressed her excitement for beginning her new chapter at LSU during a press conference in May.
"I've been at Baylor for 21 years of my life, and we built that program from the ground up. Can you believe, there's only one institution I would have left for, and they decided to make that commitment, and now I'm home."
Mulkey also talked about how she was looking forward to returning to Louisiana. "I'm excited to be back in my home state. I'm excited that LSU had the faith and belief in me enough to offer me the job. I'm appreciative of all the support that my staff and myself have received. We understand what lies ahead and we know there's excitement about us coming back—and that feels good."
However, Mulkey isn't the only one who's excited for her return to her home state. Before she took the stage during her LSU introductory press conference, Mulkey was introduced by many different administrators from LSU athletics and was showered with warm welcomes. Mary Werner, Athletics Committee Chair on LSU's Board of Supervisors said, "Coach Mulkey's resume is unlike any other coach we have ever welcomed to LSU."
Werner's recognition of Mulkey's accomplishments was also preceded by kind words from Tom Galligan, LSU's interim president. "She will be a valuable asset to LSU through the pride she displays and the standards she sets on the court and, just as importantly, off the court," said Galligan. "Coach Mulkey represents the very best of Louisiana."
Mulkey is also well aware that her successes weren't accomplished alone. During her acceptance speech for her induction to the Naismith Hall of Fame, Mulkey made sure to honor all of her supporters and previous coaches. She said, "While we're the ones being honored and recognized, we're only here because of one of life's greatest ironies—we get the credit when it should be shared with and by so many others. I'm only here because of the great individuals who coached me."
Many of these individuals that played a significant role in shaping Mulkey's drive and determination have shown her how to encourage that same drive and determination in others. Mulkey shared that for each practice, she usually has a different motivational quote of the day for her players. When asked which piece of advice has resonated with her the most, she simply said, "There's just too many to live by." Though there have been numerous phrases and mottos that have inspired Mulkey and her players throughout the years, the one thing that she does believe is important for everyone, athlete or not, is to have goals.
"I think it's important for everyone to have goals," said Mulkey.
However, Mulkey also acknowledges that it's important for individuals to be able to carry on even when certain goals don't work out. "I think we all have obstacles. We can choose to call them failures or obstacles or roadblocks or whatever—it's part of life. No one has ever said life was easy or that life was fair. Whatever obstacle comes your way, you need to know how to pick yourself back up and regroup. You have to keep keeping on."
Reflecting upon her overall career as an athletic coach, Mulkey's primary feeling is thankfulness. "I've been blessed to be in a leadership role, and I always want to be prepared. I always want to guide them in the right direction and help them grow, mature and become not only great basketball players, but great people, too."
She elaborated on this during her Naismith Hall of Fame induction speech as well. Addressing her peers in the professional and collegiate athletic communities, she advised: "No coach stands up here without having great players. I'm a very small part of the basketball world, because those players choose to either listen to you or ignore you, and I've been so blessed that they believed in me, they embraced me, and allowed me to push them beyond places they thought they could ever go."
Despite the numerous awards she's received and obstacles she's conquered, the greatest achievement in Mulkey's life isn't her career. She said, "My two children without a doubt are the greatest accomplishments of my life."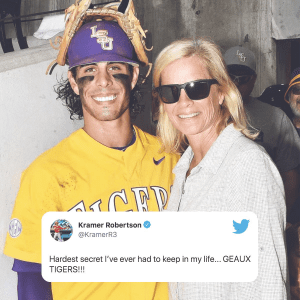 Her son Kramer and daughter Makenzie have been extremely supportive of her career, not only at Baylor, but during her transition to LSU. Kramer, now a player for the St. Louis Cardinals, previously played baseball at LSU during his time as a student there. "Being able to watch my two children grow and see the people they have become—what a blessing they have been in my life," said Mulkey.
Having a daughter has also given Mulkey a unique perspective on what she hopes can be accomplished for female athletes in basketball, a long male-dominated sport. She has witnessed inequities firsthand and said,
"Financially, you can be a head coach at the elite level of your profession and see male coaches that haven't accomplished near enough what you have get paid more than you. That can be an issue, but I do believe it's gotten better, especially in my lifetime."
Yet, in true Mulkey fashion, she's learned to not let anything distract her from reaching her goals. "That's also just part of life. You just have to do the best that you can do and try to not compare yourself to others. Don't concern yourself with other people's opinions, just do your job."
Reflecting on her time in the world of athletics, Mulkey admits that a lot has changed for the better when it comes to the growth and respect for women in athletics, particularly in basketball. Mulkey recalled, "I think we've seen a lot of things change throughout my lifetime. We see more television coverage for women's sports and more support from fans. The salaries have gotten better and the opportunities have gotten better. I can think of a lot of things that have changed. I don't think we're where we need to be, but I believe that things will get better as they always have. You keep pushing—you keep fighting for what you believe in to be right and I think we're seeing the rewards from that, or at least in comparison to 20-30 years ago."
In Mulkey's eyes, the future is bright for women's basketball, especially for the Lady Tigers she'll be coaching at LSU. Tough as nails and built with the push to achieve even some of the most seemingly impossible goals, Mulkey represents not only the characteristics of being a strong basketball player, but a strong woman in leadership.
As Mulkey stated herself, "It's no secret, I do coach with passion. I do coach with intensity. But I think I learned that from the great state of Louisiana," said Mulkey, smiling. "We're fighters here."