Every cloud has a silver lining they say, and ours had a bit of Cajun spice as well! 2020 was a year like we've never seen, ravaged by COVID, quarantine, and perpetual banter between political parties. Kevin and I were trying to figure how to stay afloat financially during the chaos. Being that Kevin is a petroleum geologist with over 35 years of experience, the sudden halt in oil/gas consumption along with the presidential election drama meant that we had serious concerns over just where the oil biz would go. So, we put a new prospect in a black iron skillet, turned up that gas, heated up some oil, added flour, made a dark roux and simmered up some delicious gumbo to sell. And sell gumbo we did!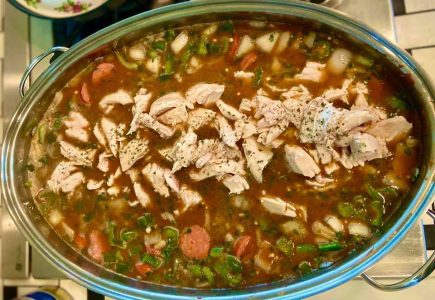 We started with 6 quarts of Kevin's 30+ year old recipe on October 9th. By October 31st, we had sold 257 quarts of that black gold and knew our prospect had potential to pay off, or at least pay the house note. Pulling the name of our home, "Rosepointe," and fare meaning cuisine or food, Rosepointe Fare was created!
Kevin and I began working nonstop for the next few months, me as "sous chef/chopper/chicken boiler" and Kevin as "roux maker/spice man." Together, we work side by side making pot after pot of delicious chicken and smoked sausage gumbo. We tested many different varieties of sausage and cuts of chicken and finally landed on a local favorite down-home sausage and tender chicken breast meat added in abundance to every pot.
While the gumbo is simmering, I keep up with our Rosepointe Fare Facebook page to create advertisements, videos, and such to let people know about our offerings. Our gift bags and package deals include gumbo, rice, and beautifully delicious cornbread roses (muffins). This package began to really pick up at Christmas. We also created Quarantine Gift Bags for those that were not able to safely venture during the pandemic, and during Mardi Gras, we partnered with Sweet Pea Bakery to add their incredibly delicious king cake to our packages. They just flew out the door!
As the warmer months approached, we knew we might need a little something to offer that would pick up potential slack in gumbo sales, so I began to make my take-and-bake lasagna. Now this lasagna is different from most any you find around here, and I can tell you, my tennis teammates will fight over it! I tested it with others and found it was a hit with everyone that tried it. I started making pan after pan of lasagna with spicy Italian sausage and mushroom sauce, ricotta cheese, baby spinach, and 3 varieties of Italian cheese all layered with pasta to make the most delicious ooey-gooey goodness you've ever tasted!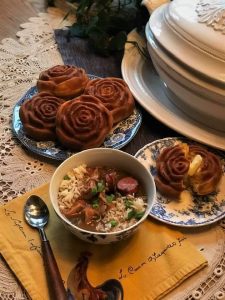 The most recent and exciting news is that our gumbo is now offered at Counter Culture! We could not be more thrilled and honored to have our gumbo served at what is one of Shreveport's most beloved and iconic food stores. Our spicy chicken and sausage gumbo and their fabulously delicious yogurt treats are the perfect combo for lunch or dinner. We will soon have our quarts of "grab 'n go" gumbo in freezers there, too, so you can take it home to your family for a delicious meal!
We are so excited with how fast our little business has taken off that it is somewhat overwhelming, but Kevin and I make a great team and do our jobs excellently. We both strive to make sure we use the best ingredients, and we painstakingly work to create the very best quality and taste in our dishes offered. We just couldn't put our beloved Rosepointe Fare name on anything less!