…and when to break them.
White.
There is no other color in our closets that comes with more rules, restrictions, questions or concerns than white. For generations, women have subscribed to the unwritten rules around wearing white to avoid committing one of the Southern woman's greatest fashion faux pas.
The old adage is that wearing white is only acceptable in the summer months stretching between Memorial Day and Labor Day. Although many of us have been taught that it is acceptable to bring out our white clothing starting with Easter Sunday, leeway given in the South likely because temperatures climb faster here than in other regions.
While there is some variation on the starting date for wearing white, there has never been much sway on where not playing by the age-old rules will land you. A slew of sideways glances and glares from your mother, grandmother, aunt, and any other good Southern women who came before you that you seemingly have offended by your fashion choices.
As a result, like it or not, many of us safely shove our white jeans and dresses to the back of the closet for the better part of a year. Katie Bonnette, owner of Goldie Boutique in Ruston, says many of her customers still second guess themselves when it comes to wearing white.
"It's funny what we consider taboo! Who even said or created this rule? And why can't we wear white when we want?" Bonnette said. "But it is ingrained in us. It's a generational thing that we've always been taught. We challenge our customers to grow outside their fashion box and to grow into their fashion and learn to create new rules."
Where the fashion rules around wear white originated is unclear. According to a 2019 Time Magazine article, the reasoning is practical – it was simply a way to stay cool in the dog days of summer. With no air conditioning and fashion still being fairly formal, white clothing was lighter weight and provided greater comfort.
Other historians speculate that the rule may have been established as a social differentiator of the wealthy. In the early 20th century, white was the color of choice for upper-class Americans who could leave the city in summer months for seaside cottages and mountain homes to escape the heat. Heavy, dark city clothes were left behind in exchange for light, white summer outfits. In an era where there was a dress code for everything, the parameters for wearing white between Memorial Day and Labor Day took hold.
A 2019 article by Southern Living explains that by the 1950s, the thinking had tricked down to the middle class. With help from women's magazines, it became widely accepted that wearing white wasn't appropriate anytime before Memorial Day or after Labor Day.
Even today, women struggle to break free from the old rules that no longer apply. Bonnette said the rules of wearing white are always a topic at Goldie Boutique.
"Last winter, we had a pair of winter white slides in the store. I had a customer who loved them, but she just couldn't do it. She couldn't wear white before Easter," Bonnette said. "I always challenge customers to think new and pivot. Do whatever you want to do! The key is to feel good and confident in what you're wearing."
With trends like winter white pants and stark white boots emerging in recent years, it's become more evident that the rules of wearing white no longer apply.
"The rules are there are no rules. If you feel good and look good, then rock it," Bonnette said. "White can be worn all year round now. We sold white boots during the winter last season, and everyone was dying for those boots."
But if you're still not comfortable fully breaking the rules of the past, there are easy ways to introduce white into your wardrobe early and extend it further into the fall months.
Madeline Barr, owner of Boutique Barr in Ruston, suggests that people can ease into wearing white by selecting a white top or lightweight sweater that pops with a fun, colorful print. Women can also stick with the timeless look of a crisp white button down paired with a favorite denim. Barr says rather than letting color be your guide, consider the fabric and material foremost.
"I have white sweaters that I wouldn't wear in the summer, but because of the weight of the material it is perfect to wear in the winter," Barr explains. "I wouldn't wear white linen in the winter either. Always let the material and fabric be your guide."
Another easy way to introduce white into your wardrobe can be with your shoes. White tennis shoes are a wearable trend for all ages and can be can ease someone who is feeling nervous about wearing white too soon.
Barr says that Louisiana heat is also a reliable guide for fashion choices and should give people more leeway with wearing white.
"As the weather changes and it starts getting warmer, people are fine with wearing white now," Barr explains. "We recently put out white pants and white paperbag shorts in the store and they are both almost gone!"
There are also simple suggestions for keeping your white in wear as summer transitions into fall. Bonnette says layering is key when wearing white year-round.
"Even with a white dress it is so easy to throw a denim jacket over it and pair it with a cute pair of tennis shoes. Layering a lot of your white pieces will make them go a lot further. It is still so hot in the fall, so don't be afraid to wear it," Bonnette encourages.
As temperatures cool down and seasons transition from fall to winter, Bonnette suggests trading in your white denim for a pair of winter white pants that can be paired with a chunky knit sweater or a fall-colored top. Layering a white button down under a V-neck sweater is also a great way to bring in brightness and a pop of white.
Above all other rules and how-to-wear white suggestions, the most important consideration is how you feel in what you are wearing.
"My thing is that anything goes," Barr said. "I might not personally wear white pants all the time, but then again I might. There are no rules as long as you feel confident in what you're wearing."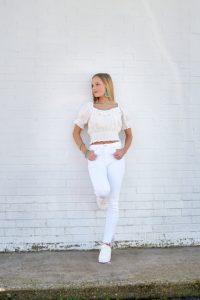 Stephanie Jordan is a Shreveport native with more than 10 years of experience writing for local publications, including The Shreveport Times, SB Magazine and City Life Magazine. Stephanie and her husband, Ty, are parents of two redheads, Tilly and Grady. When not carrying her kids to-and-from after school activities, Stephanie enjoys playing tennis and golf, cooking and spending time with close friends and family.
PHOTOGRAPHY BY
Victoria Arnold
Goldie / Boutique Barr
Jarrett Warren
Vertage / Pretenses / JAC