Sugar and spice and everything nice… When I walked into Uptown Downtown in the heart of Ruston, LA, I was instantly transported to a simpler time. Greeted first with the aroma of butter and sugar, a bubbly, smiling blonde named Morgan Thornhill welcomed me into her cozy cafe.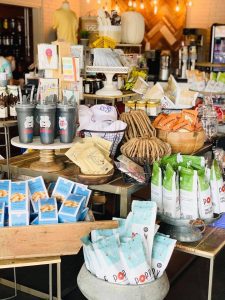 Uptown Downtown is adorned with beautifully decorated cupcakes, nostalgic cookies, and a delicious lunch menu available for take out or to dine in.
Morgan took me into her kitchen where I was once again feeling that familiar bakery feeling from my pastry chef days. Everyone busily working on fancy frostings, pastry dough, and the heart-warming smell… Oh, the smell of butter and sugar, did I say that already? Yes, well, the point is: A bakery takes you back to grandma's kitchen in a way, and Morgan has mastered the time machine.
She then showed me some cookie designs that she offers for Christmas and I have to say that I was a little rusty on my decorating skills. Nevertheless, her technique and talent was smooth and seamless, and I can see why she sells hundreds and hundreds every holiday. After my cookie tutorial, I joined Morgan for coffee and chit chat, then her mom's signature chicken salad on a fresh croissant. She led me down the path of her journey to becoming a cafe owner, starting with learning to bake at a very young age. She and her mom attended classes and conferences led by some of the world's most respected cake designers and culinary artists over the years, lending her a knowledge base to perfect her pastry talent.
Stepmom to three children, she confessed that most nights she leaves dinner to her husband who is a great cook in his own right.
The holidays are a busy time for restaurant owners, especially bakeries. Morgan juggles the long hours like all of us other working moms and dads, "sometimes dinner is pizza," she laughs. Once over the hustle of filling everyone else's holiday treat list, she looks forward to spending time with her family at the Christmas Candlelight Service followed by late night snacks and gumbo.
Second generation cafe owner Morgan has made her mark on downtown Ruston. Her mother started KaCee's Sugar and Spice years ago. Once Morgan became owner, she moved the bakery to downtown Ruston and changed the name to encompass all her dreams. Since taking over and turning into something with her own elegance and taste, she is opening her second location in Bossier City this holiday, definitely something to keep a look out for. On my way back to Shreveport, I couldn't help but shove a peanut butter chocolate cupcake in my mouth. The flavor was pure bliss. Maybe because I now spend my days eating kale and cashews, or maybe because it was just that good. I think the latter.
We asked Morgan for some tips and tricks on cookie decorating, here's what she had to say:
She uses a buttercream frosting as opposed to the traditional royal icing. Then she showed me how to smooth the frosting with a Viva paper towel to get that perfect flat surface a royal icing would lend.
Always keep your tip clean and only squeeze in your hand the amount of icing you can control. You don't have to squeeze the whole bag. Practice, practice, practice!
When preparing a buttercream for decorating, you need to be sure it stays chilled or it won't be strong enough to hold shape until it sets.
Also use a clear vanilla powder or almond extract, the clear vanilla powder can be found at more craft stores with a bakery section or on Amazon. If you opt for almond, use only a little as it can overpower the flavor