A historical study written ten years ago? YES! This famous surgeon is originally from Monroe, Louisiana. Learn why he fled the south, and how his story shapes up compared to two other participants in The Great Migration.
Don't let the thickness of this Pulitzer Prizewinner scare you. You'll soon be caught up in the story of three special (yet typical) southerners and their life-changing journeys: Ida Mae Gladney, George Starling, and Dr. Bob Foster. "The Warmth of Other Suns: The Epic Story of America's Great Migration" is a historical study of the lives of these three Black people who become participants in what is now referred to as the Great Migration of southern Blacks to the north during the decades between 1915-1970. Not only does this book thoroughly document the challenging experiences of these three individuals, it does a great job of putting the greater movement into perspective. Wilkerson weaves in the works of Black poets, authors, and artists of this era, as well as establishes the motivation for the massive 6 million Black Americans who would relocate to northern cities during this period.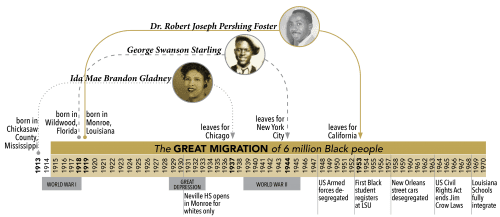 Besides being an important work and a national bestseller, the draw for Louisiana residents will certainly be to learn about one of the three featured:  Dr. Foster — a talented surgeon born a hundred years ago in 1919, and raised in Monroe. His parents were educators and Dr. Foster highly valued education himself. We learn how Black teenagers in Monroe would watch Hollywood films in the segregated balcony of the movie theater. A young Dr. Foster is there in the 1930s to witness the construction of a then state-of-the-art Neville High School that would remain closed to Black students until the 1970s. More familiar references to the Picadilly, Ouachita River, and Desiard Street will take your mind to a Monroe from decades ago. Where this highly educated, seasoned, award-winning, military-trained surgeon wouldn't be allowed admitting privileges to any of the local hospitals because of his race. 
You'll have to read the book to learn how Dr. Foster fares on his journey to California, but know that it will be an uphill battle the entire way. In California, people were said to follow the elevated-sounding "James Crow" rather than the average "Jim Crow" rules from their origins in the rural south. None of those nuances could be known ahead of time — they are the sort of rules only available to discover upon arrival in a society without cell phones or internet to inform the masses. It is a credit to his skill and talent as a physician that Dr. Foster is able to build a thriving practice in Los Angeles, where he becomes the personal doctor of musician Ray Charles. In fact, the song "Hide nor Hair" from 1965 is truly based on and dedicated to this very same Dr. Foster from Monroe, Louisiana. The singer was so grateful for the care provided when he needed a career-saving operation and showed his appreciation with this hit tune.
All three journeys of Dr. Foster from Louisiana, Ida Mae Gladney from Mississippi, and George Starling from Florida are fascinating to consider as part of this larger movement of the Great Migration. It reminds the reader of how living through historic times and movements can be thrilling, terrifying, and fraught with unforeseen obstacles. We can be proud of the familiar, local, humble beginnings of Dr. Foster, while also remorseful that he had to leave Louisiana in order to reach a fuller potential. At the same time, we can commit to building a better environment in Louisiana in which our many talented native-born citizens can stay home and thrive in the future. 
"They did what human beings looking for freedom, throughout history, have often done. They left."

— Isabel Wilkerson,

The Warmth of Other Suns