The school year 2020 has begun, and whether you find yourself packing lunches and sending your kids off to school or staying home to juggle life and the virtual classroom – know that you've got this! You're doing a great job!
One thing this season of life has taught me is to slow down and get back to the basics. We've spent more intentional time as a family around the dinner table, enjoying walks around the neighborhood, and just relaxing when we aren't busy fixing up things around our house. 
Research shows that 16% of typically developing children demonstrate difficulties with sensory processing. While it's not 100% attributed to toys these days, I do think what our children play with is a large factor. We want toys to enrich their learning and expand on skills they already have. Toys are a means of interaction and a way to foster growth and development in language, gross, and fine motor skills. The more toys blink and talk, the less need for our children to engage socially such as mimicking facial expressions, gestures, or vocalizations. 
Let's talk about sensory overload – we've all experienced this feeling at one time or another. Think back to your first concert – tons of people crowded together, bright lights flashing, and overpowering speakers blaring music for all to hear. Depending on your personality type (and taste in music) this was either a wonderful experience or a "little much" for your body to handle. Sensory overload occurs when our body is overstimulated by one of our five senses. Toys today tend to create the same environment in your home. If your children's toys are driving you bananas from the other room, chances are they are overstimulating your little one. Big-name toy companies do an excellent job of marketing their latest and greatest "educational" toys that talk, dance, teach children ABCs and 123s. In reality, these toys could be overstimulating for little eyes and ears, leading to difficulties regulating the central nervous system (brain). 
Now, don't run to your playroom and throw out everything with batteries. That's not what I'm saying. But instead, look to see what is in your child's play environment. Take a mental inventory of your child's toys. Are there toys you can remove and later bring back? Maybe instead of 5 toys that sing and dance, let's rotate 1 or 2 at a time. Are there multiple toys that share the same purpose? Leave one out and store the others – think quality, not quantity. Is the toy entertaining or educational? The more the toy does, the less the child has to do.
I love "old" toys, they are great for more than one reason, but most of all for their simplicity. Toys are meant to guide or facilitate play. We (parents/caregivers) are to put the life or the "battery power" into toys. We help to expand language skills, teach coping and self-regulation skills as well as guide social-emotional development. These are crucial skills that cannot be replaced by a battery-operated toy. There is no current evidence that interactive media or toys match the benefits of active, creative, hands-on, pretend play with traditional toys. 
Let's take a trip down memory lane and look at some of the most popular toys during each decade of the 1900s. While the "then" option in almost every decade is still a great option for today, the "now" option offers great alternatives to toys that are currently on the market. Some toys are just hard to beat, like crayons, Legos, and Lite-Brite. Notice that very few of these toys have batteries, make sounds or perform on their own. My hope is that you and your children, grandchildren, nieces, or nephews enjoy spending time together creating, playing, and promoting warm and supportive interactions and relationships. 
Learn the lingo
Visual-Motor Integration – The ability to coordinate and translate what you see into fine motor control. For example: copying a triangle with the correct size and orientation.
Working Memory – A temporary holding and computing of information that is easily accessible at that moment. For example: recalling a sequence of numbers, like a phone number given to you over the phone. More than likely you won't remember this number tomorrow, but you were able to retain it long enough to write it down.
1900: Crayons
Now – Crayola Ultimate Crayon Collection (3+), Melissa & Doug Jumbo Triangular Crayons (3-6): These are a staple in the area of play in a child's life. They allow for creativity, visual-motor integration skills, and fine motor control. Not to mention there are endless possibilities for creativity at a very reasonable price. This 152-count set can be purchased for less than $15.
1910: Erector Sets & Lincoln Logs
Now – Melissa & Doug Construction Set in a Box (4-6), IRON COMMANDER Cool Metal Erector Set (8-13), Erector by Meccano Super Construction 25-In-1 Motorized Building Set (10+): These are great sets to learn how to follow written and illustrated directions while still allowing for open-ended play across a wide age-range.
Now – Playstix (4+): These color-coded stix make assembly easy when using the illustrated manual to build various structures. This set provides a great opportunity to build on attention skills and creativity.
1920: Tinker Toys & Pop Up Books
Now – K'NEX TINKERTOY – Classic Building Tin (3+), Kid K'NEX – Budding Builders Building Set (3+), Joinks (3+), BMAG Magnetic Building Rods (18months+): All of these sets are great options for the child who loves to build and create. These promote skills such as bilateral coordination and grip strength.
Now – Poke-A-Dot! Books (1+), Pop Up Books (3+), The Color Monster (3-7): Books are a wonderful tool to facilitate and introduce language to your child. Catch their attention with these interactive and 3D books. There is a wide variety of Poke-A-Dot books for your little ones. These are not only great for language skills, but cause-and-effect play as well. Push the dot, hear a sound – the simplicity of this idea is brilliant. The Color Monster is a great conversation starter for little ones struggling to express emotions – social-emotional development is an area that today's toys just aren't fit to address.
1930: Finger Paint & View Master
Now – Color Wonder Mess-Free Fingerpaints and Paper (3+), Crayola My First Fingerpaint Kit, Washable Paint (1-5), Crayola Giant Fingerpaint Paper (1+): Not a fan of messy play? Crayola makes a great mess-free option for finger paints, much like the color wonder markers. While I believe there is a need for messy play and at times we forget this – remember that messy play is a safe time for your children to explore different textures.
Now – Crayola Picture Projector (5+): This simple little gadget provides endless opportunities for creativity – from projecting illustrations of stories on the ceiling to learning spelling words in the dark.
1940: Silly Putty & Scrabble
Now – Aarons Crazy Thinking Putty (3+): I LOVE Aarons Crazy Thinking Putty. This is a great strength builder for little (and big) hands. They have an endless variety of colors with different properties – like glow in the dark and color-changing options.
Now – Bananagrams (4-7+): Be the first to use all your tiles to build a crossword collection of words and you win. There's a junior version of this game, which is a great option for early readers – the tiles use lower case letters to form words. Is your child not quite ready to spell on his or her own? Bananagrams offer multiple printable worksheets online for preparatory skills such as sequencing the alphabet.
1950: Play-Doh & Paint by Number
Now – Play-Doh sets (3+): Just like crayons, Play-Doh is a hard to beat toy for the price. Play-Doh has numerous reasonably priced kits to engage your child in creative play. I know Play-Doh isn't every parent's ideal playtime activity – but it's a great tool for strengthening hands and improving bilateral-coordination.
Now – Paint by Sticker (5-9), DIY 5D Diamond Painting Kits (6+): I love the idea of using stickers to assemble a beautiful masterpiece. One of my favorite mediums to use during therapy is stickers – they address so many skills that help little hands work in a more skilled and precise manner. One of my sweet co-workers filled me in on these 5D diamond painting kits and they are quite a hit with older kiddos. They take a lot of patience and fine motor control, but the end product is so rewarding.
1960: Lego & Lite-Brite
Now – Lego Duplo Classic Brick Box (18months+), Lego Classic Set (4+), Lite Brite (4+): You can't reinvent the wheel – the '60s is the toy lover's dream decade. I love these classic options for open-ended play. It's every parent's nightmare to step on a Lego headed to the kitchen in the dark, BUT hear me out – these are awesome toys! They provide a great underlying skillset for kiddos learning to write and fasten clothing items such as buttons and snaps – same goes for the Lite-Brite!
1970: Tonka Truck & UNO
Now – Green Toys (12months+): I have grown to love this brand – Green Toys are 100% made and assembled in the USA. They use recycled milk jugs and other household plastic recyclables to create sturdy sustainable toys. Check them out – they make a wide variety of toys from dump trucks to bath toys.
Now – Character UNO (7+), UNO attack (7+), UNO Moo! (3+), UNO Junior (3+): Card games are a great way to facilitate social-emotional development and social skills, such as regulating emotions and turn-taking. UNO has created a game for everyone in the family!
1980: Simon & Big Wheel
Now – Simon Air (8+), Simon Micro series (8+): Simon AIR is a new spin on an old favorite! Single-player or two-player, this is a great game to improve working memory!
Now – Radio Flyer Cyclone (3-9): The cyclone is a great ride-on toy that improves upper body strength and coordination while having fun on the move.
1990: Skip-it & Magic Mitt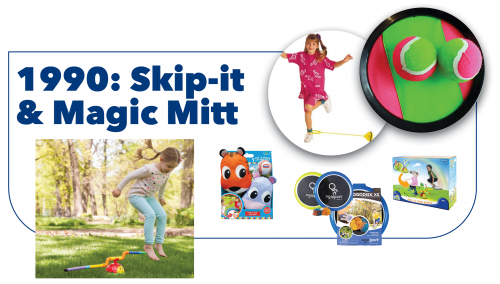 Now – 2-in-1 Musical Jump 'n Toss (4-6): The Jump 'n Toss offers 3 variations of jumping set up and 2 speeds as well as a moving ring toss option. This is a great way to get kids up and moving in a small space indoors or outdoors.
Now – Little Tikes Catch and Stick (2+), OgoDisk XS Disc Set (6+): Is your little one having a hard time learning to catch with a glove? Make it just a little easier by using a Magic Mitt to teach the basics of hand-eye coordination. Once they have mastered the Magic Mitt, bring the glove back out. These Little Tikes Catch and Stick Mitts are the same basic idea of the Magic Mitt but also add in the squeeze component of a mitt – the Velcro inside ensures greater success with catching. The OgoDisk can be used in a variety of ways and is a great option for older kids.
Written By Anna Claire Pritchard MOT, LOTR
Anna Claire is a pediatric occupational therapist at Building Futures Pediatric Therapy Center. Her love of occupational therapy began at a young age. She incorporates fun, creative facets as well as holistic approaches to better assist her clients in reaching their goals. She has experience in a variety of settings from a multidisciplinary center for children with Autism and communication disorders to home health and an outpatient clinic for children and adults with a wide variety of diagnoses such as traumatic brain injury, CVA, cerebral palsy, Sensory Processing Disorder and dysgraphia. Her diverse population of patients is one of her favorite aspects of occupational therapy. Due to her innate love for children, she chose Pediatric occupational therapy as her focus. Anna Claire cares for all of her patients on a personal and professional level.