Good Hearts, Good Intentions, Good Giving
Louisiana ranks 48th in the national poverty rate at 19.6%, and has one out of every 5.1 residents considered living in poverty, according to the Welfare Info website. Quite a staggering number for our state where a large portion of this 19.6% of the Louisiana population is poverty stricken children. 
Consider the pressures an hourly wage worker faces living paycheck to paycheck.  What happens when illness attacks, injury impedes work or a child gets sick?  Quickly getting behind, it only takes one brief illness to fall on hard times for those living week to week. With little to no savings, when minimum wage workers aren't working, they aren't earning. Sadly, in this day and time there are those that struggle to make ends meet even with government assistance.  Many Louisiana residents find no funds left for non-necessity type items such as clothing, shoes, or household goods. 
In a day and age where those that have often have too much, many are left wondering, where can I donate gently used items? Thankfully, North Louisiana offers several programs directly benefiting the people that live there, people who have fallen on hard times and need a hand up, not a handout.  By simply collecting unwanted household items or cleaning out the family closets, people can find their excess a good home with any of their local non-profits which are in desperate need of donations. Helping local people in the community benefit is as easy as doing a little spring cleaning and taking your things to a place that can make a positive difference in someone's life. 
SHREVEPORT
Providence House
theprovidencehouse.com
Serving Northwest Louisiana as transitional housing for families with children to help provide long-term solutions to break the homeless cycle with comprehensive help services to help families address the main causes that led them to homelessness while moving them toward their highest level of self-sufficiency. Offering education, housing, and support services, Providence House accepts monetary donations, volunteers, closet/household clean outs, toys and household fresh starts. 
Where to DONATE:
814 Cotton Street, Shreveport, Louisiana 71101 | 318.221.7887
What to DONATE: 
Household items such as pillows, blankets, bed and bath linens, office supplies like file folders and notebooks, gently used school supplies, gently used cleaning supplies, plastic grocery bags, over the counter medicines, feminine hygiene products, clothing, shoes, men's shoes, mother's day type items, apartment furniture, dish ware.
The Shreveport-Bossier Rescue Mission Thrift Store
A Christian based mission to provide needed clothing, appliances, mattresses and household items that would have been thrown away to families at a reduced price. 
Where to DONATE:
The Shreveport-Bossier Store at 6800 Mansfield Road, Shreveport
Several drop off bins are placed around town:
Drug Emporium | 5819 East Kings Hwy, Shreveport 
Haynes Ave. Baptist | 610 Haynes Ave., 
Shreveport Riverpark Church | 3232 E. 70th Street, Shreveport,
Shreveport Community Church | 5720 Buncombe Rd., Shreveport
Life United Shreveport – 4425 Meriwether Rd., Shreveport
Call 318.629.3300
What to DONATE: 
Used furniture, clothing, household items, appliances, books, linens, toys, king and queen mattresses and bed sets. 
HOPE Connections
A day shelter for the homeless in Shreveport, HOPE's mission is to be the front door to the homeless by providing showers, laundry, mail service, telephones, computers, and a variety of trainings/classes for people experiencing homelessness. The goal is for any person experiencing homelessness to find housing and work toward a permanent solution. 
Where to DONATE: 
During the business hours at 
2350 Levy Street
Shreveport, LA 71103 | 318.670.4591
What to DONATE: 
Travel soaps/shampoos, hygiene products, laundry soaps, towels, and washcloths.
Dress for Success 
The Dress for Success empowers women by helping with professional attire when entering the workplace. Their goals are to provide a network of support and developmental tools for women to thrive in work and life. 
Where to DONATE:
Monday 11am-4pm 
1520 N. Hearne Ave., Suite 108
Shreveport, Louisiana 71107 | 318.674.3509
What to DONATE:
Professional women's clothing.
Common Ground Community Center
Located in Shreveport's Cedar Grove neighborhood, Common Ground's mission is to build deep and meaningful relationships with the neighbors in Cedar Grove by providing opportunities for educational, spiritual, and personal growth through mentoring, community meals and the Common Ground store. 
Where to DONATE:
6806 Southern Avenue, Shreveport, LA 71106
What to DONATE: 
Non-perishable food for the pantry, men's clothing, children's clothing, warm clothes for all, school uniforms, and school supplies.
BOSSIER CITY
Renesting Project 
www.renestingprojectinc.org
Serving both Caddo and Bossier parishes, the Renesting project serves a diverse cross section of the community helping improve the quality of life for those transitioning into permanent housing with basic furniture and household items. By gathering gently used furniture and household goods, this 501c3 organization cleans, repairs, and repurposes furniture and household items. 
Where to DONATE:
Drop offs on T/Th 9-3 and the second Sat. 8-11
The ReNest Warehouse -1331 Driftwood Dr.
Bossier City, Louisiana 71111
or schedule a pick up request from the website at
www.renestingprojectinc.org/pickup
Call 318.747.5520
What to DONATE: 
Furniture and household items
RUSTON
Rolling Hills Ministries (RHM)
rollinghillsministries.com
Serving North Louisiana through 5 core ministries, disaster relief, compassionate services, thrift stores, international missions and recreation programs, the store helps to generate the funds for North Louisiana disaster relief and mission work.  They pick up items from Monroe to Bossier City. 
Where to DONATE:
3487 Highway 33, Ruston, LA 71270
or schedule a pick up https://rollinghillsministries.com/donate/
What to DONATE: 
Clothing, shoes, household goods, books, jewelry, furniture, working electronics, televisions, computers, lawn equipment, bicycles.
Domestic Abuse Resistance
www.dartla.org
D.A.R.T. provides help to families looking to escape domestic violence in North Central Louisiana. Providing crisis intervention, shelter, free and confidential counseling for children and adults as well as a children's program for those that have experienced or witnessed abuse at home, the agency services between 900-1,000 victims.  D.A.R.T.'s mission is to help keep families safe with a crisis hotline and shelter.  
Where to DONATE: 
Please call the office at 318.513.9373 to schedule a drop off.  Serving individuals and families, the center will have several options for your donation.
What to DONATE:
Clothing, toiletries, furniture, household goods.
Adult & Teen Challenge 
teenchallengeusa.org/centers/tcla104
Helping provide teens and adults the freedom from addiction and other life-controlling issues, this Christian based organization hopes to help people obtain a drug-free future. Donations are a large amount of their income providing much needed funds to help those that battle addiction. The Ruston center helps the surrounding Northeast Louisiana areas, while the Shreveport location handles the Northwest Louisiana territory. 
Where to DONATE:  
Look for the large green metal boxes or call the center for large items to be picked up.  
411 East California Ave., Ruston, LA 71270 | 318.254.2830
What to DONATE:
Clothing, shoes, household and kitchen items, furniture
MONROE
Ouachita Parish Animal Shelter
www.oppj.org/departments/animal_control/index.php
Responsible for the public safety and health associated with domestic and wild animals, the Department of Animal Control houses a large population of animals up for adoption.  Always in need of used towels and linens or unused pet supplies.
Where to DONATE: 
M-Sat. 7am-4pm
417 Well Road, West Monroe
318.323.4032
What to DONATE: 
Used towels, washcloths, linens, pet supplies.
Christian Community Ministries
christiancommunityministries.org/current-needs/
Serving homeless clients daily in downtown Monroe, each client's crisis needs are evaluated during a brief interview where volunteers assist in selecting needed items from the store. 
Where to DONATE:
M-Th 9-noon
322 Harrison Street, Monroe, LA 71201 | 318.325.8467
What to DONATE: 
Canned goods, hygiene kits, clothing, shoes, linens, towels, comforters, cookware, dishes, men's clothing and shoes, toys, stuffed animals.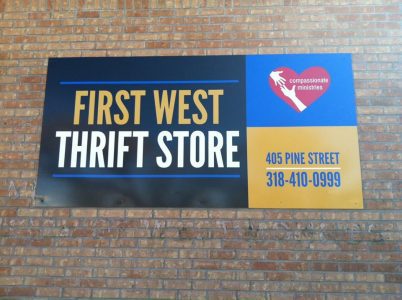 First West Thrift Store
fwthriftstore.cc
With a mission to bring hope to Northeast Louisiana, First West Thrift Store is committed to helping local Northeast Louisiana residents by reinvesting all profits from the store back into local ministries and organizations of Northeast Louisiana. 
Where to DONATE: 
The Donation Building on 4th Street in West Monroe, LA during store hours. 
M-F 9-6pm | Sat. 9-4pm | 318.410.0999
What to DONATE:
Gently used and brand new items, First West Thrift will pick up furniture donations.