Lola Magazine's Hostess with the Mostess, Chef Jessica Comegys, is on a new mission in 2020 to introduce you to other female chefs and restaurateurs who share her passion and who are making a name for themselves in the industry. Join her on this exciting journey to see what's cooking in the land of Lola!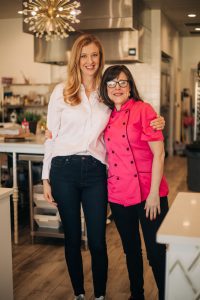 Introducing Jennifer Terrell, General Manager of the Petroleum Club
THE WEDDING DAY
… the most dreamt about time in a lady's life and quite possibly the most terrifying. With so many changing trends, budgets, checklists, and dates to remember, it can be very difficult to navigate all alone! When you throw in opinions and advice from all your family and friends, it can get overwhelming quickly. So I invited wedding guru Jennifer Terrell, the general manager of the Petroleum Club of Shreveport, into the Glow Kitchen for some one-on-one cooking fun and asked her the questions all brides-to-be could benefit by knowing the answers. Jennifer handles wedding receptions of all sizes and budgets and knows the current trends and what will wow wedding guests! As a trained chef herself, she is the go-to wedding planner in our area for an outstanding event that's sure to be remembered! 
THE INTERVIEW
Where did you go to culinary school?
I went to Johnson and Wales University in Providence, R.I., and graduated with my degree in Culinary Arts in 1985.
How long have you worked at the Petroleum Club? 
I started in April of 1992. I was the director of catering for 21 years and promoted to general manager in June of 2013.
Do you like to entertain in your off time? What's your favorite dish to cook?
I do like to entertain – I love a good party whether at work or at home. Because I have three children, I cook things they like. I like comfort foods and recently have been playing with Thai food.
How far in advance should you book a wedding reception? 
Most secure the date one year out. I have planned receptions in as little as six weeks, however! 
Tips for planning: Should you consider a Wedding Coordinator?
Wedding coordinators can be a gift, and there are several coordinators in this area that are creative, knowledgeable and experienced. They make planning stress-free as they can assist you with budgets, contracts, vendors, accessories, invitations and etiquette. They can coordinate the entire event as opposed to just one aspect of your event. 
At the Petroleum Club, we are happy to assist you with your reception details and are on-site before, during and after your event to coordinate everything from your arrival and formal photos to your grand exit. 
Food Trends for 2020
At the Petroleum Club, we are seeing lots of "live-action" and "create-your-own" stations. We've done everything from soup shooters and gourmet grilled cheese sandwiches to a Jambalaya station to a Caprese bar. I love action stations because they engage all the senses – you see the food, hear it cooking, smell it and then taste! 
Often we find our brides come to us with specific ideas that reflect the bride and groom – a Texas BBQ station with assorted sauces, a bacon bar and a Mediterranean grazing station are some of the most recent things we've created. 
Any foods to avoid for big parties?
It's important to consider what kind of party you're having and the comfort of your guests. If you are having a cocktail reception, remember the guest may be standing and will probably be holding a drink, so you don't want them to have to juggle too many things at one time. The food style and service style have to match. 
Any other tips or advice you'd like to add?
My biggest suggestion is to hire professional people. They have lots of experience and knowledge and can handle anything that may or may not happen on your special day. I am also a big believer in supporting local talent. Over the years, I've had the privilege of working hand-in-hand with so many wonderful, creative and committed people here in our local scene. They are excited about what they do and always work well together. And when we work together, it creates dynamic synergy, and the end result is always spectacular! 
We wiggled a popular hors d'oeuvre recipe out of her, too!
Seared Beef Tenderloin with Cipriani Sauce
8 oz filet
½ cup soy sauce or coconut aminos
2 garlic gloves, crushed
1 tbsp black pepper
2 tbsp extra virgin olive oil
Marinate for 2 hours before searing on all sides until a nice crust forms from the hot pan or grill. About 2 mins on each side. 
Cipriani Sauce
½ cup mayo
1 glove garlic, crushed
Dash Worcestershire
Pinch of grated parmesan
1 tsp brandy
Whisk until combined. 
Once tenderloin has cooled, (this can be made ahead and stored in the fridge) slice thinly. Spread a little Cipriani sauce on a toasted crostini and top with a slice of steak. Garnish with green onion or microgreens. Serve chilled or at room temp.