Mid-January through February can seemingly drag on with its bitter wet cold winter weather and no fun in sight. After all, the holiday hustle and bustle has died down and everyone has recovered, we are all looking forward to spring and tired of being stuck inside. Never fear my friends… here in Louisiana, we do not let the winter blues drag us down. We Mardi Gras. We revel in this carnival celebration that lasts several weeks until Ash Wednesday, then and only then do we really start our "resolutions" for 40 days of Lent. But let's not jump ahead; let's plan the most glamorous party of the season right at home. 
It was my pleasure to help the Duggans plan the best celebration for his 60th birthday, which happened to fall during the carnival season. What better way to be lavish Louisiana than to have a two-for-one party?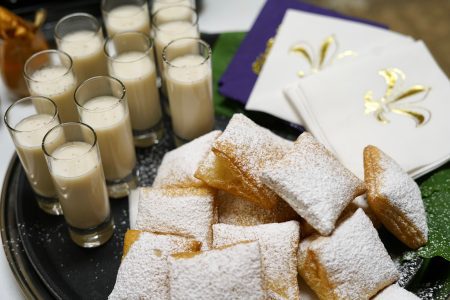 The hostess invited guests by hand-delivering back boxes with invitations nestled in moss with party favors like tiny Mardi Gras masks and tarot cards to give guests a teaser of what was to come. 
The evening consisted of a menu to please even the most particular Krewe King and decor to wow the Duchess of Ceremonies. 
We started with expanding the living space right out onto the back patio with a clear view tent where gold chandeliers hung from what appeared to be the starry sky, a warming fire pit, along with a raw and charbroiled oyster station. 
Inside, Professor Porkchop set the tone with classic jazz piano tunes while guests mingled and enjoyed passed hors d'oeuvres and a bar filled with classic New Orleans cocktails. 
On the side patio above the pool hung colorful umbrellas and string lights, and inside the pool cabana was a tarot card reading station, setting the tone for a Jackson Square carnival evening. 
My most treasured adornment was the centerpieces the hostess created herself. She placed real oak branches in large vases to resemble a miniature live oak and draped it with Spanish moss, twinkling lights, and colorful beads. It was such a nice change from the expected flower arrangement. 
To finish the evening, we passed hot beignets with bourbon milk punch shooters while the kitchen housed a 4-foot-tall tower of mini king cakes topped off with a birthday cake fit for a king. 
Creating an experience is my favorite party to plan, and this one was one to be remembered.  
Oysters Drago
8 ounces butter (softened)
2 tablespoons garlic (finely chopped)
1 teaspoon black pepper
Pinch dried oregano
18 large oysters (freshly shucked on the half shell)
1 ounce Parmesan cheese (grated)
1 ounce Romano cheese (grated)
2 teaspoons flat-leaf parsley (chopped)
Step 1: Heat gas or charcoal grill to high heat. 
Step 2: In a medium bowl, mix melted butter with garlic, pepper, and oregano. 
Step 3: Place oysters on the half shell right over the hottest part of the grill and spoon enough of the seasoned butter over the oysters so that some overflows and causes the fire to flame up. They are ready when they puff and curl up on the sides! 
Step 4: Remove from the grill and sprinkle parmesan and parsley on top. Serve with French bread! 
Pimento Cheese Gougères
Makes 24
The gougère dough can be made 4 hours ahead. Cover and chill until ready to use. Also, you can freeze completely cooked and cooled gougères for up to 1 month. To reheat, place the frozen gougères on a baking sheet, cover loosely with foil and bake at 350 degrees for 10 minutes, until warmed through. 
½ cup (1 stick) of unsalted butter, cut into cubes
¾ teaspoon of kosher salt
1¼ cups of all-purpose flour
1 (4 ounce) jar of diced pimento, drained
4 eggs
1 ½ cups (6 ounces) of finely shredded sharp cheddar
1 ½ teaspoon of whole grain mustard
½ teaspoon of fresh thyme leaves
½ teaspoon of cracked black pepper
¼ teaspoon of cayenne pepper
1 egg yolk
Preheat oven to 400 degrees
Step 1: Over medium heat in a medium-sized saucepan, combine butter, salt and 1 cup of water and bring to a boil, stirring constantly for 1 minute. Add flour and beat vigorously with a wooden spoon for another minute until the mixture is smooth and pulls away from the side of the pan, forming a ball.
Reduce the heat to low, stirring constantly for 2 minutes. At this point, the dough will begin to dry out. Remove from heat and let stand 5 minutes.
Step 2: Meanwhile, finely chop the drained pimentos and drain again on a paper towel.
Add eggs to the slightly cooled dough one at a time, stirring well between each addition. At this point, you will feel as if you completely ruined the dough, but trust me. Just keep stirring. Add pimentos, cheese, mustard, thyme leaves, black pepper, and cayenne pepper. Keeping stirring until all of the ingredients are incorporated.
Step 3: On a baking sheet lined with parchment paper, create 1-inch mounds of dough, 2 inches apart either by piping the dough using a plastic bag or by using a small cookie dough scoop or a tablespoon. Whisk yolk and 1 teaspoon of water together and brush onto gougères.
Step 4: Bake gougères until puffed and golden, about 20-25 minutes. Allow cooling on the baking sheet for a few minutes. Enjoy!
Crawfish Bisque
The beauty behind this bisque? Simply blend the ingredients and process until smooth.
Makes 6 Servings 
6 tablespoons (3 oz.) salted butter
6 tablespoons all-purpose flour
1 medium-size yellow onion, diced
1 red bell pepper, diced
2 celery stalks, diced
2 garlic cloves
1 medium tomato, diced
1½ teaspoons kosher salt
½ teaspoon black pepper
¼ teaspoon cayenne pepper
3 cups seafood stock
4 fresh thyme sprigs
2 bay leaves
½ cup dry sherry cooking wine, divided
1 pound frozen peeled crawfish tails, thawed and divided
½ cup heavy whipping cream
1 tablespoon fresh lemon juice
1 teaspoon hot sauce
2 tablespoons chopped chives
Step 1: Melt butter in a saucepan over medium. Whisk in flour until combined. Reduce heat to medium-low, and cook, stirring constantly, until roux is pale brown, about 10 minutes. Add onion, bell pepper, celery, garlic, tomato, salt, black pepper, and cayenne pepper, and cook, stirring occasionally, 5 minutes. Increase heat to medium-high. Whisk in stock, thyme, bay leaves, and ¼ cup cooking wine, and cook 10 minutes. Add half of crawfish, and cook 2 minutes.
Step 2: Transfer mixture to a blender, and process until smooth, 30 seconds. Return to pan, and place over medium-low. Stir in cream, lemon juice, hot sauce, and remaining crawfish and ¼ cup cooking wine. Bring to a low simmer, and cook until heated, about 5 minutes. Spoon into six bowls, and top with chives.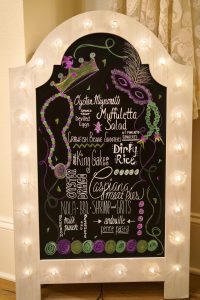 Party Credits: Hosts – Sam & Marian Duggan 
Tents & Chandeliers provided by Pelican Tents & Events 
Mini King Cakes by Lowder Bakery 
Bar by Cuban Liquor 
Music by Professor Porkchop 
Tarot Reading Station by The Peace of Mind Center 
Food by Caspiana Catering