I remember sitting in my counselor's office, staring at a bunch of self-help books with tears rolling down my face, wondering how I ended up at this point in my life. I was thirty years old, going through a divorce, raising two young boys, in a job with little pay, and not enough college credits to obtain an undergraduate degree. Yikes! The situation didn't look good at all! Then, the counselor asked "What makes you happy?" In my mind I was thinking "none of this mess!" He continued "What do you like to do for fun?", "What is your favorite restaurant?" and so on. I didn't know how to answer these questions anymore. I had been married. I was a mom. In my mind, what I liked and what made me happy didn't matter. Double yikes! I had forgotten who I was and all the special things about myself that made me… well, ME! It was at this point that I set out on a journey to find myself again. 
This was me just eight years ago. It honestly seems like a lifetime ago when I think about it now.  I wasn't this person before. I grew up very strong-willed, independent, kind-hearted, and lover of all people and things! I had become emotionally cold. It was time to warm back up and be happy again. My journey to finding myself again started small. I took some personality tests with my counselor and the results showed that I really liked festivals, live music, social engagements, giving back to the community, and hanging out with friends. Luckily, I had joined an organization the year prior called the Young Professional Initiative (YPI) of Northwest Louisiana and was making new friends and getting involved. Through this organization, there were opportunities to volunteer at various events like Mudbug Madness, Red River Revel, Highland Jazz and Blues Festival, and more. It was so cool! It allowed me the opportunity to utilize my time and talents for the greater good of our community, have fun, and meet some amazing people along the way. This was such a blessing to me! Now that I was gaining my happiness back, I asked myself "What else will make you happy?" The answer was going back to school and finding my dream career gig. 
I had an associate degree, but that was not enough for me. I started taking one to two classes per quarter, but at this rate, it seemed like it would take forever to complete. I continued working during this time, always looking for my dream job but the kind of career I was looking for required this degree that I was working on. Around this time, some of the local businesses that I had been volunteering with started reaching out to me to do freelance marketing, public relations, and events. These were great opportunities for me to get more experience under my belt while working on my degree. I loved the work I was doing, so why not make a career out of that? It took a big leap of faith, but I decided to create my own business in 2017 called Lagniappe Public Relations, Integrated Marketing, and Events (P.R.I.M.E.), LLC. Now I work with some of my favorite organizations and businesses to help them grow, after they played such a valuable part in helping me gain happiness again. (And I get throw some amazing events in our community!) To my surprise, the business grew extremely fast. I doubled up on classes. I graduated with my Bachelor Degree in 2018, which allowed me to focus more on Lagniappe P.R.I.M.E. I must be crazy right? Own a business, raise kids, go to school, volunteer, and have a social life? Let's add one more thing… Love.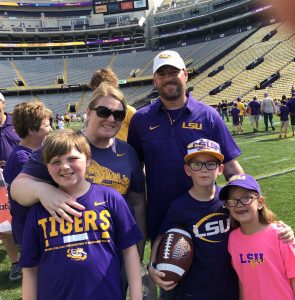 Love was the absolute last thing on my mind. Again, I was emotionally cold… but was getting warmer. I randomly met a handsome fella who became my best friend and swept me off of my feet. He has two adorable kids that I love as my own. Together, with our kids, we have adventures filled with fun and joy. My heart is very full. 
These days, I am happy and I am confident in knowing who I am as a person. I know that family, friendship and helping others makes me happy. I know things I like to do for fun are travel, attend festivals, shop and watch college football. I know that Abby Singer's Bistro is my favorite restaurant. And I know that I don't have to sacrifice my own happiness for the happiness of others. It took a while to get to this point, but the journey was worth every step. Here are a few things that I learned along the way:
"Success is adapting to the season that you are in. Do what you can while you are in this season and have faith in God's plan and timing." – Pastor James McMenis 
Perseverance will always prevail.
Everything we do in life revolves around relationships. Surround yourself with good people that support you and challenge you at the same time. 
 "At the end of the day, it's not about what you have or even what you've accomplished…it's about who you've lifted up, who you've made better. It's about what you've given back." – Denzel Washington
I hope that my story helps someone else have a little hope for their journey.   XO – Emerie