If only for a short day, the rest of the world is turned off, closed, and seemingly quiet. Christmas morning is for families. It's a time to relax and make memories. It's a time when we look forward to our family traditions, no matter how simple they may be, because they bring us together after a long, busy year. 
When I was a child, I can remember my dad turning up loud George Strait's country album while we sleepily walked into see what Santa had left. We would sit around what seemed like all day in our PJs, enjoying the excitement and time together with no outside distractions. In today's world with cell phones and constant connection to work and social media, it gets harder and harder to find those special moments in time. 
Imagine, sitting on your comfy sofa before a cozy fire on Christmas morning. The gifts under the tree have all been opened, the kids are playing quietly with their new toys, and now you are ready to relax with a warm cup of (spiked) hot chocolate. Follow our make-ahead tips to get a head start on breakfast and you're on your way to a blissful holiday. 

Christmas Morning Menu
Spinach Mushroom
Tomato Quiche 
Sweet Potato Hash 
Chicken Sausage
or breakfast meat of choice 
Hot Chocolate Station 
Lowder Bakery
Cinnamon Rolls
(available Christmas
Eve for pick up!)
When I said make-ahead, did I mention this was easy? Isn't there always a sweet potato on the holiday grocery list? And we all have an extra pie crust and plenty of onions to chop! 
So, here is the plan…
2-3 days ahead
Order your grocery pick up (insert winking emoji)

Prep and bake the sweet potato hash. Save some diced onions and peppers from that stuffing you're making. Chop once, use twice. Store in fridge once cool.
1-2 days ahead (Christmas Eve)
Pick up cinnamon rolls

Crack eggs and get quiche mixture together, set in fridge in a large bowl overnight
Blend hot chocolate milks and set up crock pot with un-melted chocolate during late night toy assembly.
Christmas morning 
Turn on crock pot, pour in milk mixture and heat hot chocolate

Bake quiche
Re-heat hash and sear off sausages
Put your feet up and enjoy the fun!
Crock-Pot Hot Chocolate  
3 cups milk
½ cup heavy cream
1 can sweetened condensed milk 14 oz.
1 package milk chocolate chips 12. oz 
1 teaspoon vanilla
Tip: to make non-dairy, use almond milk, canned full fat coconut milk, condensed coconut milk and dark chocolate 
Add all ingredients to your crock pot set to low for 2 hours. Stir every 10 minutes or so to make sure it's well combined. Once all the chocolate chips are melted turn it down to the warm setting.
Optional: You could also set the crockpot to high for less time and stir more frequently. Once all the chocolate is melted you can turn the crockpot down to warm.
Toppings & Mix-ins  
Marshmallows & Whipped Cream
Crushed Candy Canes + Whole Candy Canes for stirring
Cinnamon & Nutmeg
Sea Salt & Caramel Syrup
For Kick: Peppermint Schnaps, Baileys, Vanilla or Caramel Vodka (I've even seen Marshmallow flavor!)
Spinach Mushroom Tomato Quiche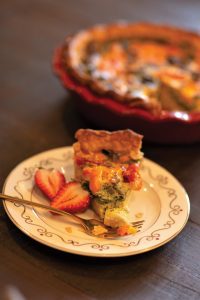 1 pie crust, homemade or store bought
8 ounces small white mushrooms, sliced
3-4 cups packed fresh baby spinach
4 ounces fresh goat cheese (optional)
1 cup grape tomatoes, halved
2 cups shredded cheddar cheese
6 large eggs, beaten
2½ cups milk
½ teaspoon fresh ground black pepper 
2 tbsp melted butter (optional) 
Preheat the oven to 375˚F.

Roll pie crust out to about 12 inches. Gently place in a greased 9-inch pie pan.

In a medium mixing bowl, whisk together the beaten egg and milk and then fold in sautéed veggies, melted butter, and cheeses.

Pour into deep-dish pie crust.

Bake in the oven for 1 hour or until egg is set. Cool for 2 minutes, serve warm.
Sweet Potato Hash 
2 large sweet potatoes, cut into 1 inch chunks 
½ onion, diced (do extra when making other holiday dishes and set it to the side for this dish) 
1 red bell pepper, diced (optional) 
Peel and chop sweet potatoes

Place sweet potatoes in a glass casserole dish, and sprinkle them with garlic powder, onion powder, thyme, salt, pepper, and paprika.

Drizzle with olive oil to coat (up to 1/3 cup). Stir it around well to cover all of the sweet potatoes.

Roast in the oven at 450 degrees for 55 – 65 minutes, stirring 3 – 4 times. Each time you stir the sweet potatoes, use a spatula to scrape up any edges that have stuck to the pan. This will help make sure that the sweet potatoes get as crispy as possible.