If we told you our tomatoes were over 100 years old, would you believe us? We have been known to shock customers into thinking about produce. We don't only sell vegetables, we sell agricultural history to our customers. It's what makes us different from resellers and average growers. Heirloom Farms was started in 2013, dedicated to growing organic heirlooms and saving seeds for future generations. An heirloom seed is usually classified as a seed that has been around for at least 50 years and is not genetically modified. Our heirloom farming isn't a career – it's a calling for us. This journey into growing history began long before 2013.
The interest in nutrition and how food is grown began after reading two influential and controversial books – "Healing The Gerson Way" by Charlotte Gerson and "The Maker's Diet" by Jordan Rubin. "The Maker's Diet" was on the New York Times bestseller list for 47 weeks. The year was 2004 and we were all tired of being sick. We decided that we needed to eat and grow clean foods. No more store-bought plants, no more treated seeds, no more GMOs – period.
We were told about an heirloom seed company named Baker Creek in Missouri. After several phone calls, we decided this company was where we needed to start our journey to better health. Our small garden behind the house was where we perfected our skills. Within a couple years, we found a small farm for sale in Haughton and moved in 2007. This is where we practiced our growing techniques long before we sold to the public. You could say we were a work in progress. Lots of thought and research went into our plans for the future. We then bought a greenhouse in 2008 so we could do it right from start to finish.
By 2013, we were ready to sell to the public. Our goal was to introduce the consumer to varieties they have never seen before. It was a hard sell because many consumers didn't realize there was more to vegetables than just a few typical southern varieties. Our table consisted of 6 types of summer squash of all different colors and shapes. We had cucumbers that were 12 inches long. Some tomatoes were small, and some were orange, not the typical red. We were not deterred by the consumers who were hard to please. If we had to give away produce to get people to try it, that is what we did.
Heirloom Farms has now evolved into a major seed-saving operation in addition to growing summer and fall crops. We have signed several seed contracts with Baker Creek Rare Heirloom Seed Company to provide them with organic heirloom seeds. We also participate in their Trial Grower Program to help them test and trial many varieties in the south. We care about what we grow because Baker Creek cared enough to start their company for people like us.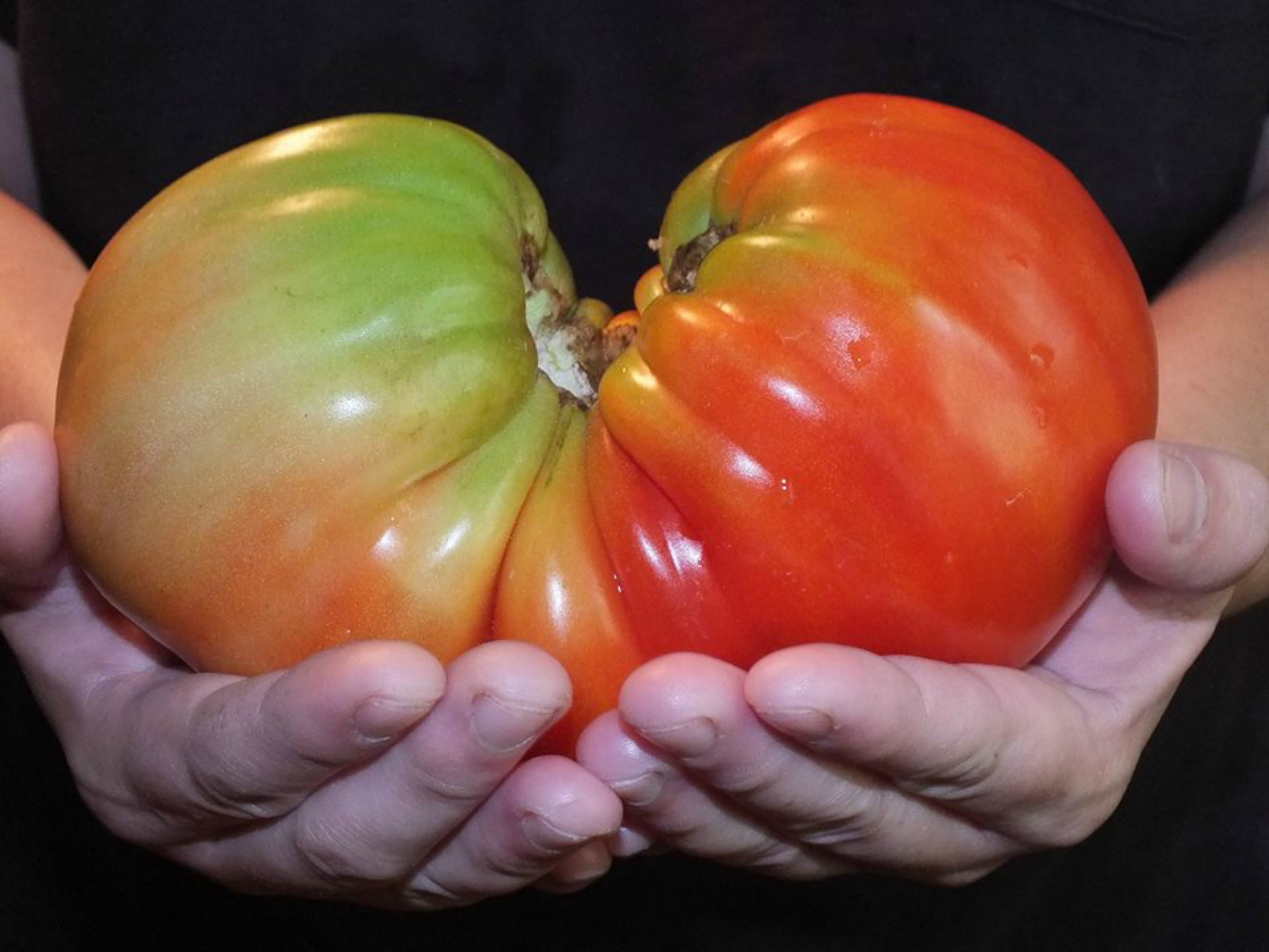 There are many legitimate organic heirloom seed companies out there. Baker Creek is our favorite. In 2014, we decided to start free gardening seminars for the public. Heirloom Farms partnered with Baker Creek and LSU Agriculture offices locally to give the public information on growing food. Our first year we met at a convenience store restaurant. By the second year, were doing several classes at the local firehouse training room. Baker Creek would donate seeds and catalogs to seminar participants.
Our story is far from over. In early 2019, we built an enclosed farm stand to sell our organic heirloom produce, canned goods and any farm-related food products. We are also a state-licensed nursery for plant sales. You may even see us at public events selling our produce. Our in-season hours are Monday to Friday at the farm with staggered hours to meet the needs of all our customers. We always recommend people call us in advance for availability and hour changes. We are always changing to meet the needs of the public while staying true to our heirloom roots. In every seed there is history that needs shared. Our goal is to keep that history from dying. You could say all our ideas started with a seed.
Heirloom History:
Riesentraube Tomato: Grown by the PA Dutch as early as 1856. A German heirloom that means "giant bunch of grapes."
Cherokee Purple Tomato: A Cherokee Indian variety that dates back to 1890. A dusky purple-pink color with sweet flavor and large fruits. Very popular in the south.
Chioggio Beet: Light red skin with beautiful rings inside like peppermint candy. Dates back to 1840 Italy and arrived in the U.S. approximately 1865.
St. Valery Carrot: A very rare carrot in the U.S. from France and mentioned by the Vilmorins around 1885. It was rumored to have been around long before then. 
Country Gentleman Sweet Corn: This is a shoepeg variety, which means not the typical row formation of most sweet corns, was introduced around 1890 by the Frank Woodruff & Son company. Known as one of the best heirloom sweet corns in the U.S.
Stowell's Evergreen Sweet Corn: Released commercially in 1856, a row corn that is white and known as the "King of all White Sweet Corn Varieties."
Kamatis Tagalog Tomato: A longstanding Philippine variety that is average sized, squatty with fluted edges. A more acidic tomato, great for salads. The name means "native tomato."
Edible Flowers:
Clover, Dandelions, Honeysuckle, Marigolds, Nasturtium, Borage, Sunflower, Zucchini Blossoms, Hibiscus, Lavender… to name a few.
Svalbard Global Seed Vault in Spitsbergen, a Norwegian island.
The vault was created to preserve a wide variety of plant seeds in the event of a global agricultural crisis. After its creation in 2008, which cost about $8 million, it has amassed a large collection of seeds from around the world.
Seeds are stored in 3-ply foil packages in plastic tote containers on metal shelving. To preserve the seeds, the average temperature inside the vault is -18 c.  The vault is underground, surrounded by permafrost during most of the year. In the event of an electrical failure, the permafrost ground will help the vault maintain its low temps.
In 2018, the vault was in possession of 983,524 seed varieties. Each sample variety has a minimum of 500 seeds per packet. The vault seed capacity is 4.5 million samples.
ABOUT THE AUTHOR:
Caroline King was born and raised in Pennsylvania. Her first job at 14 was working at an Amish Mennonite Farmers Market.  She served her country in the USAF, and is currently a freelance journalist and farmer.

Heirloom Farms Country Store
895 Allen Town Rd, Haughton
318-949-9592    
HOURS:  Mon 2-5 p.m. Tues 12-6:30 p.m.
Wed 11 a.m. to 2 p.m. Thurs 4-6 p.m. Fri 12-3 p.m.