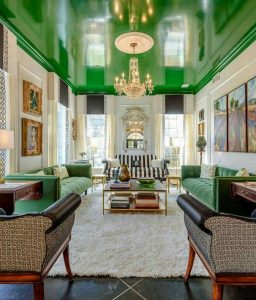 A few years ago, the cover of City Life Magazine caught my eye. It was of Myron Griffing's now widely known "Green Room." His eclectic design work had been featured many times before. I was always intrigued, but this exquisite room, with bold prints and a high gloss, emerald ceiling, was beyond fabulous! My interest was piqued to learn more about him, so, in now-normal social media fashion, I sent him a friend request on Facebook. He accepted.
A few months later, Myron was standing behind me at a local burger restaurant. I recognized his signature snazzy fashion and news-boy hat. Excited to meet him, I introduced myself. It is possible I was a tad overzealous with my "It's so nice to meet you; I feel like I am meeting a celebrity!" remark. He handled it with modest charm, and we made small talk. Soon after our introduction, Myron contacted me about contributing to Lola Magazine about sharing his space design tips. We quickly became friends and his quick wit is always around when I need a good laugh. Although Myron is one of the most sought interior decorators (he does not have an interior design degree) in North Louisiana, not all of his followers really know the man behind these beautiful and unique spaces. He takes his design work very seriously, but Myron Griffing is definitely more than meets the eye.
He was born in Monroe, Louisiana, and spent his early childhood in Delhi, LA; Bradley, AR., and Plain Dealing, LA. He attended Plain Dealing Academy, where he played most sports, including football where he was quarterback until his senior year. "That's when they brought in a dude from the public school in Springhill and we went on to win State. I can most assuredly say we would NOT have won State had I been quarterback… I couldn't see over the linemen!" he laughs. He was treasurer of his class (and lost $400 at one point.) "I still don't have a clue where it went, maybe stolen, maybe lost, maybe thrown away… Not sure, I wasn't very good at my job," he jokes. From there he graduated from Louisiana Tech University in 1991 with a degree in graphic design.
He spent many years in the daily grind of the corporate world searching for a career or anything that held his interest. From "pushing lotion and soaps" at Bath and Body Works, selling gutters, wireless phones, owning a tree transplanting company to most recently being a mud engineer in the oil and gas industry, Myron gained experience on every end of the spectrum. He purchased his historic Highland home in 2012, only to be "let go" from his oilfield position in early 2013. "That was a time for a lot of real, on my knees, praying," he said. With 2 mortgages and 2 vehicle notes, things were pretty tight fiscally.
He had only 3 clients in 2013 with two in Shreveport and one in Nashville, TN. He scratched out a living selling paintings (yes, he can also paint) and items from his home. In 2014, Myron participated in Shreveport's first "Pop-Up" shops sponsored by the Shreveport D.D.A. "This is truly where anyone other than family/friends first became aware of me." One of the jobs he got from this experience was featured in Forum Magazine. After that, doors began to open, and before he knew it, he was booked 2-3 months out with clients wanting his "signature look."
"To be honest, I was blown away at how well-received my rooms were! It was great…Still is and it has given me a lot of confidence! I am VERY grateful to the Lord for whatever talent he has provided me and grateful to my clients for their trust."
He was thrilled to learn folks were open-minded and looking for something different. "They entrust me to design their personal spaces, that's a big deal." Myron's work cannot be classified to a specific style.
He refers to his designs as "Transitional Modern" and he incorporates a "mix" of items from local/regional retail shops, estate sales, and even 'big-box' stores. "Hey, if it works in the space, I don't care where it comes from!" he laughed.
When beginning a project Myron asks his clients to provide few photos of the "look" they are trying to capture. He is a firm believer in "a picture is worth 1000 words," but nowadays, clients won't know exactly what they want. "They just want their space to be comfy, relaxing and to love it; so they leave it up to me and Project Director Liz Bowen to come up with something…which we do."
He has an uncanny ability to select one key piece and design an entire space around it. Myron knows about color as well. "That is something I learned at Tech with my graphic design background." He knows that multiple colors can work alongside each other as long as you keep the hues similar and there is a unifying element throughout the room or home. This "unifying element" can be color, patterns, shapes, textures, etc…"It's these elements that make your home look cohesive." There are many favorites in his extensive portfolio of over 150 projects and he is proud of each and every one of them. One of his very favorite projects, and dearest clients, is the Pierremont home of Lisa and Gary Love. The color palette of smoky blue, soft pink, light grey and veins of gold evolved into a space that is truly breathtaking. The entire design was based around an oversized Audubon print which now hangs prominently above the stately mantel. Every detail in this home is design perfection. Walking through the front door you are immediately immersed in its charm. The space is stunning, yet the design is very livable, gives a sense of calm and feeling of being home.
Myron also exalts the home of Pete and Shelly Kammer in his reel of striking design work. The dining room was designed around two original paintings by Katie Stevens Lewis that work in harmony with the custom window treatments and serene color palette. One of Myron's signature looks are his ceilings. Especially, wallpapering ceilings. Their Master Suite showcases a papered ceiling in a subtle graphic print that creates depth, is modern and sexy, albeit sophisticated. The gorgeous house, nestled in the Long Lake neighborhood, is filled with unique pieces, like the 1920s bar in the study; a huge sectional (punctuated with 3, pink Angora pillows) that accommodates 10 and a custom headboard in the Master. Myron was able to create a home that oozes style, elegance and yet is comfortable for this blended family of 6.
This list of favorites goes on and on and you can see it in his eyes and hear it in his voice that each one holds a special place in his heart.
All of the gratitude and accolades Myron receives from his clients (and his rather substantial social media following) pale next to what he clearly views as his greatest fulfillment. This comes in sharing his talents with Philip Rodgers and all of the St. Jude Dream Home team. In authentic Myron fashion, he describes working on this project as "a big, fat, hairy, honor to be affiliated with such a world class organization like St. Jude." Visiting St. Jude Research Hospital and meeting the families, children and staff was the most moving experience of his life. This is the third year Myron and his team at Space: interiors have been asked to design the St. Jude dream home. "It just kinda keeps getting better and better. The first year we helped raise $1.45 million; last year we raised $1.6 million, which is a new record for our area." This year is going to be stunning with a color palette and design plan of Coastal Modern.
Myron continues to hold high aspirations for himself and his team but is humbled by the great blessing of having a job that he truly loves. "It never feels like going to work." He is continuously a step ahead of design trends yet stays true to his designer's instinct when making his clients' visions come to life.
The "green room" is a celebrated showcase for his design talents, with regal lines and bold colors… but
the biggest secret about Myron Griffing's designs is that his spirit is just as colorful!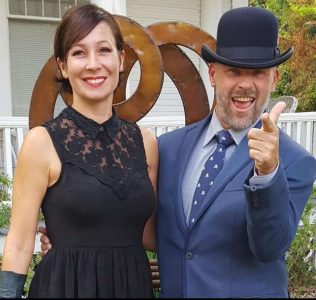 {Liz Bowen and Myron Griffing with Space:Interiors}