"In a world of instant gratification, restoring broken things is a lost art." –Derek Simmons
"If you look for the positive, you'll find it. This art community is what we've always wanted – a positive group of creative thinkers."  –Kathy Ross
"I'll always paint. I'll never not be creating; my life is perfect for me to create right now." –Lauren Ross
"It's all about community, together we are truly all stronger. I've found my tribe as we are all slightly misfit enough to weave the perfect tapestry." –Peter Lyons
Old is NEVER Out.
A lifetime in the making, the newly named C & C Mercantile and Lighting is a twist on something that's been around Shreveport for generations. With smooth jazz tunes floating through the air, this eclectic world created by Lauren and Derek Simmons is a space where creative dreams are born, nurtured and put on display.
An artistic destination, coffee house, and antique lovers' delight, C & C Mercantile and Lighting converts customers to friends the moment one graces their doors as this place treasures deeper connections above all else. This is a place where dress up days often pop up.  Those that thrive within their walls treat each day with a zest for life that is infectious, grasping there is but one life to live, make each day amazing.
One of the curators of all things cool is co-owner Derek Simmons, who is the second generation in this family-owned business. Though C & C Lighting has been a staple in Shreveport lighting since the late 1940s, Derek's family purchased the store front roughly 20 years ago.  Growing up on a farm on the very west side of Shreveport, only a small bridge separated his home from his grandparents, binding the two properties and families. That small bridge was Derek's whole world, the world within the borders of the family farm where the only culture cultivated was a love of county life.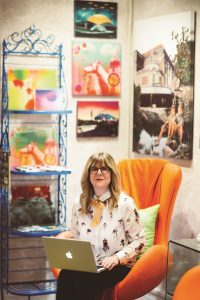 Once he was of age, he began apprenticing in the family business of all things electrical.  He was also given responsibilities working in the store after school. Derek absorbed all the life and trade skills from the older men at the store eager to pass their knowledge to an enthusiastic youth.  He learned the art of bending brass, soldering different metals, and welding materials, where he found a love of manipulation of metals and a deep appreciation for fixing broken things.
As time progressed, so did Derek's education in this new world of art, lighting, and antiques with exposure to treasured family heirlooms and high-end items. He still vividly remembers the first time a fixture was left for repairs that cost more than a car, a $30,000 Baccarat crystal chandelier – something not seen every day. Being in the well-traveled customers' homes, their affinity for culture and art was ingrained into their decor, and Derek slowly realized there was more to the world than Shreveport, Louisiana. He began to feel the pull to see what else the world had to offer.  When the chance to travel to Greece and Brazil on humanitarian work came along, he jumped and never looked back. What these world travels did for Derek was to enlighten him of a world where mom and pop shops were a family affair, a world where broken things were not discarded, a world where heirlooms were a gift, a treasure. He liked this world very much.
Derek took advantage of great opportunities to travel extensively for roughly 5 years touring the country testing pipelines.  He's seen America's shiny outer shell while also seeing the underbelly of America – what people tend to not see when traveling.
When he got the call that his grandparents were ill, there was no question he would return home.  What surprised him was how ready he was to come back and settle into Shreveport. He knew though his home town had some rough spots, it could easily be a rising star with some dedication and work.Meanwhile, while Derek was touring the United States, his future was doing the same.
Lauren Simmons, well known Shreveport Pop Artist and theater junkie, was also traveling the country with Cirque de Soleil attending to the performers with their wardrobe and the costumes on the Hello Kitty tour.
Also getting a taste of a bigger world than she had formerly known, Lauren's creative side continued to blossom. Her watercolors were her solace during a busy working schedule.  Life on the road stopped for her after her son, Hudson, affectionately known as Biggie, was born. At this time, she decided to give painting a full-time chance and moved to Nashville, where her art exploded on the scene.  In the beginning, her art was more fashion driven, not even having commission work yet, but her painting caught the eyes of collectors – and people started buying her work.
When she decided to move back home, she also had a pull that as well traveled as she was, Shreveport had the makings to be great, to be fun, to be a place to spend the rest of your life.
Both Lauren and Derek's lives had been preparing them for the very moment they met at none other than the very store they now own together.
Nomads no more, it was fireworks for these two when they literally bumped into each other in the back room of C & C lighting.  She turned around and saw her future, while he knew after his lasting glance at her he could not rest until they had a conversation.
A lifelong journey to this moment, these two have created a culmination of all their talents for the perfect creative space to feed your soul.
The universe brought them both back to Shreveport to live their best life: a life neither knew was possible, but they had always wanted. This life with their community to cultivate cultural experience in a place they've built together.
Just like the Simmons, the store is the perfect blend of dark wood tones, leather, and big heavy hand-carved furniture with color, daintiness, frilly finds, sparkles and eye-popping art – the perfect blend…. the two together.
WITHIN THE WALLS OF C&C MERCANTILE AND LIGHTING
Paige Powell, Graphic Designer & Mixed Media Artist
To see Paige Powell's work is to be completely absorbed by the art.  Her spin on Shreveport images is playful and thought provoking with works like Gold Dome Mothership and Rubber Duck Pond.  Her manipulation of the hues from the photographs she takes woven with her distinctive style and creative wit have this pop art artist's clients coming back for more. In an effort to find something other than canvases easily sold at pop-up art events with different price points, she began using handbags, pillows, servicing trays, and greeting cards, which have done well as gifts and Shreveport mementos.  With her well known Great Raft piece, which was commissioned by its namesake, the color and composition are perfection as the building itself is swallowed up by the "great raft" of 1800s.
What was just for fun has turned into a full-time pop culture gig with clients asking for Christmas cards or family portraits to custom pieces and just for fun art. Take a look at her 318 series – all unique, quirky and wonderful.
Lyons' Pride Coffee
Coffee is LIFE at Lyons' Pride Coffee, exclusively in C & C.
Meghan Awalt,  Florist
Designer, creative genius, and floral artist Meghan Awalt creates exquisite organic arrangements unique to our area.  Each arrangement is exclusive – not to be recreated, as a work of art. Using a color palette from her clients, Meghan uses cooler soft colors almost muted with visually appealing vibrant greenery or blooms to create one-of-a-kind arrangements.  Mixing textures and colors, these natural arrangements are quite popular with current brides. Her clients want something different than what can be found in magazines, which she delivers every time. Wanting the arrangements to stay true to Louisiana, she forages for materials to complete the natural look of the arrangement.  Being steered by the shape of the bloom or stem, she honors the shape to build the arrangement around the bloom. In true artistic style, Meghan wants her arrangements to be an experience by encompassing all of the senses using things like mint to set them apart. Elegant dinner parties, weddings, and love offerings are her specialties for those who want something natural and breathtakingly beautiful.
SHV, Sweet Tee
18 shirt designs, SHV airport code hats, and now Louisiana-themed socks, Kathy Ross and daughter Lauren Ross Simmons created a brand every Shreveport and Bossier City native loves to boast – Sweet Tee designs. The girls decided to design t-shirts to remind people why the SBC is special.  Kathy explained these special places hold cherished memories for many with long-forgotten fun of the Hamel's log ride, Betty Virginia rocket, and Thrill Hill. People started sharing their memories and buying their wares. After being in business for 5 years, they have heard some great memories, such as the origins of the rocket ships which were sold all over the country to promote children's curiosity while in the space race of the Cold War, or how one person's grandfather used to test drive Harleys down Thrill Hill. Each memory brings a smile and with it, a positive feeling about Shreveport. It's that simple what Sweet Tees are all about – bringing smiles by way of happy memories as these two artists bring joy to others not only with cool designs, but with happy memories.
FEATURED ARTISTS
Lauren Ross Simmons, Pop Artist and Bringer of Joy – Lauren's work of iconic figures blends pop culture, fashion and vibrant color on large canvases creating cheerful, gorgeous works.  Intended to bring joy, her work is well known for her bold take on an existing icon – creating something of beauty with colors so boldly mixed it is happiness just to gaze upon them.
Meredith Piper, Contemporary Artist – Drawn to the outdoors, Meredith's work explores the beauty of the nature that surrounds us whether landscapes, flora or the human form. She is a talented live event painter and recently completed a floral series that is being showcased at C & C.
Margaret Becton Cox, Fine Artist – Ranging from contemporary landscapes to mixed media abstracts, Margaret's work is greatly influenced by the reflections and reveries of Southern life. Her work brings peace to onlookers much like walking into a dream.
Anthony Reans, Abstract Artist – Working with the nature of universal relationships and subjective reality, Tony creates abstract compositions concentrating on the connections between balance, space, surface and relationships of line art.
Sweetport Treats, Fresh from Paris learning the art of Parisian Pastry, Nicole Spikes of SweetPort placed her sweet feast of macarons, madeleines, and meringues on the perfect Parisian table scape by Lauren Simmons.
Patrick Sart Shields, Conceptual Artist – Patrick's career embraces a wide range of mediums that include mixed media, watercolor, photography, sculpture, ceramics, video and performance art, as well as author/artist of three published art books.  The works exhibited at C & C feature Louisiana scenes both playful and vibrant, evoking feelings of joyful happiness. A nice mix of both pop and folk art with New Orleans flair.