Presenting perfectly adorned gifts this Christmas!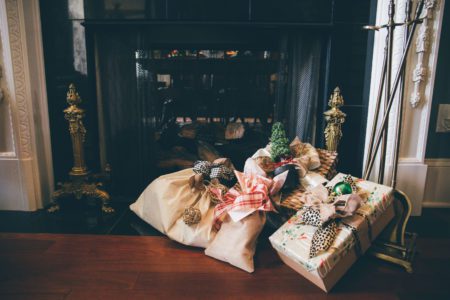 Brown butcher paper… inexpensive and can be used for other gift giving as well.  Add strips of Christmas plaid or denim fabric cut with pinking shears, tuck in twigs, fresh greenery, cotton bolls, and pinecones…works perfectly for a rustic, outdoor, hunting theme.
White butcher paper is great for allowing children to draw and write on the paper with waterproof colored markers, then tie it all up with brightly colored ribbon, add candy canes, and other festive baubles to the bow…tag with brightly colored construction paper cut in squares or rectangles, or even Christmas-tree shaped.
Buy coordinating papers, or reversible paper that can be cut and wrapped in an overlapping design.  Layer the ribbon over this and add a fun, plump bow.
Try wrapping the lids of shoe boxes in one paper and the bottom of the box in another, tie it all with a beautiful ribbon for an easy-to-open present!
Make name tags in special shapes and colors for each family member's gifts.  This makes it easy when passing out gifts on those bustling Christmas mornings!
For those who love vintage and antique treasures, wrap gifts using vintage hankies, doilies, or napkins instead of paper or use these vintage treasures to replace the tissue inside a box…the receiver then gets another keepsake along with the gift.  Add lovely old ribbons and adorn the bow with vintage ornaments or jewelry, or a tiny photo frame.  If the receiver loves to cook, adorn with vintage cookie cutters.
Coordinate the tissue paper inside a box with the gift itself.  Select a colored tissue that will enhance the gift inside…if not using colored tissue, then go for traditional white.  The gift will look its best when wrapped in the perfect color of tissue.  Gift bags are always easy, just remember to add plenty of tissue popping out of the top.
Good quality pre-decorated boxes, lovely wicker or straw lidded baskets/boxes, or metal lidded containers are always a great and easy way to wrap quickly.  Just tie the perfect ribbon around it and make sure to use a great tissue inside it.  These are ready to go in a jiffy.  Also, these can be stored away and used year after year…designate themed boxes that pertain to certain family members.  These loved ones will begin to search with anticipation for "their" special boxes tucked under the tree!
Think outside the box and use nice shoe bags, or even pillow cases to nestle a gift into…look for vintage flour sacks to wrap things in… again, the receiver gets an added
bonus gift of the sack/bag.