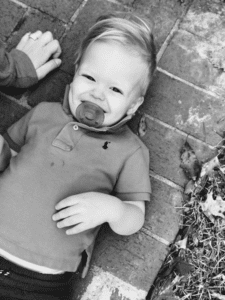 If you are ever looking for a great steak, you can find one at Beau Vine's Steakhouse in Ruston. If you are lucky enough to be friends with owner, Rob Owens, he will make you feel like part of the family by sending an order of hot, New Orleans beignets to your table, on the house.
Rob and his wife Valerie (Val) are those kinds of people. This vivacious, Ruston couple never meets a stranger and makes everyone feel at home. Rob will charm you with his quick wit, and Val lights up the room with her good-time vibes and contagious laugh. Val was born and raised in a small town in Mississippi. Rob is a good ol' boy from Ruston with deep family roots. The two met in Biloxi, Mississippi, celebrating with friends on bachelor party and a going away party. After winning a big hand at the Three Card Poker table, Rob decided to try his luck on the dance floor. Rob claims that he caught Val staring at him due to his slick dance moves, and so he decided to introduce himself to the pretty blonde. Although she pretended to be uninterested, she did tell him that he "had pretty sweet moves for a white boy", and this is where their story began. Eight years later here they are, together, going strong with one fierce story to tell.
At the age of 36, Val had almost given up the dream of becoming a mother, but on April 4th, 2016, Brecken Shadow Owens, a healthy, beautiful baby boy made his debut into the world. Becoming parents has been without a doubt the greatest blessing for both Val and Rob. They embraced all the joys and struggles that young families face. Up until a few months ago, Val and Rob were your typical, hardworking, young family, raising a beautiful, energetic two-year-old and getting ready to welcome a new baby girl. They enjoyed going to Louisiana Tech football games and the swimming pool with friends. They would sit on the porch watching Breck run wild in the yard, reading farm animal books to him, and watching his face light up when feeding the fish at their home on Lake Classic. Life was simple- good but simple.
In March of 2018 "normal" for the Owens family came to an unexpected and heartbreaking halt. Like most young children, Breck came down with the occasional cold or an ear infection from time to time, never anything out of the ordinary. In early March Breck began to run a low-grade, run-of-the-mill fever. Val thought maybe he was getting his two-year molars or had come down with a typical fever virus. She took him to the pediatrician as a precaution, and as expected the doctor reassured her that he, in fact, had a little virus. The following week Breck's fever was lingering and spiked to 104. At this point Val knew something was wrong and took him for a second opinion. In hopes for a better explanation for his high fever, the doctor decided to conduct a blood test and urinalysis. After waiting several hours on test results, the doctor came to Val to inform her that the test came back abnormal and although uncertain, Leukemia could be a possibility. Val's heart sank. Leukemia, the word that no mother ever wants to hear. Val called Rob who was out of town at the time, but she was too frantic to speak. The doctor took the phone from Val's shaking hands and told Rob that he needed to get home as soon as possible. Rob had a gut feeling that something was not right and was already in route back to Ruston. That night, after taking Breck to the local emergency room, the doctors informed them that they would be traveling by ambulance to LSU Shreveport where they would spend a sleepless night. The next morning an entourage of doctors entered the hospital room with Breck's diagnosis- acute lymphoblastic leukemia. The head physician explained to Val and Rob in their panic-stricken state that Breck needed treatment immediately, and they would need to leave the following morning for St. Jude Children's Research Center in Memphis, Tennessee. Within 48 hours their world had been turned upside down. They went from thinking their baby was teething to the harsh reality of childhood cancer.
The next morning they faced another whirlwind of emotions and difficult decisions. From day one, Val and Rob were surrounded with love and support by friends and strangers. Several of their friends knew that driving to Memphis with Breck being so ill would be extremely hard on all of them, and they arranged for a private plane to fly the family to St. Jude. Val, eight months pregnant at the time, was advised by her doctors not to fly due to her risk of pre-term labor. Rob, Breck and Rob's brother, Jim flew from Shreveport to Memphis. Megan, Rob's sister, volunteered to drive Val the six hours to St. Jude. For Val, these six hours were the longest of her entire life. Rob and Breck arrived at St. Jude in a little over an hour. They were immediately embraced. It is often said that once you go to St. Jude, you become a part of the family, and that is instantly how they felt. Not knowing what to expect, they were terrified beyond imagination, but they felt warm and hopeful upon arriving. They were face- to-face with childhood cancer, sick children with scars and beautiful bald heads, but they did not see sadness at St. Jude; they saw hope and that is what St. Jude is all about. Hope.
The first week of treatment was tough, very tough. Breck was immediately taken to have a port put in above his heart. He endured a spinal tap for bone marrow samples and was given a final diagnosis, acute lymphoblastic leukemia (ALL) B-cell. Although any type of childhood cancer is devastating news, Breck's diagnosis is the type to hope for. ALL B-cell is a "standard risk" childhood cancer. It is highly curable with long term treatment plans. Breck's specific treatment plan is a two to three-year plan broken up into three phases: induction, consolidation (also called intensification), and maintenance. Breck's treatments began with vincristine and steroids. The high doses of medication took a toll on his little body. He quickly went from a vivacious, happy little boy, to a very sick kid. The heartache that Val and Rob felt was consuming, but with the love that exudes from the staff and other families at St. Jude, they faced their heartbreaking challenge together as one family.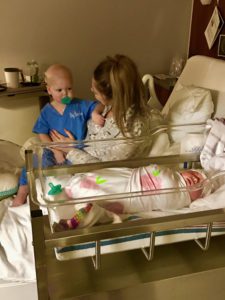 In the midst of living in Memphis, away from home and family, Val was getting ready to give birth to her and Rob's second child. On the first of May, Vale Catherine Owen, made her arrival, perfect and nearly identical to her big brother. Baby Vale was born six hours from her pink and white nursery that had been prepared for her, but she was surrounded by love from her adoring daddy, her beautiful mommy and her biggest fan, her big brother, Brecken. Val juggled, for lack of better words, her unique situation like a real-life supermom. Val shared her humor with hilarious Facebook posts comparing her post-delivery photo, complete with furry slippers and messy bun to Princess Kate's post-delivery photos. "Step aside, Kate Middleton. #iamwoman." In reality, Val did indeed put even the fabulous Princess Kate to shame. Rob posted to Facebook referring to his wife's supermom status, "You may not be able to see her cape, but it's there…. Not many women can join the exclusive, "I had a baby while my other child was at St. Jude club" … but she did. She's the bravest, most loving, determined, wonderful mom out there."
The Owens family brought new meaning to the term "divide and conquer" the weeks following Vale's birth.  Rob spent his time with Breck while undergoing treatment, and Val took on the new baby duties. It was not easy, but exhausting to put it mildly. There were days that even people like Val and Rob felt defeated. Watching their precious baby boy endure the painful beast of cancer and the persistent exhaustion of caring for a newborn, away from home, seemed at times more than they could handle, but they forged on as a team and they prevailed. When Breck had good days they would dance, and they would celebrate. When his days were bad, they were long and painful.  There were tears and prayers for strength, yet the next day would be faced with hope and resilience.   
On Father's Day, June 17th, Brecken was discharged from St. Jude and the Owens family was released to go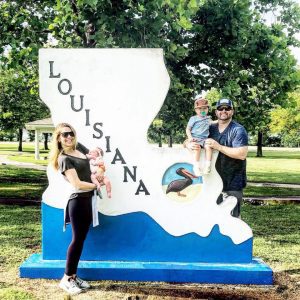 home to Louisiana. Breck must undergo an additional 120 treatments over the next few years, but for now, they were going home. They had left Louisiana in pieces as three, and they were returning together, stronger than they ever thought possible, as a family of four. They made a quick pit stop on their way home to document the journey with a family photo in front of the "Welcome to Louisiana" sign. Val posted the photo to share the news of their return home with the words, "I guess I left it in Louisiana, Blowing in the wind, Hiding in the quarter, Gotta get back there again, To the sweet sounds of the bayou, Let it wash right over me, Make me whole again, Bring back that missing piece. That I left in Louisiana."
Val, Rob, Breck and Vale are undoubtedly loved by their family, friends, community and thousands of strangers who have prayed and given to them in every aspect possible. Operation #baldforbreck inspired friends and family of Rob and Val to shave their heads to express their support. The operation was a huge success locally, and social media posts came from all over the state. Newsfeeds were filled with bald heads and the hashtag #baldforbreck. A Go-Fund-Me, St Jude Leukemia Warrior Fund, was created and quickly raised nearly thirty-thousand dollars for the Owens family. Local Ruston restaurants rallied together an "eat local campaign" and raised over ten-thousand dollars. Val and Rob are loved. They are loved because they love in return, and they donated funds from their supporters right back to St. Jude.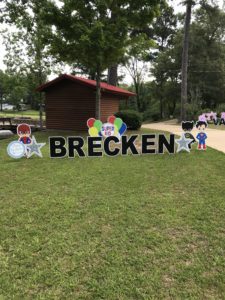 Although they felt the enormous waves of love and support immerse throughout their time in Memphis, friends at home had one more surprise up their sleeves. Before Breck's diagnosis Rob and Val were living in Rob's late grandparents' home. Rob deeply values family, and it was an honor for them to have the opportunity to raise their growing family in the house filled with his own childhood memories. Thinking that time was on their side, Val and Rob had plans to do significant renovations to the home before the arrival of Vale and througho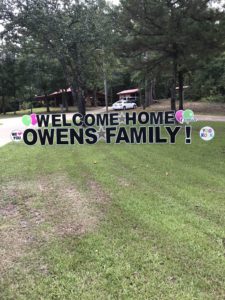 ut the upcoming year. Renovation plans came to a halt after Breck became ill, and the plans of home improvements were put on the back burner- or so they thought. While the Owens were away, an army of lifelong friends put their variety of skills together and completely renovated the home. They were able to remodel bathrooms, the kitchen, update the living areas, the master bedroom, and create both Breck and Vale bedrooms of which dreams are made. They returned to a home that had undergone an "extreme makeover", a perfectly manicured lawn lined with life sized "welcome home" signs, a perfectly organized garage and the fishing dock was equipped with a brand-new feeder especially for Breck. Val and Rob agree, they will never be able to express their gratitude sufficiently for the labor of love they were surprised with when returning home from such a trying time. Rob said, "If anyone ever wants a lesson on love and support, here it is."
Val and Rob Owens will never be the same as they were the day before their lives were turned upside-down by Breck's diagnosis. "Normal" days will be filled with more gratitude than ever before. Sitting on the front porch watching their little boy play in the yard holds more value than all the riches of the world, and stressing over the small stuff is undoubtably a thing of the past. Val looks back in hindsight and knowing what she knows now she realizes that the signs were there. Breck was very sick, and it was clearly more than a typical fever virus. An illness of this magnitude, leukemia, was unimaginable. At the time there was no way of knowing; a two-year-old cannot tell you how sick they are. It is so important to both Val and Rob that childhood cancer awareness is widespread, and that St. Jude Children's Research Center continues to be supported by donors so kids like Breck can be cured and keep playing.
The founder of St. Jude, Danny Thomas, said, "No child should die in the dawn of life". Danny Thomas dedicated his life to his mission to end childhood cancer. He also said, "I'd rather have a million people give me a dollar than one give me a million. That way you've got a million people involved." Breck's treatments over the next two to three years would cost over two million dollars if not for St Jude. His treatments will not cost Val and Rob a single penny. Every dollar that is donated to St. Jude is significant. Every donation given, no matter how big or how small, is given to the fight of ending childhood cancer and in return is saving thousands of lives, precious lives like Brecken Shadow Owens, the beautiful, blonde, little boy who loves to feed the fish.