1 Provide Hard-to-Pack items
If your guests have children or babies, they may need things that take up a lot of packing space, like a pack n' play, car seat, stroller, sound machine, and alarm clock. If you have these extra items or know someone you can borrow from, offer to have them ready to take some stress of your guests. Be sure to ask them what items they will need so everyone knows what IS and IS NOT available. Also, consider grabbing a pack of diapers and a few baby items on your grocery run. It will help save space in their suitcase. I also like to provide a toy basket and coloring books to help provide distractions and entertainment for little ones.
2 
Open your home
The best way to make them feel comfortable right away is to give a tour of house and outdoor spaces if they aren't familiar. Provide a place to put their luggage like a bench or luggage rack. Show them where extra towels, linens, and hangers are, and any other items they may need to be able to find without having to ask every time. I like to place extra pillows and blankets on the bed to not only enhance the cozy feel, but make them easily accessible. Let them know they are welcome to use the washer and dryer and any small appliances they may need in the kitchen. I have a one cup instant coffee pot in my guest room on a small table for guests in case they get up earlier or like to have some time to wake up in their room before entering the family room.
Be sure to give them the wifi password and a spare key or garage code.
3 Provide an Extras Basket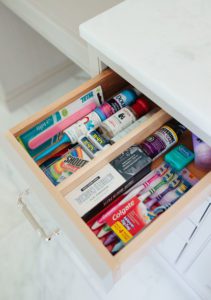 Who hasn't gone through the entire toiletries list a hundred times and still manage to forget something as simple but necessary as your toothbrush or razor? I always stock the guest bath with items like these.
Extras List: Deodorant for men and women, Travel first aid kit, Tissue, Lint roller, Razor, Nail file, Spot stain remover pads/stick, Ibuprofen, Antacids, Wrinkle release spray, Toothpaste, Toothbrushes, Dental floss, Mouthwash, Cotton swabs, Body wash/soap, Shampoo and conditioner, Dry shampoo, Lotion, Chapstick
4 Hotel Snacks
Sometimes you get a late night craving or need a grab-and-go snack. I like to fill a small tray or basket with a few healthy, filling items and a couple of indulgences too.
Snack Ideas: Granola bars, bananas, easy-peel oranges, nuts, cookies, chocolate, coffee pods, tea sachets, sweeteners, creamer, bottled water.
5 
Be courteous of their schedule and your own
Meals: Try to make some ahead that can easily be warmed up and served without a lot of effort and clean up. You don't want to be stuck in the kitchen the whole time you're supposed to be enjoying your out of town family or friends.
Your schedule: If you have appointments, kids who nap or go to bed early, let your guests know your schedule so they can make adjustments if needed.
Sleep: Do your best to reduce noise during the evening and morning when your guests are sleeping.
With a little planning ahead you can make your guests feel right at home and help everyone enjoy their time together.
Preparing for out-of-town guests will be a snap with these easy breakfast recipes and a make-ahead pasta dish that will make you look like a culinary pro!
Sunday Frittata & Biscuits
This is my go-to Sunday breakfast whether it's just me and my boys, or a group. The veggies I listed are a hit with my family, but use what you like or have on hand. This is also a way to get rid of any veggies that are about to turn.
Serves 6 – preheat oven to 400
6 cage free eggs
½ cup whole milk, or non dairy plain milk
1 teaspoon of salt
Dash of pepper, if desired
2 garlic cloves, minced
1 tablespoon of ghee or grass fed butter
1 orange or yellow bell pepper, roughly diced
½ small red onion, diced
2 cups packed fresh spinach
2 tomatoes, diced
½ cup shredded cheese, such as gruyere or cheddar (I like to mix both)
1 bag of frozen fluffy biscuits (I like these better than the canned version because they are pretty close to a homemade biscuit)
Prep vegetables and sautée them in a 9" skillet with the ghee or butter.
While the veggies are getting happy in the pan, whip eggs with salt and pepper and milk. Once whipped, add in the cheese.
Once the veggies are slightly tender, pour egg and cheese mixture in the skillet and stir slightly to evenly distribute all the goodies.
Pull off the stove and finish in the oven – bake until the eggs are set and the top is starting to turn golden, 8-10 mins.
Let this cool completely before storing in fridge. To reheat, cover with foil and place back in the oven on 300 for 10-15 mins.
Serve with fluffy biscuits and jam.
Side notes: this could easily be made the morning of by chopping all your veggies a day or two before and within a matter of minutes you can have a fresh and hot breakfast.
Saturday Brunch Bagel Bar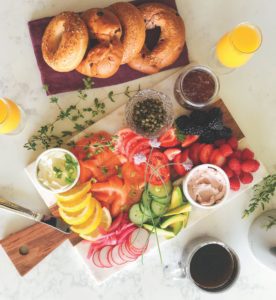 Assorted Bagels – most grocers carry fresh bagels in the bakery, get them the day before so they are fresh.
A variety of cream cheese – plain, herbed and strawberry are always well received
Sliced Tomatoes
Capers
Cucumbers, Red Onion and Radishes, thinly sliced
Smoked Salmon
Fresh Herbs like dill, chives and basil
Lemon wedges
Assorted Berries (slice strawberries)
Jams
Coarse Sea Salt
Have these items prepped and ready to set out on a platter for everyone to help themselves.
Serve with juice and coffee, or mimosas!
Saturday Night Baked Penne Alla Vodka
Serves 6
1 lb mild Italian sausage, casings removed (you can also use an alternative ground meat)
½ cup red onion, small dice
2 large garlic cloves, smashed
½ lb pancetta or prosciutto, diced
½ cup vodka
2 (28 oz) cans San Marzano whole peeled tomatoes
1 tsp salt
1 tsp red pepper flakes
½ cup heavy cream
2 cups parmesan-reggiano, grated
3 cups kale, roughly chopped
1 cup flat leaf parsley, stems removed, roughly chopped, divided
1 lb large penne pasta
1 cup water
2 fresh mozzarella balls, 4 oz each, slice
In a large pot over medium heat cook the sausage until crumbly but not cooked all the way through. Add the onion, garlic and pancetta or prosciutto. Cook for 5 minutes until pancetta is crispy, onions are translucent and garlic is fragrant.
Add the vodka and the tomatoes, crushing them by hand as you put them in the pot. Simmer for 10-15 minutes to burn off the alcohol and cook down the tomatoes.
Add the salt, pepper flakes, heavy cream and 1½ cups of the parmesan-reggiano. Simmer another 5 minutes until nice and creamy.
Add the chopped kale, ½ cup parsley and dried penne to the pot and toss to coat.
Transfer pasta mixture to a lined baking dish add the cup of water to the pasta mixture and press as much dry pasta down into the liquid as possible. Cover and place in the preheated oven. If the pot you are using is capable of going in the oven, then just add the cup of water over the top, press as much dry pasta down into the liquid as possible. Cover with a lid once cooled.
Allow to cool completely and refrigerate, covered tightly. The day you plan to serve it, let it set out at room temp for an hour. Preheat oven to 375 degrees and bake, covered, 40-45 minutes, or until the pasta is cooked to al dente (firm, but just about finished cooking). Remove dish from the oven, take off the lid and place the sliced mozzarella onto the baked pasta. Uncovered, place back in the oven for 10-15 minutes longer until the mozzarella is bubbly and browned in spots. Sprinkle with remaining chopped parsley and a few red chili flakes.
Serve with crusty garlic bread, a green salad, and red wine.
---
Article and recipes by Jessica Comegys, Owner of Caspiana Catering