You might not know this, but here it is. If you're a part of the Shreveport-Bossier community, the Red River Revel is part of you!
My journey began behind the scenes with my mother, Margaret Sour, who is an active Revel volunteer for over twenty-seven years. She was Festival Chairman, or "Red Apron," in 1996 and headed up the Music Committee most of my life. As a child, I remember staring up in awe at the big, shiny tour buses backstage, mesmerized by the controlled chaos of it all. I would dodge the people dressed in all black hurriedly moving equipment on and off stage while waiting for the lights to go out and the crowd to erupt. For the next ninety minutes, Revelers were immersed in the likes of Keith Urban, Emmylou Harris, Marc Broussard, Irma Thomas, or Morris Day & the Time to name a few. For eight days each fall, I had the unique experience of being "along for the ride" in shaping people's happy Revel memories while witnessing my mom and her friends tirelessly serve their community.
Over the years, my role with the Revel has evolved from child participant to volunteer to board member; I currently serve on the Revel's Executive Committee as the governing board secretary. Along with eight other volunteer women, I am a member of the Festival Production Committee (FPC) that is charged with programming the festival each year. Part of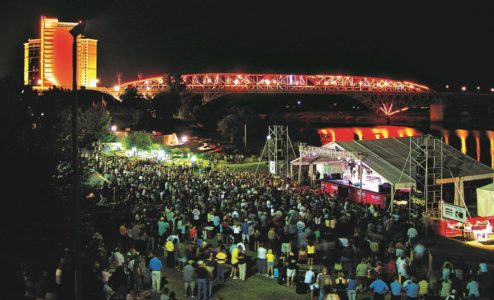 programming an event so large involves listening and responding to our community's desires. Social media and survey responses are evaluated by the FPC, which initiates a course of action to format each Revel to be the best version of itself.
2018 Revel dates are Saturday, September 29th – Sunday, October 7th. Adding one extra day will provide Revelers two full weekends to enjoy the festival. Other adjustments include the festival's hours, a transformed layout, free parking adjacent to Festival Plaza, a children's area that offers more free and affordable activities, and more unique food items as well as revised pricing.
If art, music, and food are in your repertoire, the Revel is the place for you! For 42 years, the Red River Revel has brought people together to collectively "Celebrate the Arts" in multiple formats. With an economic impact of $7.1 million and three artsin-education programs, the positive effect on our community is vast, multi-faceted, and far-reaching. If you have resided in the Shreveport-Bossier area, there is a good chance that you contributed to the success of the Red River Revel Arts Festival at some point over the years. Whether you attended as a 4th grader, volunteered, enjoyed the festivities as a patron or were a part of one of the 30 non-profit organizations that use the Revel to raise funds, your involvement has created lasting memories and helped build the Revel experience that keeps our community strong.
Tell us your favorite memories of the Revel! The redand-blue striped tents? Visual art? Exceptional food? Headliners, concerts, dance performances? Share your 'Revelness' on social media – tag redriverrevel in your post!