Each us have our own story, our own unique triumphs, and our own unique struggles. No one's path is exactly the same, some go straight, some go nowhere and others have diversions that completely blindside them.  Pain and loss are not evenly distributed, but all of us will struggle at some point. This is my family's story about how the love of our little boy led us out of the darkest of places.
WRITTEN BY GEORGIA DREW BOSWELL
My name is Georgia Boswell and I hail from Minden, Louisiana. I love so many things about Minden; the red brick Main Street, Cotton's Fried Chicken and most importantly the amazing people there.  Each time I go home or run into someone from my home town I reminded of how much good there is in the world.  I really can't imagine a better place to grow up and certainly could not have asked for better parents. Judge Harmon and Jean Drew are the most fabulous people on the planet and I am so blessed to be their daughter. I went to undergraduate at LA Tech, was a Kappa Delta and had more fun than you can shake a stick at.
After finishing undergraduate at Tech, I lived abroad for six months in London. I was able to obtain a position working in the gift shop at Westminster Abbey. I befuddled many a tourist with my strong southern accent during employment there. When I returned to Louisiana and began to ponder my next steps the hospitality industry seemed to be calling my name. This resulted in a move to New Orleans a city that has always had a thriving tourism industry.  I had no idea at the time moving to the Big Easy would be the smartest thing I would ever do, as it led me to meet my husband Devron in 2007. I knew from the first moment I met him that he was one for me. Our relationship just worked and I could not stop marveling at the fact I found someone who really got me and my multitude of quirks. Devron was and will always be the best thing that ever happened to me. Our wedding in May 2009 was such a beautiful and happy celebration that lasted all day and night. We planned to have children after a few years.
I will always remember calling one of my best friends when I found out I was pregnant with my first child in early 2012.  She was over the moon for me and needless to say surprised. She told me, "I just was telling one of our mutual friends I did not think you were going to have children. You never expressed much interest about it."  I thought about what she said and I had to agree she was right. When we talked about our dreams for the future while in college and the subsequent years that followed I often spoke of career goals, finding someone to spend my life with (prior to Devron of course), and how I was going to scrounge up enough money for my next trip to an exotic locale.  I always approached the subject of children with apprehension, which is not uncommon for me. If there were a sport in the Olympics for Worrying, I am 100% confident I would be on the podium every 4 years with a gold metal around my neck.
When we welcomed our beautiful son to the world on November 27, 2012, any trepidation about Motherhood immediately melted away. There are no words in the human language beautiful enough to describe how amazing it is to see your precious baby for the first time. Drew Joseph Boswell, all 7 pounds 11 ounces of him, was the most beautiful thing I had ever seen. The first time I held Drew in my arms nothing had ever felt more natural or right.
Drew had the sweetest temperament and charmed everyone he came into contact with. He was a pint sized embodiment of pure love. Our son was the first grandchild in both of our families. To say our world revolved around Drew is putting it mildly. We all marveled at each gurgle, snuggle, smile and milestone he hit.  Drew was absolutely beautiful and people often stopped in their tracks to marvel at how precious he was.
Drew loved bananas, books, trains and flirting with all the lovely ladies he came into contact with. He was at his absolute happiest when listening to music. Just about every day you could find him "playing" his red piano and baby bongos.  My husband and I often marveled at how blessed we were to have such a sweet tempered and healthy baby. Drew was our entire world and we were a very busy, but grateful family of three.  We of course had heard heartbreaking stories of families who lost children suddenly and we hurt for them. However, to be completely transparent those tragedies seemed as far away from us as Antarctica.  We never thought child loss would happen to us…..until one day it did.
On March 12, 2014 we woke up and our baby boy did not.  Everything we thought we knew about our future, about life, shattered in an instant. The day before Drew was eating gold fish and watching "Thomas the Train." I can still see him in his green polo and black tennis shoes running toward me at the end of the day on March 11, I had no inclination I would never be able to pick up my sweet child from school again. On that first awful day my husband and I clung to each other and were quickly engulfed in a sea of supportive family and friends. When my priest came, I remember screaming and telling him I wish it were me instead of Drew.  I could not even begin to fathom how we would go on. The preliminary reports came in and we had no answers, our little boy was simply gone.
As that first awful day wore on I could feel the anger and pain taking over my heart.  I felt an urgent need to find an outlet where we could channel all that love we could no longer give to our beloved son. So right there on that very first awful day, the idea of what would eventually become Drew's Tunes came to life. Our vision was a non-profit that would spread Drew's love of music to other children who may not have had these opportunities otherwise. Drew always wanted everyone to be happy and   bringing smiles to children's faces through musical instruments and performances seemed a perfect way to honor his short and beautiful life.
Those initial days, weeks, and months without Drew slowly passed. His loss was eventually attributed to SUDC or Sudden Unexplained Death in Childhood. "Sudden Unexplained Death in Childhood (SUDC) is the sudden and unexpected death of a child twelve months and older, which remains unexplained after a thorough case investigation is conducted. SUDC is a category of death whose underlying cause(s) elude our understanding today."
In the U.S. in 2015 SIDS impacted 1,560 children in and SUDC impacted 400 children. SUDC is thankfully rare, but it does happen to families like ours far too often from all walks of life.  The SUDC Foundation provides countless free services to bereaved families and the work that they do has been the catalyst  for vital research into why healthy children like Drew can pass away so suddenly. We decided to evolve the mission of Drew's Tunes beyond the scope of music education to include supporting the work of the SUDC Foundation.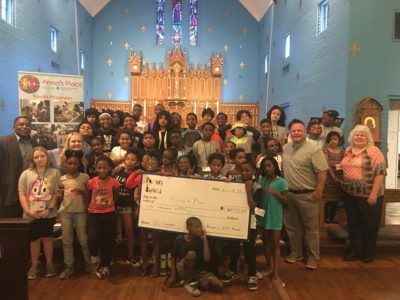 It's hard to believe how much Drew's Tunes has accomplished in such a short time. We by no means have done this alone and have had an army of people who have aided us innumerable different ways.  Our team is in firm agreement that Drew's little light is guiding us each step of the way. To date Drew's Tunes had donated over $174,000 to support our mission.  These donations include thousands of instruments placed in the hands of children, vital music program funding and $50,000 to support the SUDC foundation.  Our foundation has garnered national media attention with articles in both Parents and Redbook Magazine (www.redbookmag.com/life/mom-kids/a38695/turning-tragedy-into-triumph/).  A Nationwide SUDC Awareness campaign inspired by Drew and spearheaded by a dear friend, Christina Grantham, has moved mountains with over 37 states declaring March 2017 as SUDC Awareness Month (www.send2press.com/wire/thirty-four-u-s-state-proclamations-raise-awareness-of-mysterious-childhood-deaths/).  At the core of what we do is love and a determination to make the world a little brighter like Drew did each and every day of his short time with us.
My personal favorite thing Drew's Tunes does is our Annual Twinkle Tribute.  The twinkle tribute occurs every March around Drew's angel date of March 12. Each year we ask people to play, dance or sing to Drew's favorite song Twinkle, Twinkle Little Star and post it to their social media with the hashtag   #twinkletribute4drew.  For each video posted with the hashtags we donate $1 to a music program (up to $5,000). We do this bring awareness to Drew's Tunes and our mission, but also to celebrate our beautiful boy. Over the years this grassroots tribute has reached an audience beyond our wildest dreams. The momentum generated by our friends and family in North LA was a critical part of this happening!   The 2017 tribute brought in videos from professional musicians, countless precious children and many others. We were overwhelmed with gratitude when NFL Quarterback Drew Brees agreed to join in the tribute with his own #twinkletribute4drew video at facebook.com/story.php?story_fbid=10158255163725461&id=207038895460&_rdr. It's amazing to us the amount of lives our beautiful son has touched.
I am so honored to share my family's story in Lola magazine for a number of reasons. First, nothing Drew's Tunes has accomplished would be possible without the incredible support we have received from North LA. I want to thank those that stood by us from the bottom of my heart. My hope is to one day spread Drew's Tunes' work into North LA, as there are many children there who could benefit from the music exposure our foundation provides.  We are in the preliminary phases of brainstorming a North LA Drew's Tunes event, stay "tuned" for updates.
I also want other women who have had their hearts broken by life that you can come out on the other side and find joy again. There is no "right" way to handle any type of loss and what feels right for you is the path you should follow. I know how isolating heartbreak can be and I hope you can find a way to take care of yourself at your darkest moments.
Drew's little sister, Emmaline, came into our lives on April 28, 2015. Emmaline is a pint-sized powerhouse and she knows all about her sweet brother.  As Drew and Emmaline's parents, we straddle the line between gratitude and grief each and every day. We are so thankful for both of our beautiful babies and wish more than anything we could see them together even once.
Over time the intensity of my grief has lessened, but heartbreak is the undercurrent of even my best day. I can truly say I am happier than I ever thought I would be without Drew in my arms. I have found my way down the path my life has taken and I am so thankful for the light my beautiful boy continues to shine into my life.
---
Use #twinkletribute4drew to join the movement with your own video March 8-12, 2018
To learn more: visit drewstunes.org  or like the facebook page: tunes4drew
Our foundation is 100% dependent on donations and every dollar we receive helps us make a difference in the lives of other children in Drew's memory.